Melody Nieves
Bienvenue dans notre série Photoshop en 60 secondes, dans laquelle vous pouvez apprendre une compétence, une fontion ou une techinuqe Photoshop en juste une minute !
Photoshop en 60 secondes : Action gravure

Transformez vos photos en monnaie réelle. Recréez l'apparence de la gravure d'un billet de banque traditionnel avec Adobe Photoshop. Dans cette courte vidéo, je vais vous montrer comment créer un motif de vague simple à l'aide de l'Outil Trait puis enchainer en créant une Action Photoshop pour appliquer ces motifs à votre sujet.

Parcourir la sélection incroyable d'Actions gravure Photoshop de GraphicRiver et d'Envato Elements pour appliquer cet effet à vos photos en quelques secondes !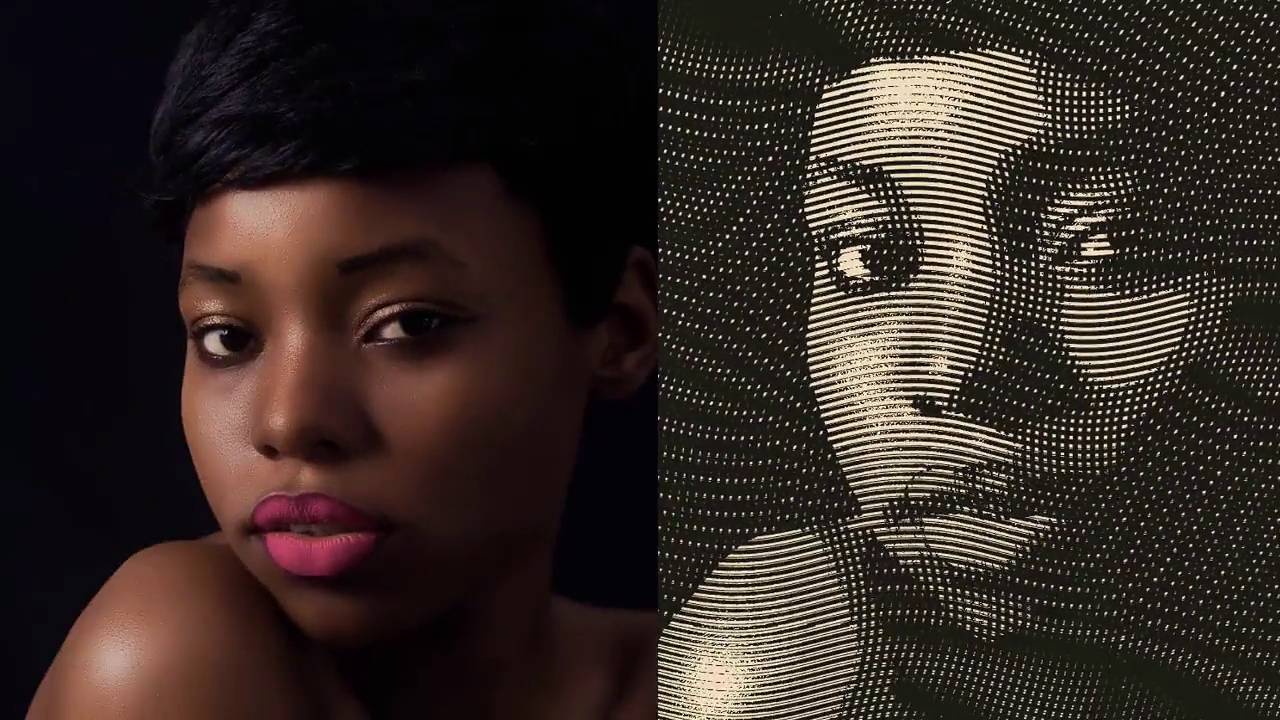 Comment créer une action effet gravure de billet de banque

Commencez avec le motif. Ouvrir un Nouveau Document de 2000 x 2000 pixels. Utilisez l'Outil Trait pour créer une ligne en haut de la toile à 1 pixel. Puis allez dans Filtre > Déformation > Onde et utilisez les paramètres suivants pour créer une vague.
Nombre de générateurs : 10
Longueur d'onde Min/Max : 199, 200
Amplitude Min/Max : 5, 6
Echelle : 100 %

Puis appuyez sur les touches Alt-Maj-Flèche du Bas pour créer de nombreuses couches d'onde se déplaçant vers le bas. Fusionnez tous les calques de vague. Utilisez l'Outil Rognage pour Rogner le calque afin de créer une boîte rectangulaire avec des pics de vague identiques des deux côtés.
Dupliquez le calque de vague cinq fois. Pour chaque couche, ajouter une Ligne plus épaisse (plus épaisse d'1 pixel) en utilisant les Options de fusion, avant de Pixelliser tous les styles de calque. Puis allez dans Edition > Utiliser Comme Motif pour enregistrer chaque vague comme motif.
Ouvrez votre image. Ici, je vais utiliser ce Portrait de femme. Créer un Groupe d'Action et une Nouvelle Action pour votre effet. Cliquez sur le bouton Lancer l'Enregistrement lorsque vous êtes prêt à enregistrer les prochaines étapes. Maintenez les touches contrôle-J afin de Dupliquer votre photo cinq fois. Pour chaque couche, allez dans Image > Réglages > Seuil. Commencez avec un bas niveau pour la première couche et ensuite Augmenter le Seuil pour chaque doublon d'au moins 20 pixels de plus que la précédente.

Appliquez un Remplissage de chaque motif de vague, que vous avez créé plus tôt à son propre Nouveau Calque. Faites Tourner quelques unes des couches pour plus de variété de vague. Enfin, sélectionnez votre première couche de seuil puis Sélection > Plage de Couleurs, changer la sélection à Tons Foncés. Avec les tons foncés sélectionnés, Rendez Visible une des couches de vague et cliquez sur le bouton Masque de Fusion pour créer un Masque parfait. Procéder ainsi pour chaque couche avant de Supprimer celles de seuil.

N'oubliez pas de cliquer sur le bouton Arrêter l'enregistrement dans la fenêtre d'Actions pour enregistrer cette action pour les futures photos.

Voici l'effet final.

N'hésitez pas à ajouter une teinte de vert pour plus de variations de couleurs.

5 Actions de gravure Photoshop
À court de temps ? Appliquez un effet de gravure instantané à vos photos en sélectionnant l'une des incroyables Actions Photoshop disponibles sur GraphicRiver. Et découvrez quelques uns de nos coups de coeur ci-dessous !
Créez un impressionnant effet de gravure rapidement avec ce pack d'actions. Ce pack comprend sept actions incroyables qui appliquent différents niveaux de détail à vos photos. Ajoutez d'incroyables effets de couleurs et plus encore avec ce kit ingénieux !

Idéal pour tout design de couverture ou pour les photos expérimentales, cette action vous permet de créer un effet gravure rapide ! Cliquez simplement sur le bouton Exécuter de la fenêtre d'Actions pour profiter de votre effet !

Pour plus de variété dans les types de lignes que vous espérez obtenir, découvrez cette magnifique action Photoshop. Cette action a été élaborée pour fonctionner sur plusieurs versions de Photoshop, donc testez-le sur vos photos quel que soit votre version du logiciel.

Transformez n'importe quelle photo en un seul clic ! Ajouter belles teintes à votre effet ou gardez les couleurs d'origine de la photo pour plus d'options. Ce pack d'actions comprend trois actions professionnelles avec différents niveaux d'épaisseur de trait. Choisissez entre léger, moyen et lourd pour aller avec votre style unique.

Retournez dans le temps avec cette action Photoshop exquise. Cette action crée un effet de gravure d'argent incroyable qui rivalise avec celui du vrai ! Vous allez adorer cette action avec trois niveaux de profondeur afin d'obtenir le niveau de détail souhaité.

60 secondes ?!
Cela fait partie d'une série de tutoriels vidéo rapides sur Envato Tuts+ dans lequel nous présentons un éventail de sujets, tous en 60 secondes, juste assez pour vous mettre en appétit. Faites-nous savoir dans les commentaires ce que vous avez pensé de cette vidéo et ce que vous souhaitez voir expliqué en 60 secondes !
Want a weekly email summary?
Subscribe below and we'll send you a weekly email summary of all new Design & Illustration tutorials. Never miss out on learning about the next big thing.
Sign up
Digital Artist - CT, USA
I'm an Afro-Latina digital artist originally from Long Island, NY. I love to paint, design, and photo manipulate in Adobe Photoshop while helping others learn too. Follow me on
Instagram
or tweet me
@MelloNieves
and tell me what you'd like to see next!
One subscription. Unlimited Downloads.