Melody Nieves
Bienvenidos a nuestra serie Photoshop en 60 Segundos, ¡en la cuál puedes aprender un habilidad, característica, o técnica de Photoshop en solo un minuto!
Photoshop en 60 Segundos: Acción de Grabado

Convierte tus fotos en moneda real. Recrea la apariencia de un efecto de grabado de dinero tradicional en Adobe Photoshop. En este vídeo rápido, te mostraré cómo crear un simple patrón de ondas usando la Herramienta Línea (L) y después dar seguimiento creando una Acción de Photoshop para aplicar esos patrones a tu sujeto.

¡Navega la increíble selección de Acciones de Grabado de Photoshop desde GraphicRiver y Envato Elements para aplicar este efecto a tus fotos en segundos!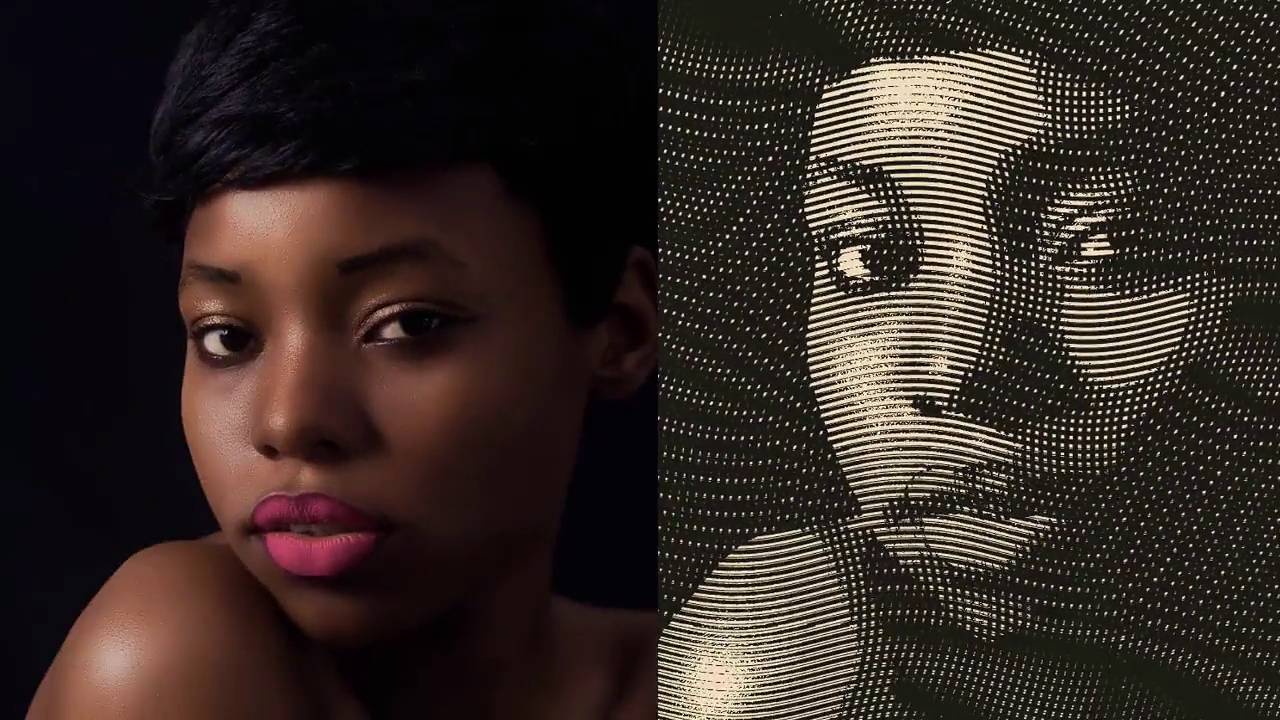 Cómo Crear una Acción de Grabado de Dinero

Comienza con el patrón. Abre un Nuevo Documento grande de 2000x2000 pixeles. Usa la Herramienta Línea (L) para crear una línea en la parte superior del lienzo a 1 pixel. Después ve a Filtro > Distorsionar > Onda y usa los siguientes ajustes para crear una onda rápida.
Número de Generadores: 10
Longitud de Onda Min/Max: 199, 200
Amplitud Min/Max: 5,6
Escala: 100%

Después mantén presionado las teclas Alt-Shift-Flecha Abajo para crear muchas capas de onda moviéndose hacia abajo. Fusiona todas las capas de onda. Usa la Herramienta Recortar (C) para Recortar el lienzo de manera que crees una caja rectangular con picos de onde idénticos en ambos lados.
Duplica la capa de onda cinco veces. Para cada capa, agrega una línea de Trazo más gruesa (1 pixel más grande) usando las Opciones de Fusión, antes de Rasterizar todos los estilos de capa. Después ve a Editar > Definir Patrón para guardar cada onda como su propio patrón.
Abre tu imagen. Aquí estaré usando este Retrato de Mujer. Crea un Grupo de Acción y Conjunto de Acción rápidos para tu efecto. Presiona el botón Grabar cuando estés listo para grabar los siguientes pasos. Sostén Control-J para Duplicar tu foto cinco veces. Para cada capa, ve a Imagen > Ajustes > Umbral. Comienza con un nivel bajo para la primera capa, y después Incrementa el Umbral para cada duplicado por al menos 20 pixeles más que el anterior.

Aplica un Relleno de cada patrón de onda que creaste anteriormente a su propia Nueva Capa. Rota un poco las capas para más variedad de onda. Finalmente, selecciona tu primer capa de umbral y ve a Selección > Rango de Color, cambiando la opción principal a Sombras. Con las sombras seleccionados, Muestra la Visibilidad de una de las capas de onda y presiona el botón de Máscara de Capa para crear una Máscara perfecta. Has esto para cada capa antes de Borrar las de umbral.

Recuerda presionar el botón Detener en la paleta de Acciones para guardar esta acción para futuras fotos.

Aquí está el efecto final.

Siéntete libre de agregar un tinte de verde para más variaciones de color.

5 Acciones Photoshop de Grabado
¿Tienes poco tiempo? Aplica un efecto instantáneo de grabado de dinero a tus fotos seleccionado una de las increíbles Acciones Photoshop disponibles en GraphicRiver. ¡Y revisa abajo unas cuántas de nuestras favoritas!
Crea un increíble efecto de grabado de dinero en menos tiempo con este útil paquete de acciones. Este paquete incluye siete impresionantes acciones que aplican diferentes niveles de detalle a tus fotos. ¡Agrega geniales efectos de color y más con esta inventiva descarga!

Grandioso para cualquier diseño de portada o foto experimental, ¡esta acción te permite crear un efecto ondulante de grabado rápido! ¡Simplemente presiona el botón Reproducir en la paleta de Acciones para disfrutar tu efecto en unos pocos clics!

Para más variedad en los tipos de líneas que esperas lograr, revisa esta maravillosa acción Photoshop. Esta acción ha sido desarrollada para soportar múltiples versiones de Photoshop, así que pruébala en tus fotos sin importar tu versión de software.

¡Transforma cualquier foto con solo un clic! Agrega hermosos tintes a tu efecto o mantén los colores originales de la foto para más opciones. Este paquete de acción contiene tres acciones profesionales con varios niveles de grosor de línea. Elige de grosores livianos, medios y pesados para emparejar tu estilo único.

Regresa en el tiempo con esta exquisita acción Photoshop. ¡Esta acción crea un insano efecto de grabado de dinero que compite con lo real! Disfruta una acción con tres niveles de profundidad para obtener el nivel de detalle que deseas.

¡¿60 Segundos?!
Esta es parte de una serie de video tutoriales rápidos en Envato Tuts+ en la cuál presentamos un rango de temas, todo en 60 segundos---lo suficiente para abrir tu apetito. ¡Déjanos saber en los comentarios qué piensas de este video y qué más te gustaría ver explicado en 60 segundos!
Want a weekly email summary?
Subscribe below and we'll send you a weekly email summary of all new Design & Illustration tutorials. Never miss out on learning about the next big thing.
Sign up
Digital Artist - CT, USA
I'm an Afro-Latina digital artist originally from Long Island, NY. I love to paint, design, and photo manipulate in Adobe Photoshop while helping others learn too. Follow me on
Instagram
or tweet me
@MelloNieves
and tell me what you'd like to see next!
Start your 7-day free trial*
*All Individual plans include a 7-day free trial for new customers; then chosen plan price applies. Cancel any time.