Bienvenido a nuestras series de Photoshop en 60 segundos, en las cuales puedes aprender una habilidad, característica o técnica de Photoshop ¡en tan solo un minuto! 
Photoshop en 60 segundos: Effecto 3D Anaglifo
Una imagen Anaglifa 3D  es una que contiene dos diferentes imágenes coloreadas, una por cada ojo, usando filtros típicamente rojos y cian. Para experimentar ese efecto estereoscópico emergente en acción, asegúrate de usar lentes 3D rojos cian para ver este genial truco en acción. Aunque se sabe que se usa para fotografía y cine, puedes incorporar este aspecto en tus diseños e ilustraciones para darle un giro interesante.

Echemos un vistazo en cómo crear este simple efecto en este rápido video de 60 segundos a continuación. Y revisa nuestra selección de Acciones de Photoshop con Efecto 3D en GraphicRiver.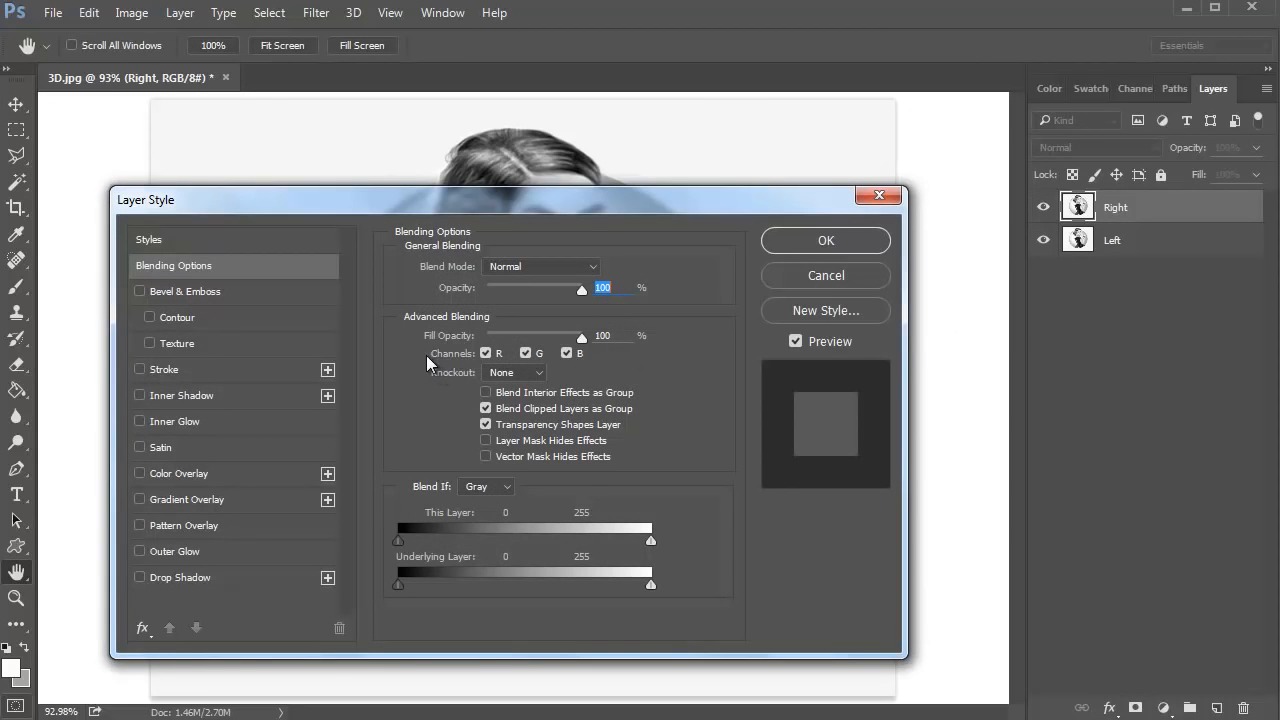 Cómo Crear un efecto 3d Anaglifo en Photoshop
Haga doble clic en la capa de fondo y Asigne el Nombre "Izquierda" a la nueva capa, luego mantenga presionada la tecla Control-J para crear un Duplicado de esta capa, renombrando la nueva copia como "Derecha".

Selecciona la capa correcta y haz clic Derecho para ir a Opciones de Fusión. En Opciones de Fusión, Mezcla Avanzada, desmarca la opción Rojo para los canales RGB y presiona OK.

Repite este proceso con la capa izquierda, da Click derecho y ve a las Opciones de Fusión pero esta vez desmarca la opción Verde para los canales RGB y entonces presiona OK.

Con la capa izquierda seleccionada, elije la Herramienta Mover y presiona la tecla de la Flecha Izquierda entre cinco y diez veces para desplazar la capa hacia la izquierda.  Ahora selecciona la capa derecha y presiona la tecla de flecha derecha varias veces para desplazar la capa hacia la derecha.

Luego use la Herramienta Recortar para recortar los bordes.

¿Quieres ver esto en acción? ¡Checa el video de arriba para ver esta lección funcionando!

Un Poco Más Detallado
¿Deseas aprender más sobre Adobe Photoshop y cómo crear increíbles efectos fotográficos? Echa un vistazo a los siguientes tutoriales a continuación:
¡¿60 Segundos?!
Esto es parte de una serie de video tutoriales rápidos de Envato Tuts+ en los que presentamos una variedad de temas, todo en 60 segundos, lo suficiente para abrir tu apetito. ¡Haznos saber en los comentarios qué te pareció este video y qué más te gustaría ver explicado en 60 segundos!
Want a weekly email summary?
Subscribe below and we'll send you a weekly email summary of all new Design & Illustration tutorials. Never miss out on learning about the next big thing.
Sign up
Digital Artist - CT, USA
I'm an Afro-Latina digital artist originally from Long Island, NY. I love to paint, design, and photo manipulate in Adobe Photoshop while helping others learn too. Follow me on
Instagram
or tweet me
@MelloNieves
and tell me what you'd like to see next!
One subscription. Unlimited Downloads.