Andrei Stefan
Welcome to our Illustrator in 60 Seconds series, in which you can learn an Illustrator skill, feature, or technique in just a minute!

Illustrator in 60 Seconds: Create a Home Button
In today's tutorial, I'm going to show you how to create your very own Home Button using some of Illustrator's most basic tools such as the Shape Tool, Offset Path, and Pathfinder panel. So, if you want to learn something new quickly, this video was tailored specially for you.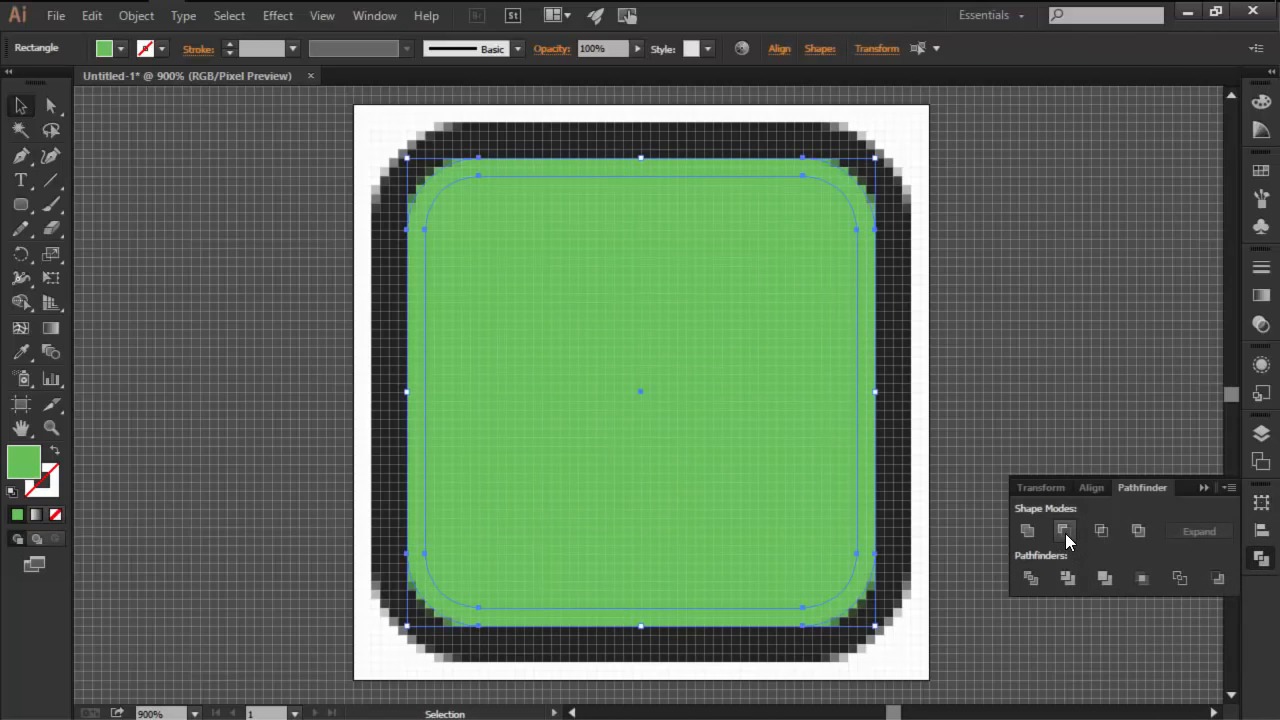 How to Create a Home Button in Adobe Illustrator
Create a New Document, using the 64 by 64 pixels artboard reference. Switch over to the Pixel Preview Mode to have full control of your objects.
Create the button's main shape by selecting the Rounded Rectangle Tool and using it to draw a 52 by 52 pixels object with an 8px Corner Radius. Color it green and then position it towards the center using the Align panel.
Give the shape an outline by going over to Object Path off the Path sub menu, and entering 4 pixels into the opposite value field, making sure to change its color to a dark gray to make it stand out.

Next, give the green shape a highlight by creating a Copy. Then using the Control-C, Control-F keyboard shortcuts, apply a -2 pixels Offset which we'll use to create a cutout from the larger shape with the help of Pathfinder's Minus Front Shape Mode. Adjust the shape by changing it to white and setting its Blend Mode to Overlay and its Opacity to 40%.

Create the lower section of the house using a 24 by 12 pixels gray rectangle. Add the door cutout by Subtracting a 6 x 10 pixels rectangle from its lower section. Create a roof by drawing it using the Pen Tool. Finish by adding a 4 by 12 pixels rectangle towards the upper right section of the house.
Want to see this in action? Check out the video above to see this lesson at work!

A Bit More Detail
Want to learn more about Adobe Illustrator's vast tools and settings? Check out these tutorials below:

60 Seconds?!
This is part of a series of quick video tutorials on Envato Tuts+ in which we introduce a range of subjects, all in 60 seconds—just enough to whet your appetite. Let us know in the comments what you thought of this video and what else you'd like to see explained in 60 seconds!
Want a weekly email summary?
Subscribe below and we'll send you a weekly email summary of all new Design & Illustration tutorials. Never miss out on learning about the next big thing.
Sign up
coffee addict / pixel grinder
Just another young gun coffee fanatic from Europe, designing colorful worlds one pixel at a time. When I'm not "making stuff" you can usually find me at my place, flipping news and catching up on all the crazy things happening in both the tech and design realms.
One subscription. Unlimited Downloads.