Kelly Rossouw
Whether you are looking for a new font for a brand you are building, want to put together a fun quirky project, or just want to keep your project to a typical classic farmhouse look, this article has the Cricut font for you. Just as there are many different types of farms worldwide, there are also many different types of farmhouse fonts and vintage farm fonts to use on your Cricut!
Very often, the best farmhouse font to use on your Cricut project depends on the reason you want to use it. We are going to go through a few different project types and look at a few of the best farmhouse Cricut fonts to use.
Vintage and Classic Fonts
These fonts are some of your more vintage, rustic Cricut fonts, and they're the types of fonts that you would typically think of for "farmhouse" projects. They follow a theme of not being perfect and being the type of font you would typically see in a farm-style environment.
1. Poule (OTF & TTF)
Let's start off with one of the best rustic fonts on Cricut. This one is for all of those who love the original farm style and love the font styles not being perfectly aligned or even.
If you prefer a little more uniformity, while still having a font that has all of the unique aspects of the farm life, then this is a font you want to use. It is also a bit different from the others on the list as it is not only an uppercase font, but also a lovely vintage farm font.
This Cricut farmhouse font contains a font option that has a slightly more rustic look to it. Being a bit more of a textured font, it can be a little trickier to cut out of vinyl, but there are some fun ways around that for your project! Be sure to read all the way to the bottom of this article for some more info on that.
This is a truly classic rustic Cricut font. When I see this font, I see an old, elegant, and vintage working farmhouse filled with hard-working people and divine food. 
This is one of those rustic fonts on Cricut that has withstood the test of time, and it's in the vintage section because of the textured look to it (there is a non-textured version a bit later!). This font can universally be recognised as being a true vintage Cricut farmhouse font.
This font has a little bit more character to it. Not only does it have the texture, but the flourishes on the letters make it one of my favourite farmhouse fonts on my Cricut.
Who doesn't love a true Western font? This is the first true vintage font on the list, but it is most definitely one of my favourite country fonts on Cricut.
Going back to a little bit more of a classic handwritten font, this one gives us proper classic Cricut farmhouse font vibes.
9. Brewski (OTF & TTF)
Perhaps a little bit on the edge of being a rustic farmhouse font, this one I can still see in a gorgeous farm micro-brewery or on signage outside a big farmhouse barn somewhere.
Western and farmhouse are so closely linked, which is why this one made the list—to me, it's a strong contender for a country font on Cricut.
11. The Big (OTF & TTF)
Here's another Western-style font that could easily be seen on a ranch somewhere, or on the side of a farmhouse barn. Everyone knows exactly what feeling you are trying to convey with this rustic Cricut font.
Business Farm Fonts
If you are looking for the best farmhouse Cricut font but are looking for something a little crisper and more professional, there are many options. These ten fonts will cover a variety of different business needs, and with so many options, you can easily find the best farmhouse font for your Cricut project.
This duo includes a farmhouse cursive font, as well as a very clean font. It allows your branding to be fun, as well as on the theme of having one of the best Cricut farmhouse fonts.
Lychee Farmland allows your farmhouse branding to be professional, while also having a slight element of whimsy with the flourishes that this Cricut farmhouse font brings to the table.
This rustic Cricut font can really elevate your farmhouse business and take things to the next level for you. This particular font gives off a very formal and professional image, so it is perfect for your business if you want a serious business image.
4. Nomads (OTF & TTF)
This is one of the best farmhouse fonts on Cricut, and while it is very similar to the one above, it is a bit softer than the font above, so if you aren't looking for as serious a business image, this is a great alternative!
5. Florest (OTF & TTF)
This is another rustic font that has professional look to it, while also having enough character to add some personality to any farmhouse business branding.
This handcrafted Cricut farmhouse font is the perfect marriage of professional and character. Its uneven edges and texture bring a soft comfort that is needed in many small businesses with handcrafted items. What better font than one that is also handcrafted?
This uppercase font is clean, as well as slightly uneven, giving it just enough character to be a great choice for some small businesses, and also enough professional flair to be a solid choice.
In this font pack there are two options: one rounded and one vintage. It's the counterpart of an earlier font but without the textured look, meaning it is a great option for more professional business-related uses with a rustic Cricut font.
This is one of the best farmhouse Cricut fonts for professional use as it also has some character, but in very small ways. It allows the business to retain its professional image, while also allowing some small quirks.
10. Cikond (OTF & TTF)
This one is very similar to the above, and while it maintains the rustic Cricut font image, it is also professional, while having a little bit of character.
Quirky Fonts
These are the types of farmhouse fonts for your Cricut project that are out of the ordinary, and yet could be the perfect font you are looking for. The unique styles of these fonts will suit so many different types of projects and are some of my favourite country fonts on Cricut.
For the more whimsical farmhouse-type projects, this one is filled to the brim with fun! It allows us to really explore the fun side of our projects, while being uniform as well as quirky.
This font would work very well on large projects, as it has a lot of detail and is perfectly suited to many whimsical projects—definitely a crowd-pleaser!
3. Flora (OTF & TTF)
For a farmhouse project that has a softer look and feel, this one allows for a different beauty to be conveyed in the project.
Many farmhouses farm different things, and for those that have a greenhouse, this could be a fantastically whimsical theme. The gorgeous butterflies give a unique look to this Cricut farmhouse font.
This farmhouse font allows many different types of customisation by adding different bugs and elements onto it, so you can really craft your own look and feel for this font.
Classically Clean Farm Fonts
Not all farms and farmhouses have to be rustic and floral—some are very different and have a very clean, classic look about them. 
This classic farmhouse font has very clean lines and allows an almost regal look to it, while maintaining a farmhouse feel. The other aspect of this font that makes it unique is that it is also a farmhouse cursive font.
This farmhouse cursive font has clean, even lines and looks extremely professional too. This font is a perfect example of one of the best farmhouse fonts on Cricut.
This clean and classic font has the typical whimsy you would expect to see in a farmhouse font, and it would be perfect for any farmhouse project.
This clean, even-lined font has a unique style with double lines, and it has all of the characteristics and quirk of a typical farmhouse font.
Here's a gorgeous country font on Cricut that is a handwritten font with all the quirk of a farmhouse style, and all of the comfort of that farmhouse couch!
Curious about how this farmhouse cursive font would look on a design? Play the video below to see it for yourself! I've used this farmhouse font Cricut suggestion to make a design that would look amazing on a pillow. Here's a video mockup from Placeit: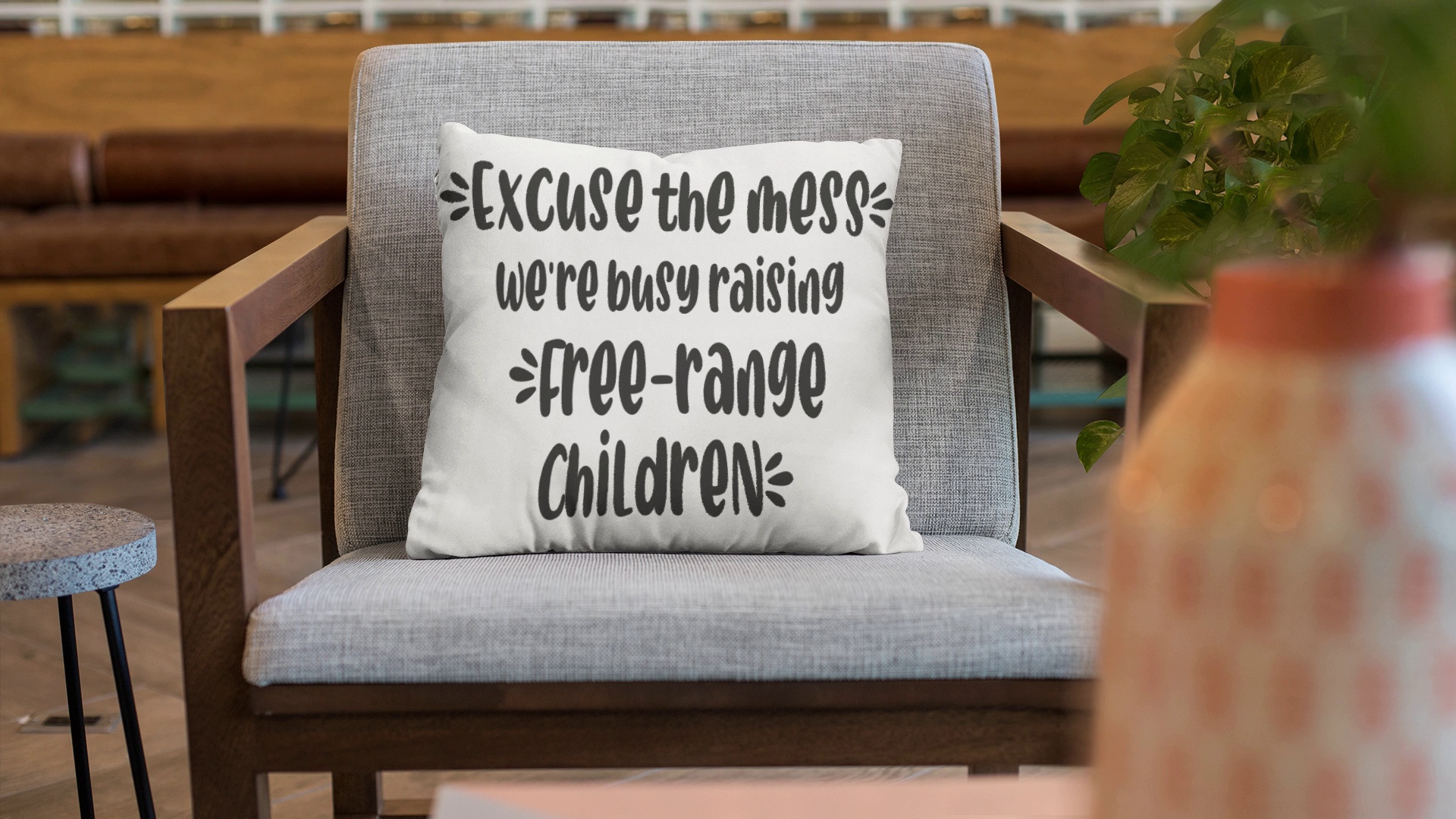 This farmhouse font has a more hand-written aesthetic, but it's a perfect choice for a classically clean farmhouse project.
This last font has all of the elements of a rustic farmhouse theme, with all of the clean aspects of a classic font style—a great choice for any classic farmhouse project.
4 Quick Tips to Use Your Cricut Farmhouse Fonts
1. Using Textured & Detailed Fonts
Not all textured fonts are easy to use, and if you don't want all of the texture inside the letters but prefer just the outline, you can use the contour feature to hide all the contours. You will need to weld your text before this feature becomes available.
2. Print Then Cut
Print then cut is a very useful feature for many different projects, and this will also allow you to retain the textured look, and also the detail included in many of the fonts when you need a smaller font. You will need to flatten the fonts to use them with print then cut if you want to retain the textured look and small details!
3. Sizing Matters
Some of the fonts in this article are perfect for large-scale projects, so it is very important to keep the size of your project in mind when choosing a font. Know how to size your projects according to detail. For the more detailed fonts, choose a larger project or a different project type—like print then cut!
4. Importance of Material Type
Very often, the choice in material type can determine what font you choose as well. Textured fonts are easier to weed (remove the excess material) when you are using Iron-On (heat transfer vinyl).
Learn Some New Skills and Discover More Resources
Now that you've downloaded a few new fonts from Envato Elements, you may want to learn some of the methods we covered in this article—or perhaps you haven't quite found the font you are looking for. These articles below will help you on either journey.
Want a weekly email summary?
Subscribe below and we'll send you a weekly email summary of all new Design & Illustration tutorials. Never miss out on learning about the next big thing.
Sign up
Cricut Crafter in Cape Town
I am a hobbyist at heart, with my passions in so many different types of crafts. My interests lie in anything Cricut related, 3D printing, painting, card making, paper crafting - and honestly so much more! One of the things I love the most is teaching people, and being able to reach people through my YouTube channel—which is mainly focused on Cricut tutorials, and livestreams—is a dream come true! I am a full-time content creator, and being able to share my knowledge to everyone around the world is an absolute dream come true! I currently live in the beautiful city of Cape Town, South Africa.
Start your 7-day free trial*
*All Individual plans include a 7-day free trial for new customers; then chosen plan price applies. Cancel any time.