Melody Nieves
Bine ați venit la Photoshop în seria de 60 de secunde, în care puteți învăța o abilitate, o caracteristică sau o tehnică Photoshop în doar un minut!
Photoshop în 60 de secunde: Gravură in Actiune.

Transformați fotografiile în monedă reală. Refaceți aspectul unui efect tradițional de gravare a banilor în Adobe Photoshop În acest videoclip rapid, vă vom arăta cum să creați un model simplu de undă utilizând Instrumentul Linie (L) și apoi să continuați prin crearea unei acțiuni Photoshop pentru a aplica aceste modele subiectului dvs.

.Răsfoiți selecția incredibilă a acțiunilor de gravare Photoshop de la GraphicRiver și Envato Elements pentru a aplica acest efect fotografiilor dvs. în câteva secunde!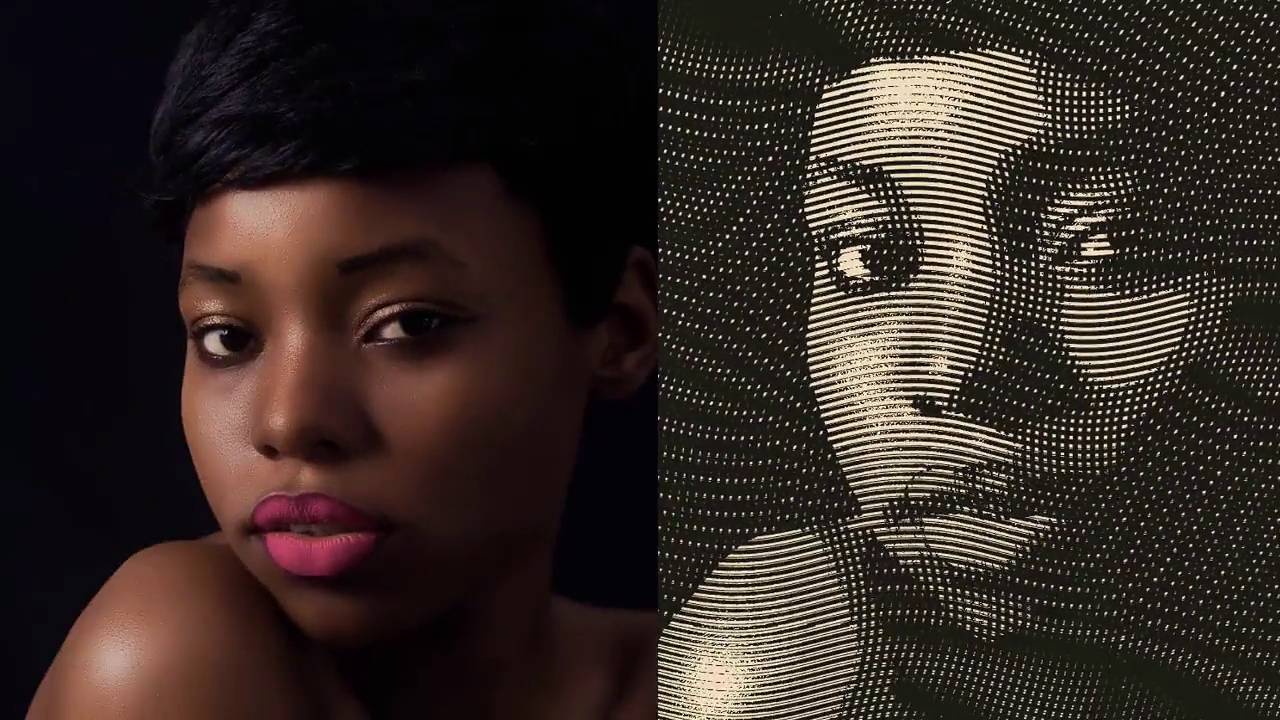 Cum sa creezi  o acțiune de gravare a banilor

Începeți cu modelul. Deschideți un nou document nou la 2000x2000 pixeli. Utilizați instrumentul Linie (U) pentru a crea o linie în partea de sus a pânzei la 1 pixel. Apoi mergeți la Filter> Distort> Wave și utilizați următoarele setări pentru a crea un val rapid.
Numărul de Generatori: 10
Lungime de undă Min/Max: 199, 200
Amplitudinea Min/Max: 5,6
Scara: 100 %

Apoi apăsați tasta Alt-Shift-Down pentru a crea mai multe straturi de undă care se deplasează în jos. Mergețcu toate straturile de val împreună. Utilizați instrumentul de decupare (C) pentru a decupa pânza astfel încât să creați o cutie dreptunghiulară cu vârfuri de valuri identice pe ambele părți
Duplicati  stratul de val de cinci ori. Pentru fiecare strat, adăugaţi o linie de contur mai gros (1 pixel mare) utilizând opţiunile de amestecare, înainte de a rasteriza toate stiluri de strat. Apoi du-te la Edit > Define model pentru a salva fiecare val ca propriul său model.
Deschideți imaginea. Aici o să folosesc acest portret de  femeie. Creați un grup rapid de acțiune și set de acțiuni pentru efectul dvs. Apăsați butonul Înregistrare atunci când sunteți gata să înregistrați pașii următori. Țineți Control-J pentru a duplica fotografia de cinci ori Pentru fiecare strat, accesați Image> Adjustments> Threshold. Începeți cu un nivel scăzut pentru primul strat și apoi măriți pragul pentru fiecare duplicat cu cel puțin 20 de pixeli mai mult decât ultimul.

Aplicați o completare a fiecărui tip de undă pe care l-ați creat mai devreme în propriul său strat nou. Rotiți câteva dintre straturi pentru mai multe varietăți de valuri. În cele din urmă, selectați primul strat de prag și mergeți la Selectați> Gama de culori, schimbând opțiunea principală la Umbre Cu umbrele selectate, Deschideți vizibilitatea unuia dintre straturile de undă și apăsați butonul Layer Mask (Mască strat) pentru a crea o mască perfectă. Faceți acest lucru pentru fiecare strat înainte de a șterge pragurile.

Nu uitați să apăsați butonul Stop din paleta Acțiuni pentru a salva această acțiune pentru fotografii viitoare.

Aici este efectul final.

Simțiți-vă liber să adăugați o nuanță de verde pentru mai multe variante de culoare.

5 Acţiuni Photoshop gravura
Scurt  timp? Aplicați un efect instant de gravare a banilor pe fotografiile dvs. selectând una dintre acțiunile incredibile Photoshop disponibile pe GraphicRiver. Și verificați câteva dintre preferatele noastre de mai jos!
Creați un efect extraordinar  gravat cu bani în mai puțin timp cu acest pachet util de acțiuni. Acest pachet include șapte acțiuni uimitoare care aplică diferite niveluri de detaliu pentru fotografiile dvs. Adăugați efecte de culoare reci și mai mult cu această descărcare de resurse!

Mare pentru orice design de acoperire sau pentru o fotografie experimentală, această acțiune vă permite să creați rapid un efect de gravare ondulată! Pur și simplu apăsați pe butonul Play din paleta Acțiuni pentru a vă bucura de efect în câteva clicuri scurte!

Pentru mai multă varietate de tipuri de linii pe care sperați să le realizați,verificati. 
Pentru mai multă varietate în tipurile de linii pe care sper să le realizați, verificați această acțiune minunată Photoshop. Această acțiune a fost dezvoltată pentru a suporta mai multe versiuni ale Photoshop, deci testați-o pe fotografiile dvs., indiferent de versiunea software

Gravarea Actiunii Photoshop.
Transformați orice fotografie cu un singur clic! Adăugați nuanțe frumoase în efectul dvs. sau păstrați culorile originale din fotografie pentru mai multe opțiun. Acest pachet de acțiuni conține trei acțiuni profesionale cu diferite nivele de greutate a liniei. Alegeți din greutățile ușoare, medii și grele pentru a se potrivi cu stilul dvs. unic.

Gravarea Actiunilor Liniei.
Salt înapoi în timp cu această acțiune deosebită Photoshop. Această acțiune creează un efect de gravare a banilor, care rivalizează cu adevărat! Bucurați-vă de o acțiune cu trei nivele de adâncime pentru a obține nivelul de detaliu dorit.

60 de secunde?!
 Aceasta face parte dintr-o serie de tutoriale video rapide despre Envato Tuts +, în care introducem o gamă largă de subiecte, toate în 60 de secunde - suficient pentru a vă acoperi apetitul. Spuneți-ne în comentariile dvs. ce credeți despre acest videoclip și ce altceva doriți să-l explicați în 60 de secunde!
Want a weekly email summary?
Subscribe below and we'll send you a weekly email summary of all new Design & Illustration tutorials. Never miss out on learning about the next big thing.
Sign up
Digital Artist - CT, USA
I'm an Afro-Latina digital artist originally from Long Island, NY. I love to paint, design, and photo manipulate in Adobe Photoshop while helping others learn too. Follow me on
Instagram
or tweet me
@MelloNieves
and tell me what you'd like to see next!
Start your 7-day free trial*
*All Individual plans include a 7-day free trial for new customers; then chosen plan price applies. Cancel any time.