Melody Nieves
Bem-Vindo à nossa série Photoshop em 60 Segundos, onde você pode aprender uma habilidade, recurso ou técnica do Photoshop em apenas um minuto!
Photoshop em 60 Segundos: Ação de Estampa

Transforme suas fotos em moeda real. Recrie o visual de dinheiro tradicional com um efeito de estampa no Adobe Photoshop. Neste rápido vídeo, eu irei mostrar a você como criar um simples padrão de onda usando a Ferramenta Linha (L) e então seguiremos criando uma Ação do Photoshop para aplicar esses padrões ao seu tópico principal.

Navegue pela incrível seleção de Ações de Estampas para o Photoshop da GraphicRiver e da Envato Elements para aplicar este efeito às suas fotos em segundos!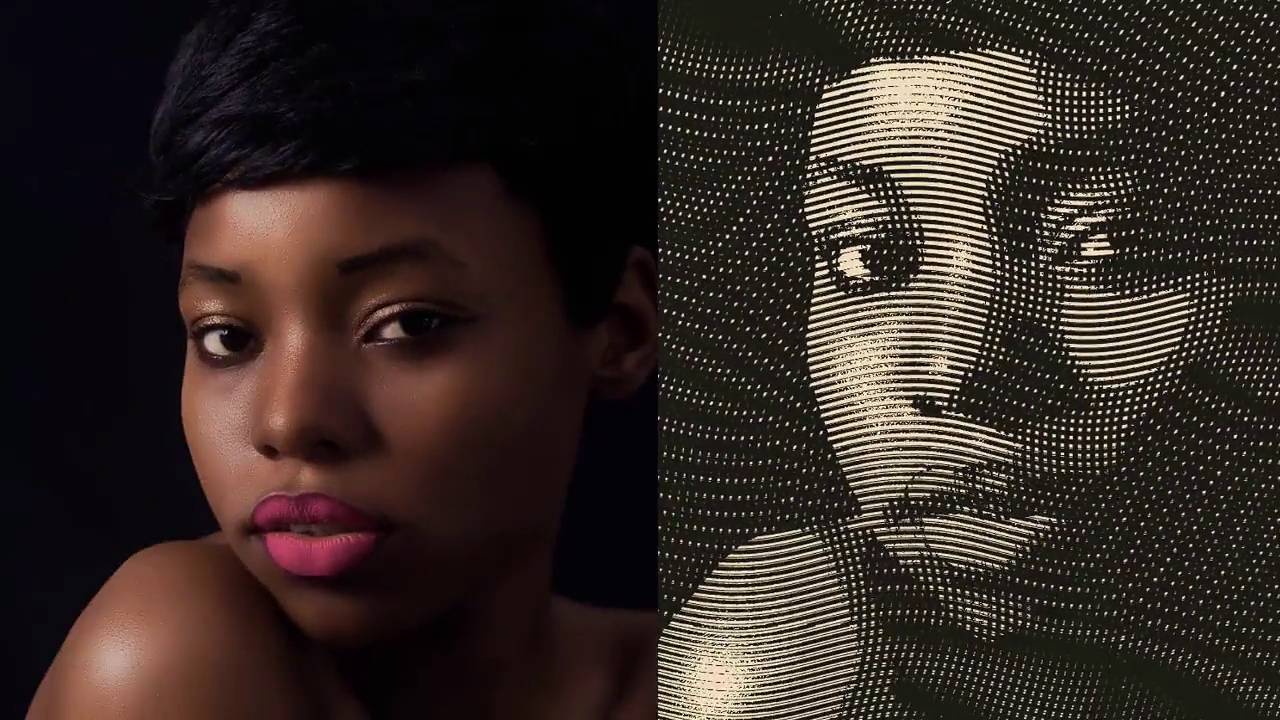 Como Criar uma Ação de Estampa de Dinheiro

Comece com um padrão. Abra um Novo Documento grande de 2000 x 2000 pixels. Use a Ferramenta Linha (U) para criar uma linha na parte superior da área de desenho de 1 pixel. Em seguida, vá para Filtro > Distorção > Ondas (Filter > Distort > Wave) e use as seguintes configurações para criar uma onda rápida.
Número de Geradores: 10
Comprimento da Onda Min/Máx (WaveLength): 199, 200
Amplitude Min/Máx: 5, 6
Escala: 100%

Em seguida, segure as teclas Alt-Shift-Seta para Baixo para criar várias camadas de onda movendo elas para baixo. Mescle todas as camadas de onda em uma só. Use a Ferramenta Corte Demarcado (C) para Cortar a área de desenho para que você crie uma caixa retangular com cristas de onda indênticas dos dois lados.
Duplique a camada da onda cinco vezes. Para cada camada, adicione uma linha de Traçado (Stroke) mais grossa (maior que 1 pixel) usando as Opções de Mesclagem (Blending Options), antes de Rasterizar todos os estilos de camada. Em seguida, vá para Editar > Definir Padrão (Edit > Define Pattern) para salvar cada onda como seu próprio padrão.
Abra a sua imagem. Eu vou usar aqui este Retrato da Mulher. Crie um rápido Grupo de Ação e um Conjunto de Ação para o seu efeito. Pressione o botão Início da Gravação (Record) quando você estiver pronto para gravar os próximos passos. Segure Ctrl-J para Duplicar sua foto cinco vezes. Para cada camada, vá para Imagem > Ajustes > Limiar (Image > Adjustments > Threshold). Comece com um nível baixo para a primeira camada e então Aumente o Limiar para cada duplicata com pelo menos 20 pixels a mais do que a camada anterior.

Aplique um Preenchimento (Fill) de cada padrão de onda que você criou anteriormente em sua própria Nova Camada. Rotacione algumas camadas para mais variedade nas ondas. Finalmente, selecione sua primeira camada de limiar e vá para Selecionar > Intervalo de Cores (Select > Color Range), alterando a opção principal para Sombras (Shadows). Com as sombras selecionadas, Desoculte a Visibilidade de uma das camadas de onda e pressione o botão Máscara de Camada (Layer Mask) para criar uma Máscara perfeita. Faça isso para cada camada antes de Excluir as camadas de limiar.

Lembre-se de pressionar o botão Interromper (Stop) na paleta de Ações para salvar esta ação para fotos futuras.

Aqui está o efeito final.

Sinta-se livre para adicionar uma tintura verde para mais variações de cores.

5 Ações de Estampas para o Photoshop
Tem pouco tempo? Aplique um efeito de estampa em dinheiro instantâneo em suas fotos selecionando uma das incríveis Ações para o Photoshop disponíveis na GraphicRiver. E confira algumas das nossas ações preferidas logo abaixo!
Crie um incrível efeito estampado em dinheiro em menos tempo com este pacote útil de ações. Este pacote inclui sete ações surpreendentes que se aplicam a diferentes níveis de detalhe em suas fotos. Adicione efeitos de cor bem legais e muito mais com este download cheio de recursos!

Ótimo para qualquer design de capa ou foto experimental, esta ação lhe permite a criação de um rápido efeito estampado ondulado! Simplesmente pressione o botão Reproduzir (Play) na paleta de Ações para desfrutar do seu efeito em apenas alguns cliques!

Para mais variedade nos tipos de linhas que você espera alcançar, confira esta maravilhosa ação do Photoshop. Esta ação foi desenvolvida para suportar múltiplas versões do Photoshop, então teste ela em suas fotos sem se preocupar com a versão do software.

Transforme qualquer foto com apenas um clique! Adicione belas tinturas ao seu efeito ou mantenha as cores originais da foto para mais opções. Este pacote de ações contém três ações profissionais com vários níveis de espessura de linha. Escolha espessuras finas, médias e grossas para coincidir com o seu estilo único.

Volte no tempo com esta primorosa ação para o Photoshop. Esta ação cria um efeito insano de estampa de dinheiro que rivaliza com a coisa real! Aproveite uma ação com três níveis de profundidade para obter o nível de detalhe que você deseja.

60 Segundos?!
Este tutorial é parte de uma série de tutoriais rápidos em vídeo da Envato Tuts+ onde introduzimos uma variedade de assuntos, tudo em 60 segundos - apenas o suficiente para aguçar o seu apetite. Deixe-nos saber nos comentários o que você achou deste vídeo e o que você gostaria de ver explicado em 60 segundos!
Want a weekly email summary?
Subscribe below and we'll send you a weekly email summary of all new Design & Illustration tutorials. Never miss out on learning about the next big thing.
Sign up
Digital Artist - CT, USA
I'm an Afro-Latina digital artist originally from Long Island, NY. I love to paint, design, and photo manipulate in Adobe Photoshop while helping others learn too. Follow me on
Instagram
or tweet me
@MelloNieves
and tell me what you'd like to see next!
One subscription. Unlimited Downloads.