Andrei Stefan
Benvenuti nella nostra serie Illustrator in 60 secondi, in cui puoi imparare un'abilità in Illustrator, una caratteristica o una tecnica in un attimo!
Illustrator in 60 secondi: il Pannello Elaborazione Tracciati
Hai difficoltà a capire come utilizzare i diversi Metodi Forma trovati sotto il pannello di Elaborazione Tracciati? Bene, non devi più preoccuparti, poiché in questo breve video imparerai esattamente come usarli!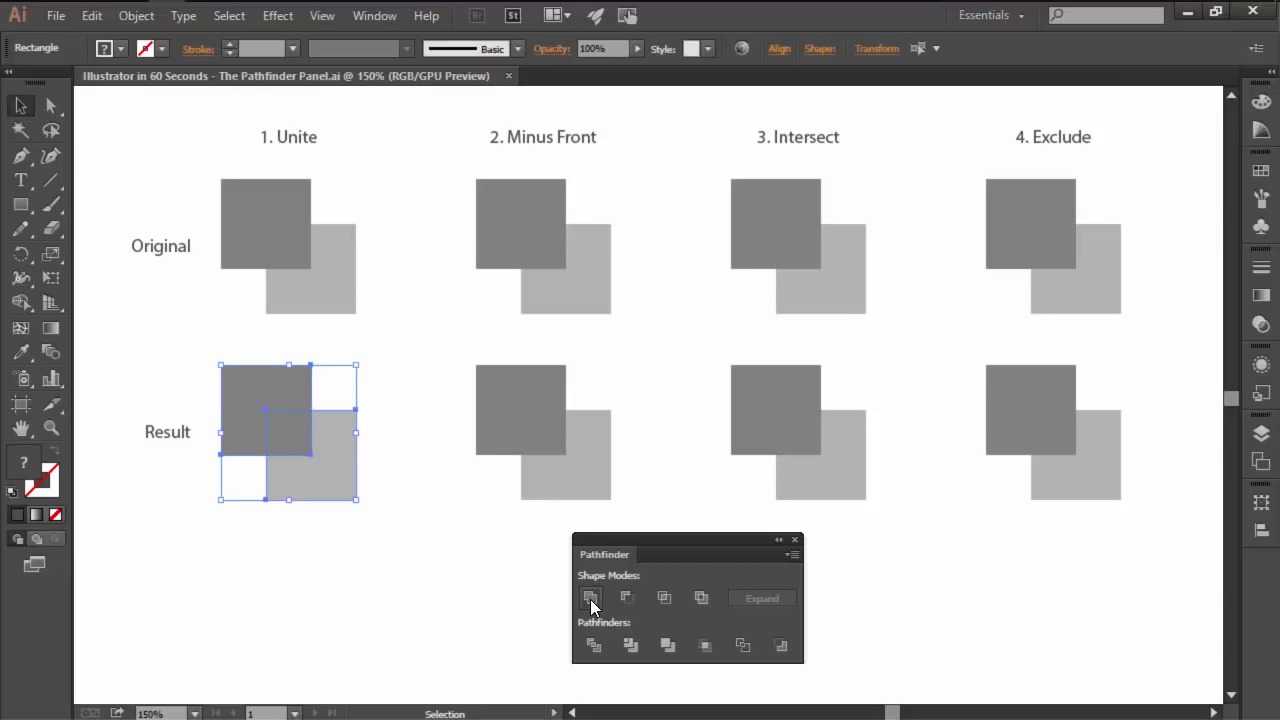 Come Utilizzare lo Strumento di Elaborazione Tracciati

Per visualizzare Elaborazione Tracciati devi andare su Finestra > Elaborazione Tracciati per renderlo visibile.
Il primo Metodo Forma è Unifica, che combina tutti gli oggetti selezionati in una singola forma più grande.

Il secondo Metodo Forma è Sotto meno Sopra, e permette di utilizzare qualsiasi oggetto superiore per creare un ritaglio da quello sotto.
La terza opzione è Interseca, che creerà una nuova forma utilizzando le sezioni sovrapposte degli oggetti selezionati.
Ultimo ma non meno importante, abbiamo Escludi, che, invece di rimuovere qualsiasi delle sezioni non sovrapposte, fa l'esatto contrario e si sbarazza delle superfici intersecanti degli oggetti.

Vuoi vederlo in azione? Guarda il video qui sopra per vedere questa lezione in pratica!

Qualche Dettaglio in Più
Vuoi saperne di più sulle impostazioni e strumenti in Adobe Illustrator? Guarda questi tutorial qui sotto:

60 secondi?!
Questa è la parte di una nuova serie di video tutorial rapidi su Envato Tuts+. Puntiamo a introdurre una gamma di soggetti, tutto in 60 secondi — quanto basta per stuzzicare l'appetito. Facci sapere nei commenti cosa pensi di questo video e cos'altro ti piacerebbe vedere spiegato in 60 secondi!
coffee addict / pixel grinder
Just another young gun coffee fanatic from Europe, designing colorful worlds one pixel at a time. When I'm not "making stuff" you can usually find me at my place, flipping news and catching up on all the crazy things happening in both the tech and design realms.
One subscription.
Unlimited Downloads.