Melody Nieves
Üdvözlünk a Photoshop 60 másodpercben sorozatunkban, ahol megtanulhatsz Photoshop jártasságokat, lehetőségeket, vagy technikákat csak egy percben!
Photoshop 60 másodpercben: Izolált objektum
Az izolált objektumok olyan objektumok amik extrahálva lettek egy képből bármilyen tervezésbeli használatra. Képmanipulációktól poszter tervezésekig és tovább, elérhetsz sok hihetetlen alkotást izolált objektumokkal. Kevés időd van? Próbáld ki ezt a Photoshop Akciót helyette, hogy eltávolítsd a hátteret könnyen.

Tanulj meg izolált objektumot készíteni ebben a rövid videóban lentebb. És böngészd alapanyagok hihetetlen válogatását Envato Marketről és Envato Elementsről még több hihetetlen opcióért.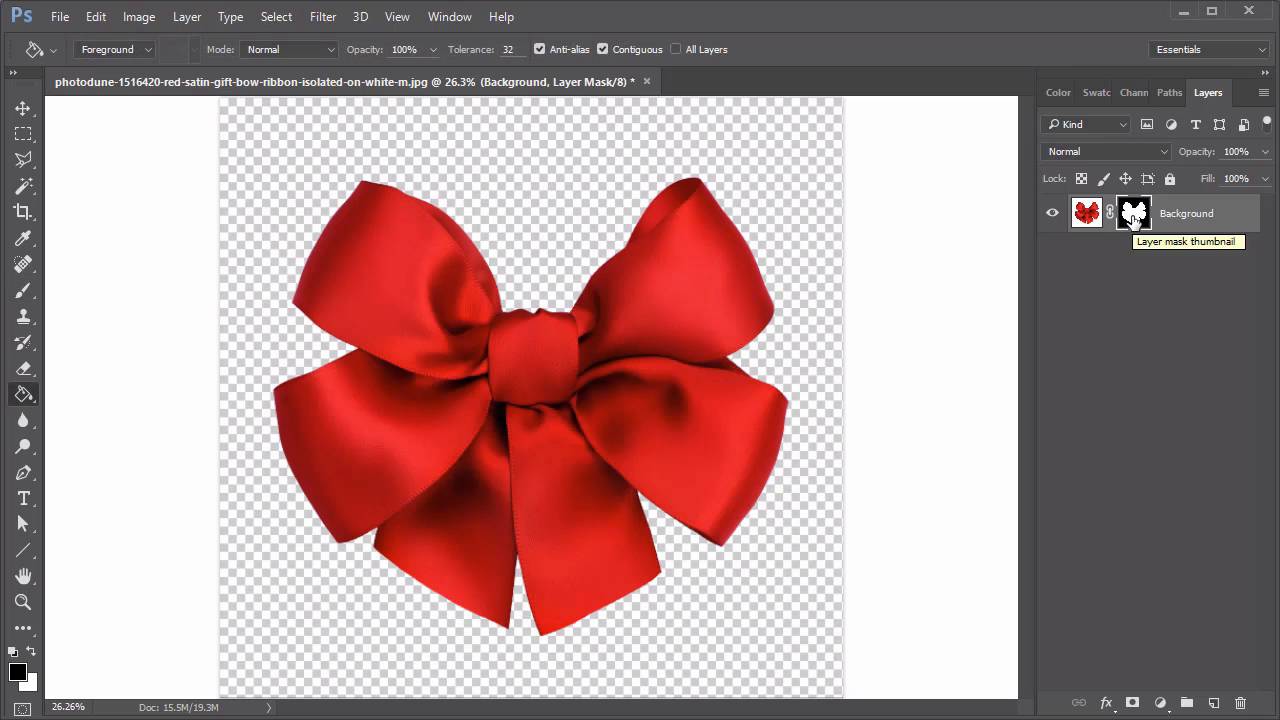 Hogyan készítsünk izolált objektumot Photoshopban

Készítsünk egy izolált objektumot két egyszerű úton. Először, nyisd meg a képedet Photoshopban; itt én ezt a Ribbon Stockot fogom használni.
Válaszd ki a háttér réteget a Rétegek panelről és adj hozzá egy gyors Réteg Maszkot. Most válaszd ki az Ecset Eszközt (B) és fess feketés a fehér Réteg Maszkra, hogy eltávolítsd a hátteret.
Könnyen visszafordíthatod a hátteret jobb-kattintással a Maszkon és a Maszk Kikapcsolása kiválasztásával.

A második módszerhez, távolítsd el a hátteret bármilyen képről a Photoshop extrahálási eszközei egyikének használatával. Én itt a Sokszögű Lasszó Eszközt (L) fogom használni, de a Varázspálca Eszköz (W) is nagyszerűen működik ebben a forgatókönyvben. Egyszerűen kövesd nyomon az alanyt, hogy elkészíts egy válogatást, jobb-katt, hogy Megfordítsd a Válogatást, aztán üsd le a Törlést, hogy eltávolítsd a hátteret,
A legjobb eredményekért, Mentsd el az izolált objektumodat egy átlátszó PNG vagy PSD fájlba.

Akarod látni akcióban? Nézd meg a rövid videót fentebb, hogy lásd ezt az órát munkában!

Egy kicsit több adat
Tanulj többet Photoshop eszközökről szakértőinktől! Nézd meg a következő bemutatókat lentebb:
60 másodperc?!
Ez része egy gyors bemutatóvideók sorozatának Envato Tuts+-on, ahol bevezetünk különféle témákba, mindössze 60 másodpercben - pont elég, hogy felkeltse az érdeklődésedet. Tudasd velünk a komment részlegben, mit gondoltál erről a videóról, és mi mást szeretnél még látni elmagyarázva 60 másodpercben!
Want a weekly email summary?
Subscribe below and we'll send you a weekly email summary of all new Design & Illustration tutorials. Never miss out on learning about the next big thing.
Sign up
Digital Artist - CT, USA
I'm an Afro-Latina digital artist originally from Long Island, NY. I love to paint, design, and photo manipulate in Adobe Photoshop while helping others learn too. Follow me on
Instagram
or tweet me
@MelloNieves
and tell me what you'd like to see next!
One subscription. Unlimited Downloads.