Melody Nieves
Üdvözlünk a Photoshop 60 másodpercben sorozatunknál, ahol elsajátíthatsz Photoshop képességeket, lehetőségeket, technikákat csak egy percben!
Photoshop 60 másodpercben: Gravírozás Akció

Váltsd át a képeidet az aktuális valutává. Készítsd el egy hagyományos pénz gravírozás kinézetét Adobe Photoshopban. Ebben a rövid videóban, meg fogom mutatni, hogyan készíts egy egyszerű hullám mintát a Vonal eszköz (L) használatával aztán felkövetni egy Photoshop Akció készítésével, hogy alkalmazd azokat a mintákat az alanyodhoz.

Böngészd Gravírozás Photoshop Akciók szelekcióját GraphicRiverről és Envato Elementsről, hogy alkalmazd ezt az effektet a képeidhez másodpercek alatt!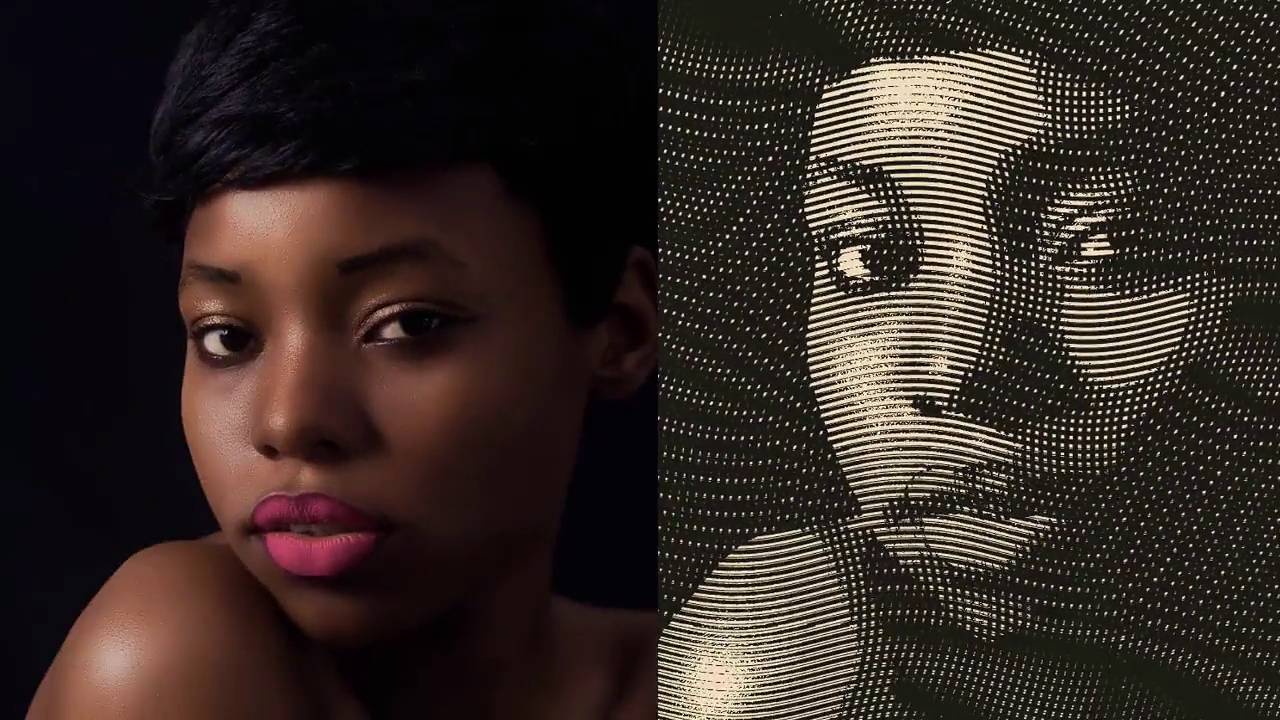 Hogyan készíts Pénz Gravírozás Akciót

Kezdjük a mintával. Nyiss meg egy nagy Új Dokumentumot 2000x2000 pixelben. Használd a Vonal Eszközt (U), hogy készíts egy vonalat a vászon tetején 1 pixellel. Ezután menj a Szűrő > Torzítás > Hullámra és használd a következő beállításokat, hogy készíts egy rövid hullámot.
Generátorok száma: 10
Hullámhosszúság Minimum/Maximum: 199, 200
Amplitúdió Minimum/Maximum: 5,6
Skála: 100%

Ezután tartsd lenyomva az Alt-Shift-Lefelé nyilat, hogy sok hullám réteget készíts lefelé mozogva. Egyesítsd az összes hullám réteget. Használd a Vágóeszközt (C), hogy Vágd a vásznat, hogy készíts egy négyszögletes dobozt azonos hullámcsúcsokkal mindkét oldalon.
Másold a hullám réteget ötször. Minden réteghez, adj hozzá egy vastagabb Körvonalat (1 pixellel nagyobb) a Keverési opciók használatával, mielőtt Raszterizálod az összes réteg stílust. Ezután menj a Szerkesztés > Minta definiálására, hogy elmentsd az összes hullámot a saját mintájaként.
Nyisd meg a képedet. Itt én ezt a Női portrét fogom használni. Készíts egy rövid Akció csoportot és Akció beállítást az effektedhez. Üsd le a Rögzítés gombot mikor kész vagy rögzíteni a következő lépéseket. Tartsd lenyomva a Control-J-t, hogy Másold a képedet ötször. Minden réteghez, menj a Kép > Beállítások > Küszöbhöz. Kezdj egy alacsony szinttel az első réteghez, aztán Növeld a Küszöböt minden másolathoz legalább 20 pixellel többel, mint az előző.

Alkalmazz egy Töltést minden hullám mintához amit készítettél korábban a saját Új Rétegéhez. Forgass néhány réteget több hullám variációért. Végül, válaszd ki az első küszöb rétegedet és menj a Kiválasztás > Színválasztékra, megváltoztatva a fő opciót Árnyékokra. A kiválasztott árnyékokkal, Tárd fel a láthatóságát az egyik hullám rétegnek és üsd le a Réteg Maszk gombot, hogy készíts egy tökéletes Maszkot. Csináld ezt minden réteghez mielőtt Törlöd a küszöböket.

Emlékezz leütni a Megáll gombot az Akciók palettán, hogy elmentsd ezt az akciót jövőbeni képekhez.

Itt a végső effekt.

Nyugodtan adj hozzá zöld tintát több színvariációért.

5 Photoshop Gravírozás Akció
Kevés időd van? Alkalmazz egy instant pénz gravírozás effektet a képeidhez az egyik hihetetlen Photoshop Akció kiválasztásával, ami elérhető GraphicRiveren. És nézz meg párat a kedvenceink közül lentebb!
Készíts egy hihetetlen pénz gravírozás effektet kevesebb idő alatt ezzel az akciók hasznos csomagjával. Ez a csomag tartalmaz hét lenyűgöző akciót ami alkalmaz adatok különböző szintjeit a képeidhez. Adj hozzá menő színeffekteket és még sok mást ezzel az alapanyagdús letöltéssel!

Nagyszerű minden borító tervezéshez vagy kísérleti képhez, ez az akció lehetővé teszi, hogy egy hullámos gravírozás effektet készíts gyorsan! Egyszerűen üsd le a Lejátszás gombot az Akciók palettán, hogy élvezd az effektedet egy pár rövid kattintásban!

Több variációért a vonalak típusaiban amit remélsz elérni, nézd meg ezt a csodálatos Photoshop akciót. Ez az akció azért lett tervezve, hogy támogassa a Photoshop több verzióját, szóval teszted a képeiden, nem számít a szoftver verziód.

Transzformálj bármilyen képet csak egy kattintással! Adj hozzá gyönyörű tintákat az effektedhez, vagy tartsd meg az eredeti színeket a képről több opcióért. Ez az akciócsomag tartalmaz három professzionális akciót számos vonal súly szinttel. Válassz könnyű, közepes, és nehéz súlyokat, hogy egyeztesd az egyedi stílusodat.

Ugorjunk vissza időben ezzel a tökéletes Photoshop akcióval. Ez az akció készít egy elképesztő pénz gravírozás effektet, ami vetélkedik az igazi dologgal! Élvezz egy akciót három mélységi szinttel, hogy megkapd az adat szintjét amire vágysz.

60 másodperc?!
Ez része a gyors bemutatóvideók sorozatának Enavto Tuts+-on, ahol bevezetünk különféle témákba, mindössze 60 másodpercben - épp elég, hogy felkeltse az érdeklődésedet. Tudasd velünk a komment részlegben, mit gondolsz erről a videóról, és mi mást szeretnél még látni elmagyarázva 60 másodpercben!
Want a weekly email summary?
Subscribe below and we'll send you a weekly email summary of all new Design & Illustration tutorials. Never miss out on learning about the next big thing.
Sign up
Digital Artist - CT, USA
I'm an Afro-Latina digital artist originally from Long Island, NY. I love to paint, design, and photo manipulate in Adobe Photoshop while helping others learn too. Follow me on
Instagram
or tweet me
@MelloNieves
and tell me what you'd like to see next!
One subscription.
Unlimited Downloads.