Monika Zagrobelna
Lernen Sie, wie man ein Mockup online erstellen kann, indem Sie einen Mockup-Generator verwenden. 
Mockups sind ein sehr effektives Mittel, um ein Design in seiner beabsichtigten Form zu zeigen, ohne tatsächlich Zeit und Geld in seine Produktion zu investieren. Sie brauchen Ihr Design nicht auf ein T-Shirt zu drucken, um zu sehen, wie es aussieht - Sie brauchen nur einen Mockup dafür.
Aber wie erstellt man Mockups? Jahrelang haben Designer Photoshop für diese Aufgabe verwendet, aber das ist nicht mehr nötig. In diesem kurzen Tutorial zeige ich Ihnen, wie Sie in wenigen einfachen Schritten ein Mockup ohne Photoshop erstellen können. Ich werde ein T-Shirt-Mockup und ein iPhone-Mockup als Beispiele verwenden.
Folgen Sie mir auf unserem Envato Tuts+ YouTube Channel:
Was Sie in diesem Mockup-Tutorial lernen werden
Wie man Placeit, ein Online-Mockup-Tool, verwendet
Wie man ein Mockup online erstellt, ohne Photoshop zu benutzen
Wie man ein T-Shirt-Mockup online erstellt
Wie man ein iPhone-Mockup erstellt
1.

Wie man ein T-Shirt Mockup erstellt
Schritt 1
Gehen Sie zu dem Online-Mockup-Tool Placeit.net. Suchen Sie die Registerkarte Mockups und gehen Sie zu T-Shirt Mockups, um ein T-Shirt Mockup online zu erstellen.
Schritt 2
Klicken Sie auf Laden Sie Ihr Design hier hoch und wählen Sie das Bild aus, das Sie auf den Vorlagen sehen möchten. Geben Sie ihm einen Moment Zeit zum Hochladen. Ich habe dieses Bild verwendet.
Schritt 3
Nach dem Hochladen werden Sie aufgefordert, das Design zuzuschneiden. In meinem Fall sieht es so aus, wie es ist, aber Sie können die Größe mit dem Schieberegler leicht ändern. Wenn Sie bereit sind, klicken Sie auf Zuschneiden.
Schritt 4
Der Online-Mockup-Generator wird nun Ihr Design automatisch und auf magische Weise auf alle Vorlagen anwenden. Das von Ihnen hochgeladene Bild wird in Bezug auf Position, Form, Beleuchtung und sogar Farben an jedes T-Shirt angepasst.
Scrollen Sie nun einfach durch eine ganze Bibliothek von Mockups, die Ihr Design präsentieren. Wenn Sie eines finden, das Ihnen besonders gut gefällt, klicken Sie es einfach an, um es besser zu sehen.
Schritt 5
Hier können Sie das Design noch nach Belieben bearbeiten. Sie können die Farbe des T-Shirts ändern, um zu sehen, ob das Design auch mit anderen Farben funktioniert, und Sie können das Bild bei Bedarf immer noch anders zuschneiden, indem Sie auf dieses Symbol klicken. Ich habe beschlossen, dass mein Bild besser aussehen würde, wenn es etwas höher platziert wäre, also habe ich es geändert.
Schritt 6
Wenn Sie damit zufrieden sind, wie das Mockup online aussieht, und Sie es dem Kunden ohne Wasserzeichen zeigen möchten, scrollen Sie einfach nach oben und klicken Sie auf die Schaltfläche Download. Hier können Sie das Bild kaufen oder es als Teil Ihres unbegrenzten Abonnements herunterladen.
10 fantastische kostenlose und kostenpflichtige Vorlagen für den Anfang
Nachdem Sie nun wissen, wie man eine T-Shirt-Mockup-Vorlage verwendet, finden Sie hier einige großartige Bekleidungsvorlagen, mit denen Sie üben können. Sie werden ein Mockup online in kürzester Zeit und sehr einfach erstellen. Es ist eine großartige Möglichkeit, kostenlose Mockups erstellen zu können. Erfahren Sie jetzt mehr darüber!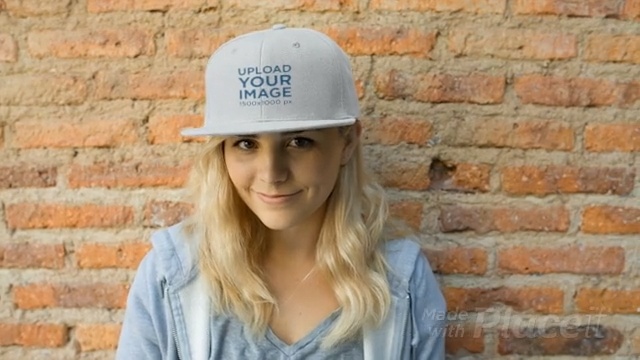 Video ist heutzutage allgegenwärtig, und wir wären nachlässig, wenn wir nicht auch ein Video-Mockup zeigen würden. In diesem Neun-Sekunden-Clip ist eine junge Frau zu sehen, die vor einer Backsteinmauer steht. Die Kamera schwenkt langsam von links nach rechts, während die Frau in die Kamera lächelt.
Vielleicht wollen Sie eine Modemarke oder ein Reiselogo präsentieren. Wie auch immer, diese kostenlose T-Shirt-Mockup-Vorlage ist eine weitere großartige Möglichkeit, einen realen Kontext mit einem ordentlich gefalteten T-Shirt, das neben anderen Gegenständen auf einem Bett liegt, einzubeziehen. Das perfekte Flat-Lay, um Ihre Designs optimal zur Geltung zu bringen.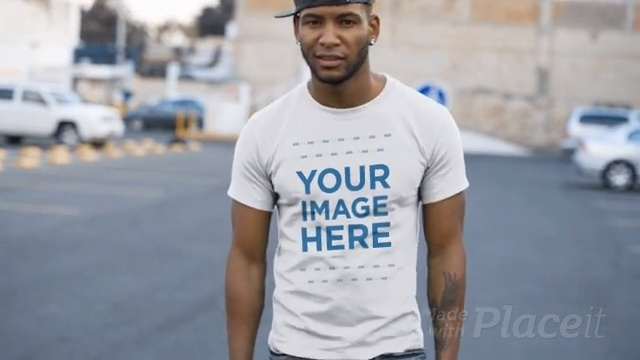 Einer der besten Vorteile unseres fantastischen Online-Mockup-Tools ist, dass Sie Ihr Mockup nicht nur als Bild, sondern auch als Video sehen können. So wie dieses ziemlich coole Video eines Mannes, der in einem T-Shirt über einen Parkplatz läuft. Nutzen Sie diese Funktion und erstellen Sie ein T-Shirt-Mockup online!
Sie suchen genau das richtige Paar, um Ihr Hoodie-Design zu präsentieren. Dieses Mockup eines coolen jungen Paares kann für eine Vielzahl von Zwecken verwendet werden, einschließlich eines ausgefallenen Friseursalons, eines Tattoosalons, einer lässigen Bekleidungslinie und mehr.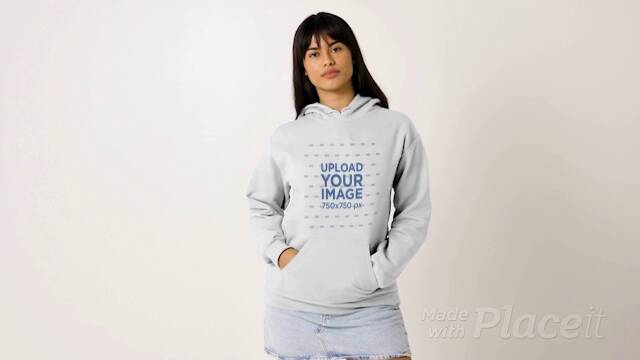 Als Nächstes haben wir dieses Video-Mockup einer Frau, die einen Hoodie trägt. Dies ist eine gute Gelegenheit, Ihr eigenes Kapuzenshirt-Design in Aktion zu sehen. Erstellen Sie ein Mockup online in Placeit!
Mit einer jungen Frau, die hinter einer Theke steht, nutzt diese kostenlose T-Shirt-Mockup-Vorlage einen realen Kontext, um Ihre Designs zum Leben zu erwecken und den Leuten zu helfen, sich selbst beim Tragen Ihrer T-Shirts vorzustellen. Dies ist ein einfaches und effektives T-Shirt Mockup online.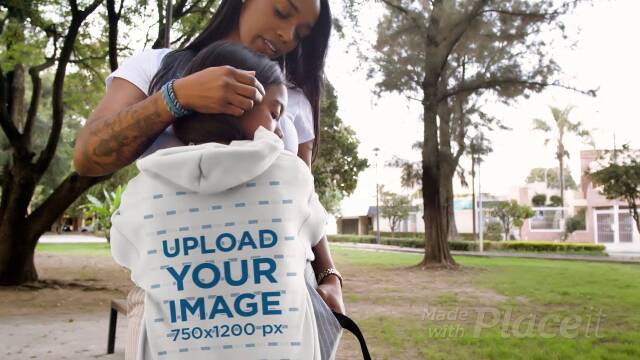 Wenn Sie unseren Online-Mockup-Generator durchgeblättert haben, haben Sie sicher eine große Auswahl an Optionen für Ihr Mockup gefunden. Wir haben auch Mockups für Kinderkleidung, wie dieses Mädchen, das einen Kapuzenpullover trägt. Sehen Sie sich dieses coole Video für Ihr nächstes Mockup online an.
Cooles Sweatshirt-Mockup mit einem Paar, von dem einer ein Sweatshirt trägt und direkt in die Kamera schaut, so dass Ihr Design gut zu sehen ist. Ein weiteres großartiges Merkmal dieses Online-Mockups ist, dass Sie den Hintergrund in jede beliebige Farbe ändern können.
Wenn Sie ein stilvolles Trikot-Design-Mockup für Volleyball benötigen, ist dies eine großartige Vorlage, die Sie in Betracht ziehen sollten. Das Bild in der Vorlage ist vor einem schwarzen Hintergrund aufgenommen, und Sie können alles von der Farbe der Shorts bis zu jeder Farbe im Ball anpassen. Unser Online-Mockup-Tool bietet viele Anpassungsmöglichkeiten für Sie.
Diese einfache, kostenlose T-Shirt-Mockup-Vorlage mit ihrem neutralen Hintergrund eignet sich hervorragend, um Produkte oder Dienstleistungen zu präsentieren, die sich an ein männliches Publikum richten. Laden Sie einfach Ihr Bild hoch, wählen Sie die gewünschte T-Shirt-Farbe, und fertig.
Wenn Sie an weiteren coolen Mockups für Sweatshirts, Hüte, Tragetaschen usw. interessiert sind, sehen Sie sich diese praktischen Roundups der besten Bekleidungs-Mockups an:
2.

Wie man ein iPhone Mockup erstellt
Schritt 1
Ein iPhone-Mockup zu erstellen ist genauso einfach, wie wir es Ihnen mit dem T-Shirt-Mockup online gezeigt haben. Gehen Sie wieder auf Placeit.net und navigieren Sie zu Mockups > iPhone Mockups.
Wenn Sie auf der Suche nach Empfehlungen sind, hier ist unsere Liste der besten iPhone Mockup Vorlagen:
Schritt 2
Klicken Sie in unserem Online-Mockup-Tool auf Screenshot hochladen und wählen Sie das Bild aus, das Sie auf dem Bildschirm eines iPhones sehen möchten.
Schritt 3
Geben Sie dem Hochladen ein paar Sekunden Zeit und schneiden Sie das Bild gegebenenfalls zu. Wenn Sie fertig sind, klicken Sie auf Zuschneiden und sehen Sie, wie das Bild in Echtzeit auf alle Vorlagen angewendet wird. All dies geschieht automatisch, und Sie brauchen nur zu warten und die Magie geschehen zu lassen.
Schritt 4
Scrollen Sie durch alle Mockups, um zu sehen, ob Ihnen eines davon besser gefällt als die anderen. Wenn Sie es gefunden haben, klicken Sie es an, um eine größere Version zu öffnen.
Schritt 5
Auch hier können Sie das Bild bearbeiten, aber wenn es Ihnen gefällt, scrollen Sie einfach nach oben und klicken Sie auf die Schaltfläche Herunterladen, um das Mockup zu kaufen. Und das war's! Dieser Online-Mockup-Generator ist ziemlich einfach zu bedienen.
10 weitere großartige kostenlose und kostenpflichtige Vorlagen, die Sie lieben werden
Als Nächstes möchte ich Ihnen weitere tolle Mockup-Vorlagen von Placeit vorstellen, unserem Online-Mockup-Tool. Dort können Sie nicht nur Mockups für Kleidung erstellen, sondern auch für alltägliche Gegenstände und Gadgets, die wir benutzen. Sie können auch ein Buch-Mockup online erstellen!
Nachdem Sie nun wissen, wie Sie Ihre eigenen iPhone-Mockups erstellen können, finden Sie hier ein kostenloses iPhone-Mockup, mit dem Sie für Ihre neue App werben können. Von oben aufgenommen und vor einer schönen mehrfarbigen Oberfläche dargestellt, ist dies das perfekte Mockup, um alle Blicke auf Ihr Design zu lenken.
Dieses Tote Bag Mockup ist perfekt für die Minimalisten da draußen. Das Design zeigt eine Tragetasche, die an einem Nagel vor einer zweifarbigen Wand hängt. Mit dem Baumwolltaschen-Mockup können Sie sowohl die Farbe der Tasche als auch die beiden Farben des Hintergrunds ändern.
Wenn Sie wissen möchten, wie Sie ein Buch-Mockup online erstellen können, ist dies die richtige Vorlage für Sie. Diese Vorlage zeigt eine stilvolle junge Frau, die auf den Stufen eines Gebäudes ein Taschenbuch liest. Dieses sehr realistische Buchcover-Mockup ermöglicht es Ihnen, Bilder für die Vorderseite, den Buchrücken und die Rückseite Ihres Buches hochzuladen. Sie können ein Buch-Mockup ganz einfach online erstellen.
Sie haben gerade eine Pizzeria eröffnet und brauchen eine kostengünstige Möglichkeit, für Ihr neues Unternehmen zu werben. Dieses realistische Pizzakarton-Mockup zeigt einige der wunderbar frischen Zutaten, die in die Herstellung einer Pizza einfließen, und ist die perfekte Vorlage für Sie.
Dieses Mockup zeigt eine Frau, die ihr iPad in einem Café im Freien benutzt. Es bietet dem Betrachter eine große, helle und klare Ansicht des Bildschirms, mit genügend Unschärfe im Hintergrund, um die Aufmerksamkeit aufrechtzuerhalten.
Lenken Sie die Aufmerksamkeit Ihrer Betrachter auf Ihr Design, indem Sie dieses tolle kostenlose Kaffeebecher-Mockup verwenden, das sich im Vordergrund des Fotos befindet und sich deutlich von dem sanft verschwommenen Hintergrund einer Küchenarbeitsplatte abhebt.
Es gibt einen Grund, warum Flatlays heutzutage so beliebt sind. Sie sind eine perfekte Möglichkeit, Objekte auf jeder beliebigen Oberfläche darzustellen. Das Tolle an diesem speziellen Flat-Lay ist, dass es ein perfektes Handy- und Computer-Mockup ist, um zu zeigen, wie eine Webseite auf einem Computerbildschirm und auf einem mobilen Gerät aussehen würde. Eine großartige Laptop-Telefon-Mockup-Kombination für Webdesigner, Autoren oder Unternehmer.
Was gibt es Schöneres, als Ihre Produktdesign-Etiketten in verschiedenen Stilen und Größen darzustellen? Mit diesem Verpackungsmodell für Geschenktüten können Sie genau das mit Geschenktüten, die von klein über mittelgroß bis sehr groß reichen, tun.
Schaffen Sie einen farbenfrohen und dynamischen Hintergrund, um Ihr Magazin mit diesem mehrfarbigen Print-Magazin-Mockup darzustellen. Laden Sie zunächst Ihre Magazinseiten hoch und experimentieren Sie dann mit dem Farbwähler mit den Farben, die am besten zu Ihrem Magazin passen und es am besten zur Geltung bringen würden.
Warum zeigen Sie Ihr herrliches Plakat-Design nicht mit diesem großartigem Poster Mockup. Die Vorlage zeigt eine junge Frau, die ein riesiges Plakat vor sich hält und ist vor einem schönen blauen Hintergrund aufgenommen. Die kostenlose Mockup-Vorlage eignet sich für eine breite Palette von Plakaten, von künstlerischen Entwürfen bis hin zu Werbeplakaten.
Wenn Sie sich für weitere coole Mockups für iPads, Laptops, Bücher, Zeitschriften, Tassen und eine ganze Reihe von Vorlagen interessieren, schauen Sie sich diese praktischen Roundups der besten Mockups auf Placeit an:
Gute Arbeit!
Nun wissen Sie, wie Sie einfach und schnell ein Mockup erstellen können und das direkt online. Und wenn Sie an weiteren Tutorials zum Thema Mockups interessiert sind, sollten Sie sich diese Liste mit tollen Tutorials ansehen:
Want a weekly email summary?
Subscribe below and we'll send you a weekly email summary of all new Design & Illustration tutorials. Never miss out on learning about the next big thing.
Sign up
Freelance artist, Poland
I'm a Polish artist with a great passion for creating new things—whether by drawing, digital painting, or photo manipulation. I have 10+ years of experience in using Adobe Photoshop and Adobe Illustrator, both for graphic design and for creating unique works of art as well. I hold a degree in graphic design, but nowadays I work as a freelance illustrator and a tutorial author. I specialize in creating realistic art, especially of animals, and I'm good at designing imaginary creatures in a realistic way. I'm a big fan of dragons and feline creatures! Because I learn the best by teaching, and I love sharing my skills with others, in my free time I like to create educational posts on my own blog. I also share the behind-the-scenes of my art on my Instagram. I consider myself an unofficial ambassador of Sketchbook Pro, a seriously underrated program for digital art, which I use every day in my work. You can learn more about me on the Sketchbook Blog: https://www.sketchbook.com/blog/animals-creatures-by-monika-zagrobelna
One subscription. Unlimited Downloads.