Read Time:
12 mins
Languages:
How to Get Started With Adobe InDesign
If you're putting together a magazine, brochure, or book, it's likely that you'll encounter Adobe InDesign during your design process. This publishing program is the print designer's everyday tool of choice, but you can also use it to do more unusual tasks, such as creating EPUBs (eBooks), formatting cool typography effects, and designing Pinterest-worthy posters. 
If you're a beginner to InDesign, it can be intimidating knowing how to get started and what is InDesign used for. Here, you'll find a quick-start guide to InDesign to help you get started on the right foot.
Want to watch a video instead? Check out our free two-hour video-based InDesign tutorial with Daniel Walter Scott over on our Envato Tuts+ YouTube channel. You'll learn how to use Adobe InDesign from start to finish.
What Is Adobe InDesign?
InDesign is a publishing program, which means it's designed for creating 2D layouts which combine type and images. 
Wondering what is InDesign used for? Some items you might commonly create in InDesign might include multi-page print publications like magazines and books. This software is also used for stationery items such as business cards and letterheads, promotional media like flyers, booklets, and brochures, and other single-page print layouts like posters and banners. 
The more recent CC version of InDesign also has more features that allow designers to create layouts for digital and online, such as eBooks, digital magazines, and social media images.
Manufactured by Adobe, InDesign is part of a core trio of Creative Suite applications, which also includes Photoshop and Illustrator. While Photoshop is designed for editing raster (photographic) images and Illustrator is tailored to creating vector (scaleable) graphics, InDesign is programmed to allow designers to incorporate their edited images as part of a broader layout.
If you're still not sure whether InDesign is going to be the best software choice for your project, ask yourself whether the design is based around a layout across one page or multiple pages. If so, InDesign is going to be a great pick. If your design is going to be focussed on a single image, such as a photo that requires a lot of editing or a design for a logo, opt for Photoshop or Illustrator instead. 
Learn More About What Is InDesign
We briefly covered what Adobe InDesign is and what it's used for. But if you'd like to learn more about this software by watching a video, we've got you covered. Here's a new video about what is InDesign, from the Envato Tuts+ YouTube channel. 
Templates Are a Great Way to Get Started With Learning InDesign
As well as picking up some basic InDesign skills from Envato's range of beginner tutorials (see below), you can actually learn a huge amount about InDesign by downloading a template.
Opening a template and exploring what's already been set up for you, such as layers, color swatches, and type, is a fun and easy way to start getting familiar with the InDesign interface. 
Here is a selection of some of our favorite InDesign templates from Envato Elements (a subscription-based marketplace with unlimited downloads) and from GraphicRiver (a single-purchase marketplace for when you need a single professional template).
These InDesign templates will make a great foundation for creating your own unique design:
This magazine template uses more experimental color and transparencies to add visual interest to layouts. It's deceptively simple in its setup, so again it makes for a perfect magazine template for InDesign beginners. 
You can also find out how to adapt this template creatively in this tutorial: 
This newsletter and brochure template is a more stylish take on the corporate brochure format. This design is particularly strong on the typography front, so make sure to explore the different styles being used across the template (Window > Styles > Paragraph Styles) to pick up some tips.  
A multipurpose brochure is always handy, but this ultra-simple style is particularly versatile. It's a great example of how strong color and type is a tried-and-tested combination that packs a punch. 
Stationery sets are really simple to put together in InDesign, but it's always handy to dip a toe into creating your own by adapting an existing template. This contemporary stationery set is easy to adapt by swapping in a different image for the background and border, or by swapping the sans serif font for a more classic serif. 
Catalogs and lookbooks are another type of print media for which InDesign is the perfect software choice. Lookbooks tend to be very simple in format—pairing images and type together to create a heavily visual result—so they make an ideal template for InDesign beginners to explore.
This minimal magazine template has a simple layout which is intuitive and easy to edit, making it a great template choice for beginners to magazine design. 
You can find more of our top InDesign template picks here:
How to Develop Your InDesign Learning Further With Tutorials
Working your way through a tutorial, either with the goal of picking up a new skill or creating a particular design, is an immersive and effective way to learn how to use Adobe InDesign.
Luckily, you'll find a huge range of free InDesign tutorials here on Envato Tuts+. If you're a complete beginner, work your way through the following tutorials, which will help to build your confidence with using InDesign and develop your print design skills along the way. 
This InDesign basics tutorial gives readers with no or limited InDesign experience the basic knowledge on how to set up a document for print.
Threading text within InDesign can hugely improve the experience of editing and amending copy while working on layouts. The process of threading text is linking two or more text frames, allowing text to flow from one separate frame to another.
In this Quick Tip tutorial, you will learn about the various ways you can import image files into an InDesign document and how to replace and rescale them. Learn how to insert images in InDesign, how to resize an image in InDesign and more here.
Learn how to properly set up the technical specs for your InDesign documents, before you send off your hard work to the printers.
When you have a few basic skills under your belt, you can start to pick up more skills by learning how to create layouts for magazines, posters, or flyers.
Learn how to design a book cover in InDesign the fun way, with this modern twist on the classic novel Moby Dick.
This tutorial leads you through the steps of creating a magazine template in InDesign, complete with page numbers, masters, and running headers. It makes a great foundation for creating your own unique magazine designs. 
Flyers might be small, but these single-page layouts need to pack a punch if they're going to attract the eye. Here, you'll learn how to put together a stylish real estate flyer.
Business cards are easy to create in InDesign, and they're really fun to do. This tutorial shows you how to create one in ten easy steps. 
Want to know more about specialist print finishes, like foiling and die-cutting? Invitation tutorials are fantastic ways of picking up some cool print skills. Check out this fall-themed wedding invite tutorial. 
Take Your Skills to the Next Level With Courses and Intermediate Tutorials
When you've created your first magazine layout or business card in InDesign, you're ready to deepen your InDesign knowledge and tackle some more niche projects. Learn how to create EPUBs or advanced typography effects through an intermediate tutorial, or become a print design expert with an in-depth course.
Ever wanted to convert your InDesign layouts to eBooks? With the right know-how, it's super-simple to do. In this tutorial, you'll learn about three different ways you can quickly turn your designs into interactive PDFs or EPUBs, ready for sharing or selling online. 
2. How to Create Advanced Text Effects in InDesign
These four quick tutorials show you how you can create immersive, advanced typography effects in InDesign in minutes.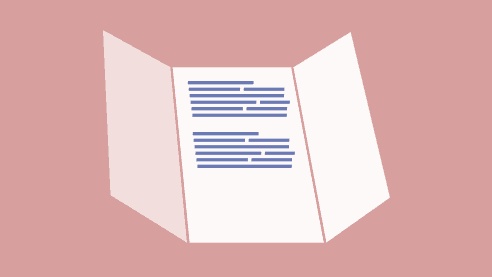 In this course, instructor Nicki Hart leads you through the process of creating any print document professionally, all the way through from the initial client brief to revisions and final delivery.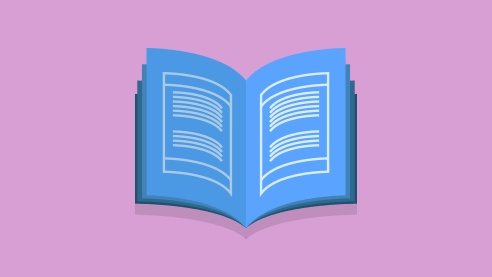 Learn how to create a multi-page booklet in this course, as well as picking up skills applicable to creating catalogs, brochures, and other print publications. You'll also learn how to use InDesign's "Print Booklet" feature so you can send your new booklet to print.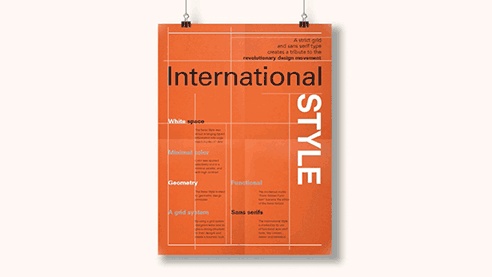 This course gives a broad overview of typography and how to apply it to print designs. You'll learn how to apply fundamental typographic techniques to your own layouts, and you'll tackle a broad range of project tasks, including typesetting a book and designing a vintage-inspired typographic poster.
Watch More Free InDesign Tutorials From The Envato Tuts+ Channel
We covered some InDesign basics tutorials and some specialized tutorials. Now, if you like free video tutorials from YouTube, you'll love the Adobe InDesign tutorials we've got for you. Here are some of our favorites! 
Take a look at 26 InDesign tips and tricks from A to Z! Use them to up your Adobe InDesign game or discover something new in this video.
This InDesign tutorial will take you through the whole process of creating a book layout template, from creating and applying Master Pages to saving your work as an InDesign template.
Learn how to create a paper cut-out effect that you can apply to any text in Adobe InDesign. This type of trend would make a fantastic addition to magazine layouts or posters.
Master the art of restaurant menu design in this free course. You'll learn how to make a menu from a template and also how to create a menu from scratch.
Placing an image inside a single character can give your layouts a super-professional, design-forward look. And it's really simple to achieve! In this video, you'll learn how to transform your typography into picture frames.
Conclusion
Now you know what is InDesign and how to use InDesign. This software might seem a little intimidating for first-time users, but it's actually really intuitive to use once you know a few basics. 
Downloading InDesign templates is a good way of familiarizing yourself with the workspace, before moving on to beginner tutorials to build your knowledge base. You can deepen your understanding of creating more specific print and digital work by following intermediate tutorials and video courses. 
Discover more InDesign tutorials and courses here.
Editorial Note: This post has been updated with contributions from Maria Villanueva. Maria is the Associate Editor of the Tuts+ Design channel.
Graphic Designer & Design Journalist
Grace is a graphic designer and design writer, and heads up creative agency Blue Whippet Studio, based in Manchester, UK. A self-confessed 'print geek', Grace loves to share her experiences of graphic design with others and has written about creative trends and design history for a wide range of publications and blogs, including Adobe, Shutterstock, Envato and InDesign Magazine. Grace studied social anthropology and the anthropology of design at Cambridge University and UCL, before working in marketing and graphic design roles in agencies and in-house. Today she balances running Blue Whippet alongside top-ranking design blog InDesignSkills.com. Visit bluewhippetstudio.com and indesignskills.com.
One subscription.
Unlimited Downloads.