Dean Carianas-Mannar
When it comes to drawing in the anime and manga style, it's fairly easy to start out in the medium you're most familiar with, but as you progress in the style, you may be interested to introduce new tools or media into your portfolio. This article discusses the various media most often used by anime and manga artists today, the different brands within those media, their differences, and where you can buy them. Please note, this article does not cover every brand, nor does it cover every range within the brands mentioned, only those considered to be the most popular are found here.
---
Digital Media: Programs
Adobe Photoshop
One of the most popular programs out there for digital drawing and painting, Adobe Photoshop offers all the right tools for creating high quality anime and manga styled artwork. If you own a graphics tablet – various types of which are discussed in the Digital Media: Tools sections of this article – Photoshop offers the ability for you to sketch directly into the program enabling you to complete the whole piece digitally from start to finish, or if you prefer to sketch your ideas on paper, you have the option to scan in a traditionally drawn sketch and use Photoshop's many photo editing functions to create a clean and usable sketch. When it comes to inking your artwork, Photoshop offers the options of using the brush tool for detailed tablet work, or mouse-users can enjoy the expert precision of the Pen Tool in both raster and vector media. The Pen Tool also provides an excellent way of coloring your anime and manga artwork, leaving crisp clean edges to your shading. A selection of different shaped and textured brushes make for great painting techniques to be explored, with hundreds of custom made brushes to be created easily, or downloaded from the web where generously offered by other Photoshop users.
SYSTEMAX PaintTool SAI
Another of the most popular programs, this inexpensive Japanese-made digital painting software is perfect for the anime and manga art industry; a light program that runs smoothly, offering an easy-to-navigate interface and all the tools you need to create anime and manga styled artwork. It is available in the original Japanese, and in an official English translation, both of which carry the same features. Primarily a painting program, PaintTool SAI has several built-in brushes of different sizing, shape and texture, some of which produce a result to mimic traditional painting media, including watercolor and marker pens. Further custom brushes are downloadable from various places around the web as well, to further enhance your painting experience. The program is extremely popular for line work, as it produces wonderfully crisp edges to the stokes, and different layer and tool capabilities mean that, with the correct settings, your lines are editable without the need for the eraser tool.
A 30 day free trial is available to download, and the full program can only be purchased direct from the SYSTEMAX Software website.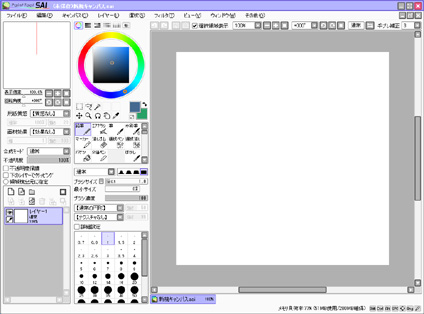 Smith Macro Manga Studio
A program popular for a good reason, Manga Studio is and does exactly what its name suggests – it's a truly fantastic software for those wanting to create anime and manga artwork with a professional touch. With vector capabilities for line work, and a fantastic range of genre-specific color swatches and screen tones, coupled with intelligent perspective rulers to aid layout and 3D characters to aid pose and anatomical design, Manga Studio offers everything an aspiring manga artist could need. Like the previously mentioned programs, this one also has pen pressure sensitivity for tablet-users, and comes with predesigned digital pens which mimic the traditional ink pens used by professional manga artists, as well as many more customizable preset pencil brushes. Manga Studio could be considered a great choice for anyone wanting to create professional looking manga artwork.
PGN openCanvas
A popular program among the manga and anime community, openCanvas is a digital drawing and painting software available in Japanese and English. With various brushes, including a raster-based Pen Tool, marker pen brushes and watercolor brush set, amongst others, openCanvas offers a wide range of options for digitally inking, and the layer systems make for easy editing. A user-friendly interface provides easy-to-navigate menus and a thumbnail panel for detailed work. Several patterns, tones and paper textures are available which, coupled with the fully editable brushes, makes for a great overall look each time, which can be reviewed and replayed in the software's handy event log.openCanvas is a well-rounded and intuitive program, and is great for manga and anime styled artwork.
openCanvas is only available direct from the PortalGraphics.net (PGN) website
Corel Painter
Mostly a painting program, Corel Painter is popular mostly for its wide selection of brushes, both regular digital brushes and also those which mimic a huge range of traditional media, including watercolor, chalk, oil paint, pastels, marker pen and colored pencils. The program also comes with several different paper textures to compliment the brushes, and give a truly traditional feel to the painting, but without the mess associated with actual traditional media. Corel Painter is more used by artists of the anime and manga style who are inherently digital artists but enjoy producing artwork which looks as though it was created in traditional media, with the watercolor and marker brushes tending to be the more popular choices. Alongside the traditional brushes included, Painter also has a sizable range of other brushes which produce more of a digital look and feel to the drawing, and the precise pen pressure sensitivity when used with a tablet, Painter can be considered a powerful tool to those wanting to create an anime or manga style painting.
---
Digital Media: Tools and Gear
Graphics Tablets
There are many different types of graphics tablets available on the market, most of them offering the same sort of features. The main use of a graphics tablet is to be able to draw using a tablet pen onto the tablet area, and have the results of your pen strokes visible on your screen. It can be used as an alternative to a mouse – and some tablets come with their own mouse as well – but with many other functions. Many tablet pens have buttons on the pen itself, equivalent to the right and left clicks of a mouse, and tablet pens also often have the function where they have an eraser on the end, so as you would with a regular pencil, you'd turn the pen upside down to erase any areas you didn't want, or to remove any mistakes. Some tablets these days even support finger painting techniques, by using finger caps, rather than using the stylus pens. Most tablets are connected via USB, and some have the option of wireless connection.
The most popular brand of graphics tablet is Wacom, who produce a good range of tablets from A6 paper size up to A3 paper size, with current types being the Bamboo and the Intuos, whose ranges are all fairly similar, and all offer the method of drawing onto the tablet and seeing the results on your computer screen. The Wacom Cintiq range, however, offers a fantastic HD screen which you draw directly onto with your tablet pens, and see the results on the tablet screen itself, offering maximized hand-eye coordination and precision.
Other well known but less popular brands of graphics tablet include Genius, Tursion and VisTablet, amongst others.
Browse Graphics Tablets on Amazon.com
Handheld Tablets
The other option for digital drawing is the handheld tablet, with leading brands being the Apple iPad and Samsung. These are useful if you'd prefer to take your handheld tablet outside and sketch a scene in the park, which obviously you can't do with a computer-connected graphics tablet, however the disadvantage of handheld tablets is that most of them currently do not support pen pressure sensitivity, whereas graphics tablets do. Depending on the type and style of artwork you're wanting to do, this may not be a problem, but for the purpose of manga and anime art, a graphics tablet, computer and a suitable program is likely to be more use to you than a handheld tablet and an art program app.
Browse Handheld Tablets on Amazon.com
---
Traditional Media: Marker Pens
Copic Sketch
One of the most popular brands of marker pen out there, particularly in the anime and manga artwork world, the double-ended Sketch markers are available in over 350 blend-able colors, with refillable cartridges and replaceable nibs. The Sketch marker is popular mostly due to its flexible brush nib, enabling users to create smooth coloring over wider areas, as well as finer detailing. The other nib of the pen is a medium-sized broad nib, great for covering larger areas quickly. The Sketch markers are also compatible with Copic's Airbrush Kit, allowing users to create a wonderful airbrush effect with the marker pens. Also available is the Sketch colorless blender pen, enabling colors to be blended smoothly and easily.
Browse Copic Sketch Markers on Amazon.com
Copic Ciao
Similar to the Sketch marker, but smaller and more economical, the Ciao marker comes in 180 colors, all of which are surface blend-able. The Ciao also features the two same nibs as the Sketch marker, one end with the medium broad nib, and the other with the brush nib. The Ciao markers are brilliant for those on a budget, or those who are just starting out in using marker pens. Also available is the Ciao colorless blender pen, to aid with the blending of colors, enabling the user to create seamless and smooth gradients, and even shading that doesn't appear blocky.
Browse Copic Ciao Markers on Amazon.com
Letraset ProMarker
This twin-tip marker offers a small rounded bullet nib for more detailed work, and a broad chisel nib for adding color to wider areas. Available in a range of 148 colors, the ProMarker is a fantastic entry-level marker, producing vibrant and smooth results. These versatile markers are alcohol-based and will produce great results on most surfaces, including paper, card, wood, glass, ceramic and acetate. The ProMarker ink is translucent, meaning that further layers of the same color will produce a deeper tone of the color, and also makes for easy blending. A colorless blender pen is available to aid the blending process. While these markers will suit a beginner perfectly, they are unlikely to satisfy a more advanced user of marker pens, but their inexpensive pricing means that upgrading from them to a more advanced art pen and moving the ProMarkers on won't be too hard to bare.
Browse Letraset ProMarkers on Amazon.com
Letraset Tria
The only marker pen on the market to have a fully customizable 3 nib system, the Tria offers a fully versatile way of working. With an ultra-fine nib for detailing and line work, a chisel shaped broad nib for maximum area color lay down, and a flexible brush nib for precise and smooth main coloring, the Tria will not let you down. The pens are available in 300 colors, all of which are fully blend-able together to create smooth gradients or whole new colors. Like the ProMarker, the Tria pen ink can be layered to create deeper tonal value due to the translucent inks, but the Tria is a much more advanced pen, and would keep even the most professional of manga artists happy with the quality they can produce. Tria marker pens perform best on bright white surfaces, but tinted papers can create wonderful effects, and can be used to aid lighting and atmosphere.
Browse Letraset Tria Markers on Amazon.com
Prismacolor Premier Brush
The Premier Brush marker pen has a flexible brush nib on one end of this twin-tipped pen, and features a fine nib for detailed work the other end. Available in 156 colors, the Premier Brush markers use non-fading inks, producing vibrant and lasting results every time, and the colors lay down smoothly. A great beginners pen for those who are just starting out, or fine for a hobbyist who is not looking for super professional results. The Premier Brush marker colors will blend to an extent, and can be blended well and smoothly if done so by a more experienced Prismacolor user, but these pens do not boast the smooth blending abilities that the other markers reviewed in this article do, however if blending ability isn't a priority, then this won't prove to be an issue.
Prismacolor Premier Brush on Amazon.com
---
Traditional Media: Colored Pencils
Prismacolor Premier
A very popular product, these soft core colored pencils are oil-based and make for excellent blending, laying down smooth on the paper and producing vibrant results. Using different pressure on the pencil can control the intensity of the colors, or layer them to produce wonderful undertones and create whole new colors. A specialist pencil sharpener is needed for use with this soft leaded pencils to avoid breakages, and with some sets this sharpener is provided. Available in 150 colors, plus a colorless blender pencil, the long-lasting thick leaded Premier pencil is a great choice for any anime and manga artist.
Browse Prismacolor Premier pencils on Amazon.com
Faber-Castell Polychromos
Also a popular line, Polychromos colored pencils are oil-based, permanent and non-fading. Available in 120 colors to match the rest of the Faber-Castell ranges, these wooden pencils are made to be comfortable to hold and aid precision, as well as being sturdy, and the leads are strengthened to prevent breakages. The colors are blend-able, vibrant and produce smooth results on the paper, giving even color coverage, which is smudge-proof (though can be smudged on purpose) and water-resistant. The Polychromos pencils would be a good addition to any anime and manga artist's tools.
Browse Faber-Castell Polychromos pencils on Amazon.com
---
Traditional Media: Paint
Watercolor
There are various brands of watercolor paints available, many of which are great for manga and anime styled artwork, and experimentation is the best way to find what you're looking for in this medium. For watercolor painting, not many colors of paint are needed as a lot of the work lies in mixing the colors together. Primary colors and a dark gray are a good place to start, using tube paint of a decent artist-grade, such as ranges by M. Graham, Reeves, and Windsor & Newton.
Browse Watercolor Paint on Amazon.com
---
Traditional Media: Tools and Gear
Paper and Card
Using the correct paper or card stock is crucial to any traditional media piece to ensure the best results. Covering each of the media discussed in the article, starting with marker pens, for which a smooth bleed-proof surface is recommended. Bristol Board, a stiff extra-smooth card stock paper, is perfect for marker pen work, providing a decent surface for blending which wont bleed or cause the vibrancy of the colors to fade. Bristol Board can be printed on with a normal home-computer printer.
Browse Bristol Board on Amazon.com
Other paper, marketed as marker paper, is available and was created for the purpose of marker pen art, being bleed-proof and smooth surfaced. Marker paper, unlike the thick, stiff Bristol Board paper, is thin and lightweight. Which of these paper types an artist chooses to use tends to come down to nothing more than personal preference, as to whether they prefer the thicker Bristol Board or the thinner marker paper. Marker papers can also be printed on with a normal home-computer printer.
Browse Marker Paper on Amazon.com
For colored pencil work, a heavier weight paper is usually considered more favorable, including the ever-popular Stonehenge paper brand, which is a 100% cotton paper with a slightly mottled appearance, however different pencil types and different techniques react in different ways to the different papers. Lightly textured papers, such as canvas papers (not to be confused with actual canvas) are a decent place to start, or if wanting to mix the colored pencil media with marker pen, colored pencils can react wonderfully well to the smooth surface of Bristol Board, as do they work nicely on the texture and feel of watercolor paper, should mixing with watercolor media be of interest. When it comes to colored pencil art and choosing a paper type, experimentation is key.
Watercolor paper is typically of a decent thickness and of a heavier weight than regular sketching paper, and is more often than not lightly textured. Watercolor paper is specially designed to withstand the wetness of the media without breaking or curling, so choosing an appropriate watercolor paper for this media is a must.
Browse Watercolor Paper on Amazon.com
Other Tools to Consider
A pencil sharpener and an eraser are always useful tools for any traditional artist to have around, and ink pens, or ballpoint gel pens, with nibs of varying widths make useful tools for clean line art. Many manga and anime artists also like to use white gel pen, white ink or white acrylic paint to add highlights to their piece at the end of the creation process. These are all tools which can be found in most stationery stores, and almost definitely found in specialist art supply stores.
A desk of a suitable height and a comfortable chair provides the art station, and a table lamp or two to provide extra light, preferably with white halogen bulbs for a more natural ambiance. The only other tools needed to succeed in the world of manga and anime art is imagination and creativity. Good luck, and have fun!
---
Conclusion
Getting started in the world of manga and anime styled artwork is easy to do with any media, and experimenting with different media to find a comfortable longer term media to continue your portfolio can be a fun challenge. Of course there are many more digital programs out there, and several more types of traditional media not covered in this article, for you to discover, including various brands of popular media types that are covered here, or perhaps you'll choose to take a mixed media route and splash a bit of everything onto your canvas, be it digital or traditional - the possibilities are endless.
Note that many of the links above are affiliate links, which simply means we'll earn a small commission if you purchase that particular tool or service. If you do, we thank you for supporting Vectortuts+.
Want a weekly email summary?
Subscribe below and we'll send you a weekly email summary of all new Design & Illustration tutorials. Never miss out on learning about the next big thing.
Sign up
Dean Carianas-Mannar is an anime artist from central England. He started drawing in this style in 2006, and has been using digital media since 2007. When he isn't drawing, he can be found playing tennis, supporting charities, and hanging out with his pet dog and cats.
Scroll to top
Start your 7-day free trial*
*All Individual plans include a 7-day free trial for new customers; then chosen plan price applies. Cancel any time.