Nona Blackman
Hoodies are one of the favoured pieces of clothing in the 21st century, so it's no surprise that designers love to use them as canvases for their designs. This has led to a growing demand for hoodie mockup templates to showcase designs on social media platforms, online stores, and blogs. 
Today, we're featuring a selection of the 42 best hoodie templates available at Envato Elements and Placeit. Take a look! You're bound to find something you like. 
Premium Mockup Hoodie Design Templates at Envato Elements
If you're proficient in Adobe Photoshop, Elements is a great source for a wide range of hoodie mockups in PSD file format. And you can download as many as you want, as often as you want, for one flat monthly fee. 
That monthly fee also allows you to access thousands of other premium digital assets like fonts, logos, graphic templates, photos, and much more. Here are the best hoodie mockups in PSD format found at Elements.
10+ Blank Hoodie Templates From Envato Elements
Looking for a wonderfully stylish blank hoodie template to test your design? This one offers seven different PSD templates with the model shot from different angles. The files are all organised in layers, with easy-to-use smart objects. 
Use these hoodie sweatshirt mockups to display your newly created logos and/or designs. The mockups are printed in 13 high-resolution PSD files that are neatly organised in clearly named layers. Editing is made easy using smart objects. A PDF guide is included in case you get stuck.
Looking for the right pullover hoodie mockup templates to showcase your latest designs? Then check out this collection of hoodie mockups in PSD file format. You can change just about everything about these images—backgrounds, reflections, shadows, colours, etc.—to create just the right look for your project.
If your target audience is children or parents of children, then you'll love this blank hoodie template for children. The set offers you four downloadable hoodie mockups in PSD format. The files are all high res and fully layered to make editing easy. 
Looking for a black zip hoodie template? Well, this is the mockup for you. There are three different views and eight different backgrounds to choose from, and editing is super easy using smart objects. Add your design and then mix and match angles and backgrounds to create a look that's uniquely yours.
Check out these premium hoodie sweatshirt mockups. They're ideal for adding to your social media, website, or catalogue. There are ten mockup templates included, with both male and female models. All images are in high resolution and easily edited via smart objects. 
These six hoodie design templates are presented in well-organised layers with smart objects, which make them very easy to customise. Apart from adding your own design, you can change the backgrounds, colours, shadows, effects, etc.
This black zip hoodie template contains the three files you see pictured here. Upload your design to the front and/or back and customise the template as needed using the smart objects available. 
These pullover hoodie mockup templates are great for e-commerce sites, catalogues or even magazine layouts. The six photorealistic mockups are organised in clearly named layers that are fast and easy to edit. 
Download this hoodie mockup PSD file and customise by adding your own logo or designs, modifying the colours, background, etc. The mockup comes in three views—front, back, and three-quarter view. All layers are well organised, and all editing is done through smart objects. 
Premium Hoodie Design Templates at Placeit
For those of you who don't feel confident about your Photoshop skills or want an easier approach to customising a mockup, there's Placeit. Placeit is an affordable online design generator that makes professional branding, promotion, and marketing tools accessible to everyone.
It does this by providing high-quality designs, logos, videos, and mockups that you can customise online and download in a matter of seconds.
This means that you can design all your branding and marketing materials directly from your browser, without needing complicated software. Let's take a look at how easy it is to create a hoodie mockup in no time at all using the Hoodie Mockup Generator.
How to Create a Hoodie Mockup in Minutes
1. Navigate to Placeit and Search for Hoodie Mockups
2. Select a Mockup & Upload Your Design
3. Select a Colour for Your Hoodie Template
4. Add Text to Your Hoodie Design Template If You Need It
5. Download Your Hoodie Design Template for a Small Fee
And that's how you customise a hoodie template in five easy steps. Now let's take a look at a selection of the best hoodie mockups available at Placeit. 
31 Best Hoodie Mockups  
With Placeit, you can customise your favourite hoodie template in just seconds. This template allows you to change the colour of the hoodie as well as the colour of the background to create just the right image for your needs. 
These blank hoodie templates give you a great way to show off three different designs, the same design in different colours, or three variations of the same design. 
How sweet is this mum and daughter yoga duo? The template features a sleeveless tank mockup for mum and a pullover hoodie mockup template for daughter. You can upload the same design to both templates or choose completely different ones.
Creating designs and logos for Pride or for the LGBTQIA community? Check out this wonderfully joyous pride mockup hoodie. All you need to do to add your design is hit the upload button to the left of the template.
Pitching hoodie design ideas to a club or business? Why not use a hoodie sweatshirt mockup to bring your work to life? It will help your client to see exactly how your design will look in real life once completed. 
Hijabistas and designers targeting modest dressers, we've got some cool hoodie templates for you to display your designs and logos, like this one with its stylish model and awesome geometric background. Adding your designs is easy with the online hoodie mockup generator.
What could be more awesome than this mockup hoodie, pairing a leather jacket with the hoodie? And what's truly great is that the jacket doesn't obscure your design in any way—rather it frames it, which only heightens the focus on it.
Capture the grittiness of the urban jungle with this night-time and neon mockup hoodie template that features a young woman standing outside a cafe, illuminated by the neon lights all around her.
Appeal to the now generation with this mockup, which not only keeps your design front and centre but allows you to change the background to any colour needed or to make it transparent so you can blend your mockup with the background of your choice. 
Sometimes, all you need is a simple flatlay to get the message across. For those times, there is this terrific pullover hoodie mockup template. The template, which is surrounded by a camera and glasses, shows the area your design will go clearly and boldly. 
Do you design cool gear for skaters? Well, this is the perfect mockup hoodie to showcase your designs. 
The thing about creating designs specifically for designers is that you can really create beautiful and meaningful art or logos and then use a wonderful blank hoodie template like this one to showcase your art.
This mockup hoodie of a man strumming a guitar is perfect for those whose designs are created for musicians of every type. Upload your design quickly, and your mockup is ready to be downloaded and used. 
If you need a pullover hoodie mockup template for a special project that's sober and sincere, this template is a great choice. Use the mockup generator to upload your image, and in no time at all your download is ready to use. 
Designing a logo for a swimming club? Then show your client how their logo will look in real life when you add it to this mockup hoodie. What's truly great about Placeit hoodie templates is that you don't have to mess about with complicated software. Instead, the software is incorporated into the template, and customisation is possible in a couple of clicks. 
Designers of logos and art for kids, this one is for you. It features a young boy standing on and between two bumping cars and laughing his head off. A great template for showing off your designs. 
Two is better than one, and that's why Placeit has a wide selection of terrific templates that offer you two mockup hoodies, like this one featuring two women chatting over cups of tea in a cafe.
"I'm gonna take my horse to the old town road... " Of course, we have to include mockup hoodies for today's cow women, who combine traditional and contemporary styles effortlessly. Just hit the upload button to the left of the template to upload your design, and your mockup hoodie is ready to download and use as you want.
This blank hoodie template is a great mockup for a cafe or coffee shop logo. It allows designers to double down by adding their logo creations to both a coffee mug and a sweatshirt hoodie.
Need a hoodie mockup template with a Halloween theme? We've got you covered with templates like this one featuring a young woman with heavy makeup and a black hat carrying a candle lantern. Add your Halloween-inspired design to complete the picture.
Here's a mockup hoodie that will keep the viewer's attention fully focused on your design. With its plain background—you can change the background colour—and the model's position facing the camera squarely, your design will hold pride of place, front and centre.
If you design sports logos, then you will need plenty of sports-related blank hoodie templates. Placeit has you covered. This is just one of the awesome sports-themed mockup hoodies Placeit has in its collection.
If your designs target lovers of the great outdoors, then this is an excellent hoodie template for you. It features a back view of the hoodie, which is great because of the view we can see over the subject's shoulders. 
For those looking for a youthful update to the hoodie, we've included this cropped hoodie template, which hopefully leaves just about enough room for your design. 
Playful, cheeky, fun, this great image will guarantee that all eyes will be on your blank hoodie template once you add your design and customise the colours. 
Looking for pullover hoodie mockup templates that will appeal to the YouTube and Podcast generation? Look no further. This template is perfect for displaying logos and designs for all sorts of content. So just hit that upload button to the left of the template to add your design, and your job is done.
Placeit Hoodie Video Templates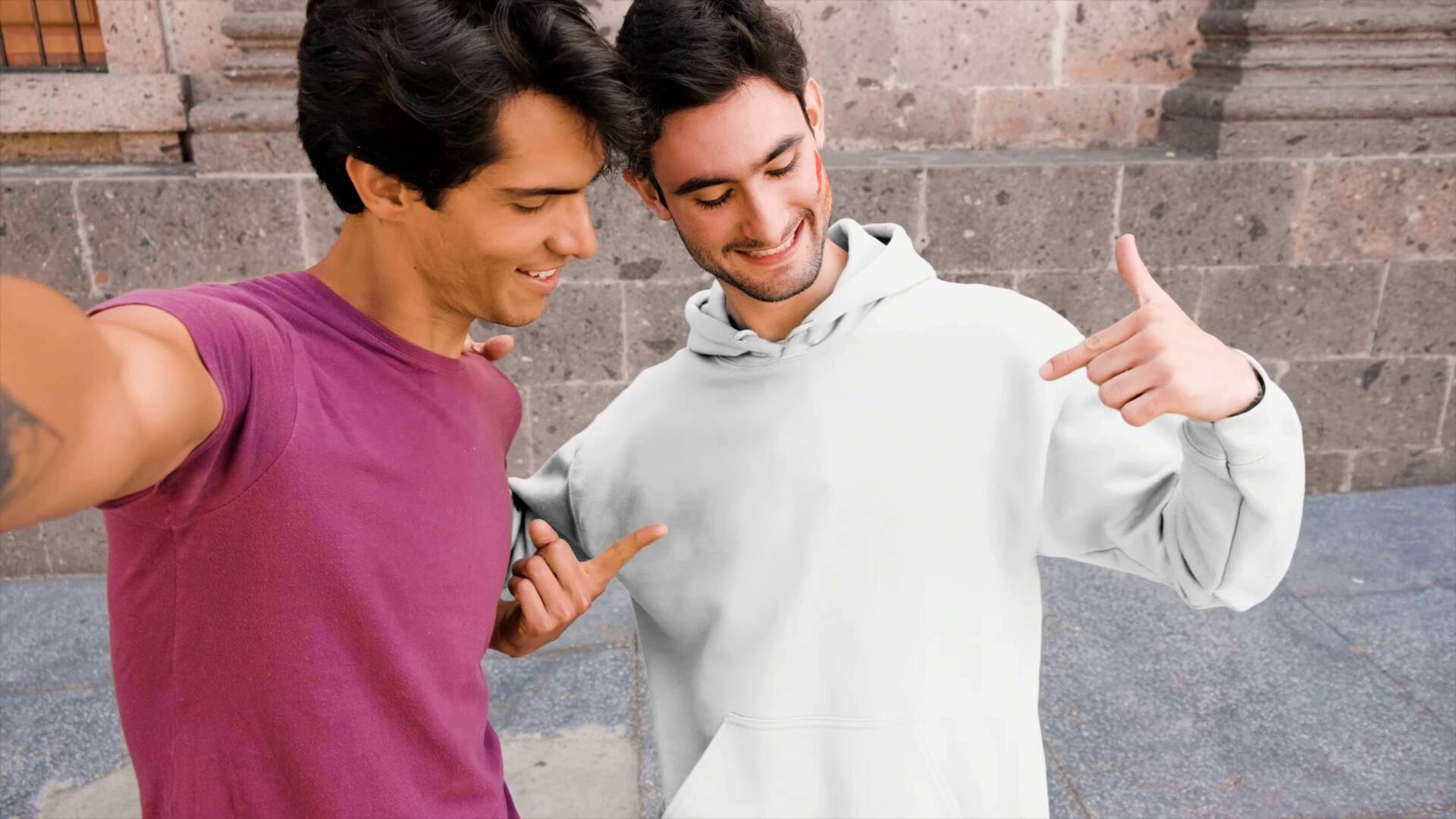 This is the age of video, and Placeit has tons of hoodie video templates to satisfy designers who are looking for videos with hoodie mockups. This one features an LGBTQIA couple taking a selfie.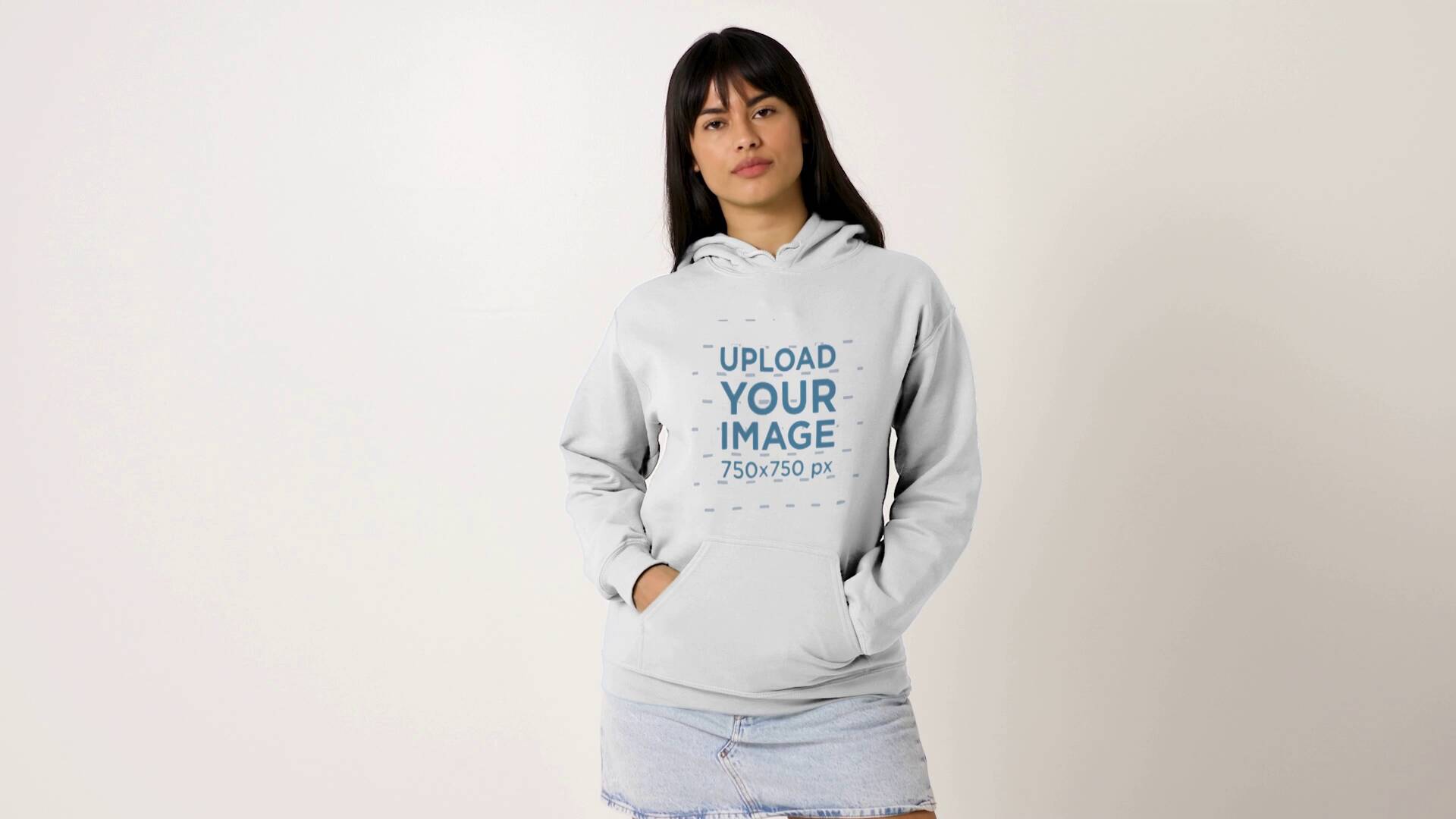 Upload your design to this mockup hoodie video the same way you would with still hoodie templates, by using the upload button to the left of the template. It's as easy as that.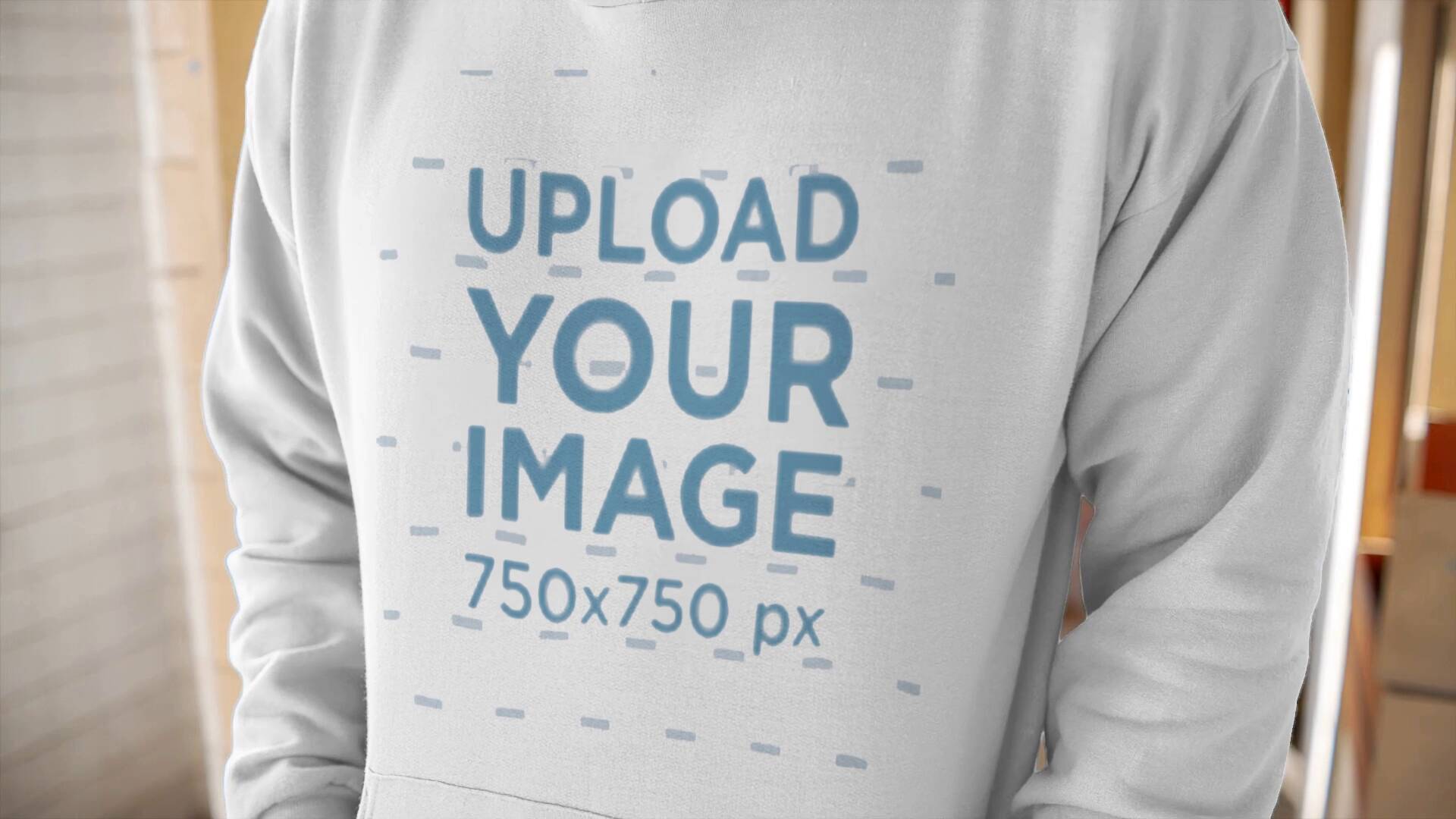 This video hoodie mockup featuring a young man standing in a warehouse offers two views: the medium shot you see here and a closeup shot of the logo/design area. Upload your logo or design using the upload button to the left of the template, download your video, and it's ready to use.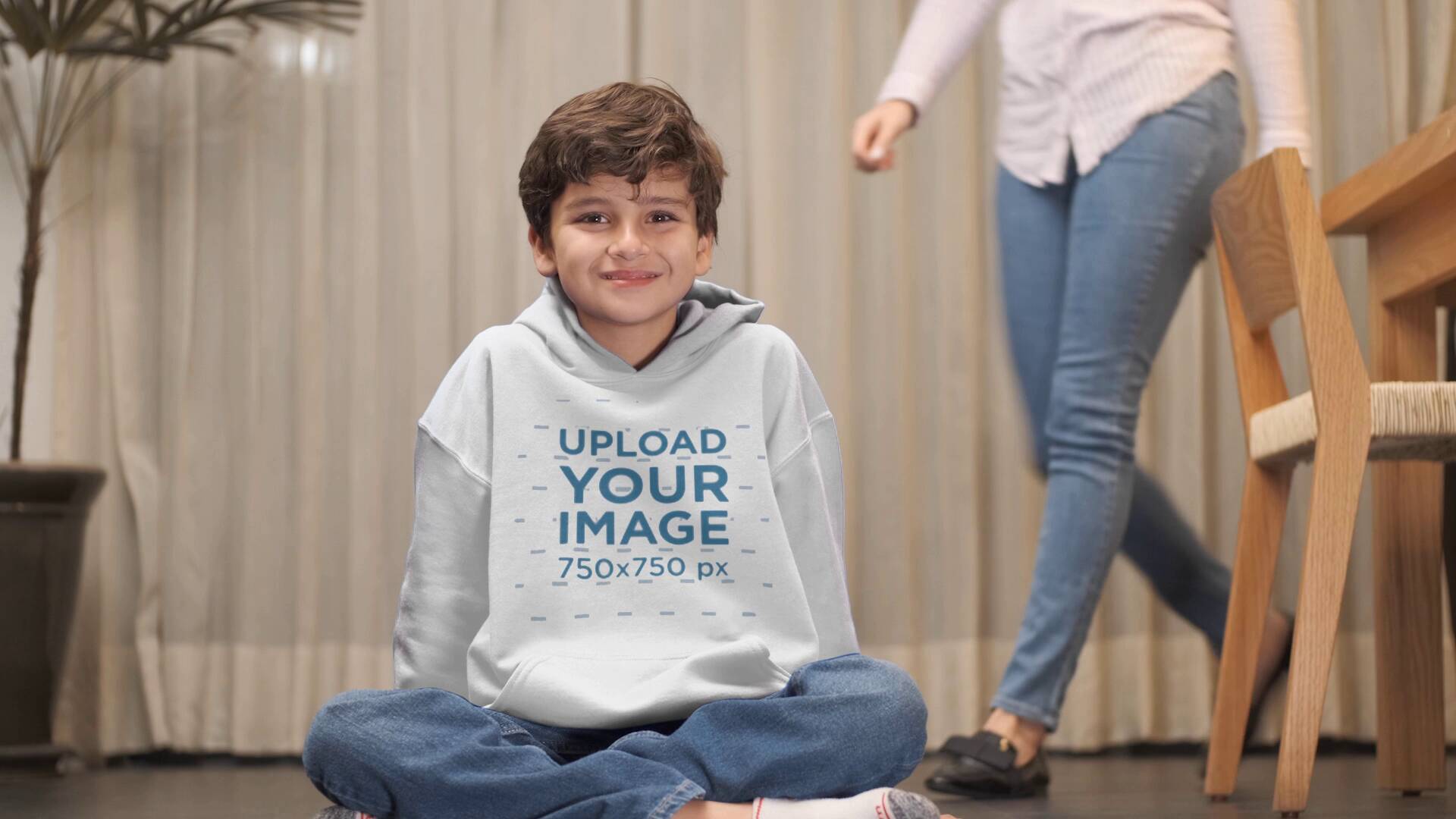 If your target audience is kids, this awesome hooded sweatshirt mockup is perfect for you. This one is even more adorable because it includes a mother and son. The mockup is a great choice for beautiful child-friendly designs, uplifting quotations for kids, or commercial advertising.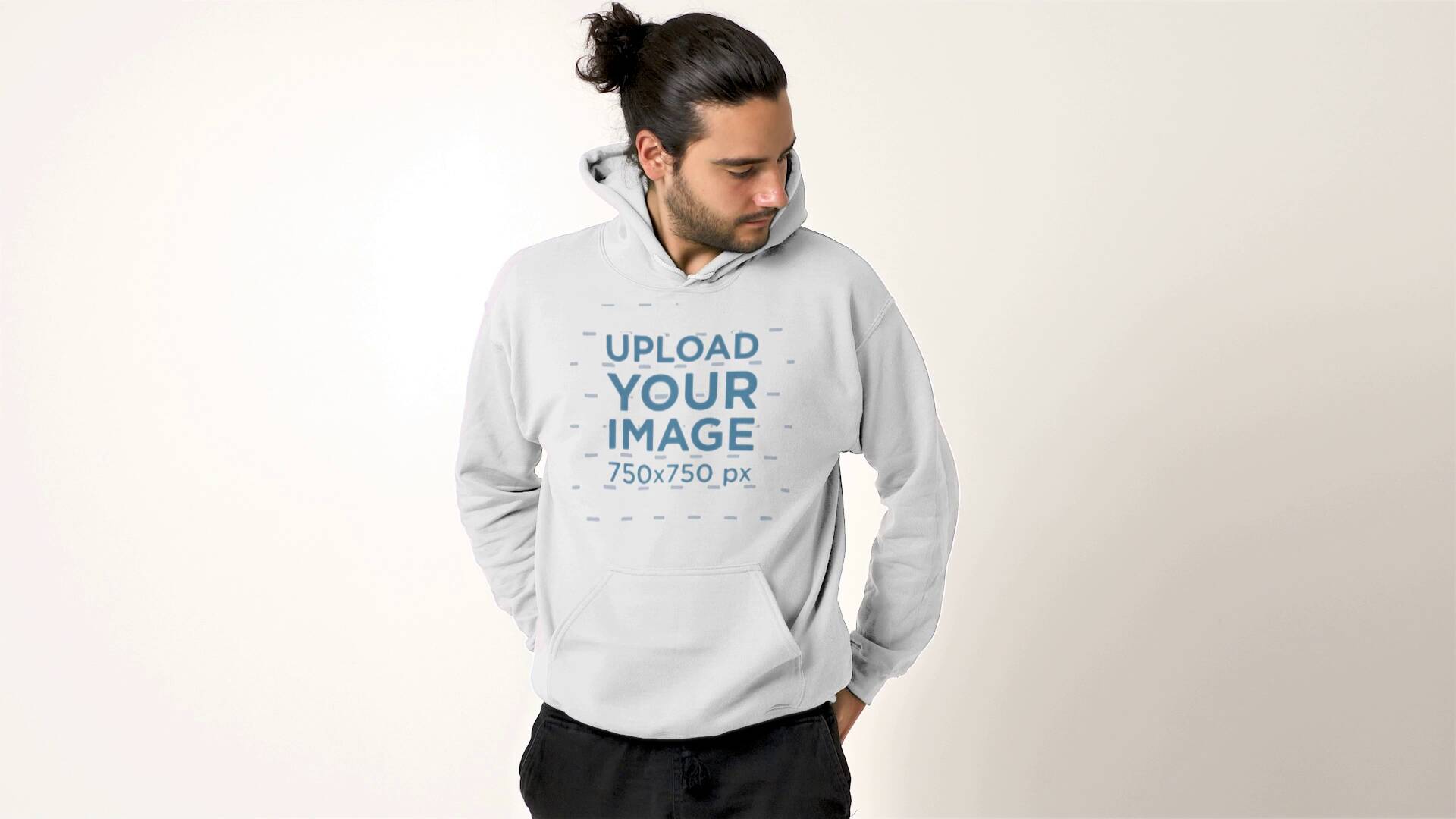 The neutral background of this video is a great asset because it makes the mockup hoodie video super versatile. You can use the video to display creative designs, fashion brands, logos, or inspirational quotes. 
Choose Your Favourite Hoodie Template Today 
Envato Elements is an excellent source for downloadable hoodie mockups in PSD file formats. If you regularly need fonts, icons, and other design resources, Elements offers unlimited downloads for one low monthly fee. 
Alternatively, if you don't use Photoshop or are looking for an easier option for customising hoodie mockups, then Placeit is the perfect choice for you. Its online hoodie mockup generator is easy to use and will allow you to customise a blank hoodie template in a matter of minutes. 
Finally, if you want more information on other terrific mockups, check out these resources below: 
Copywriter
Nona Blackman began her freelance copywriting career with Envato in 2017. Since then she has written over 400 articles for the Envato Tuts+ Design & Illustration, Photography & Video, Web Design, Code, Music & Audio, 3D & Motion Graphics, Business and Computer Skills sections, as well as the Envato Blog and the Envato Medium account. Blackman holds a Bachelor's degree in English from the University of the West Indies, a Master's of Fine Arts in Photography, Video and Digital Design from the School of Visual Arts in New York City, and a Postgraduate Certificate in Education from the University of Westminster in London.
One subscription.
Unlimited Downloads.