Andrei Stefan
Welcome to our Illustrator in 60 Seconds series, in which you can learn an Illustrator skill, feature, or technique in just a minute!
Illustrator in 60 Seconds: How to Install and Use a Custom Swatch Pattern
The ability to add and use custom swatch patterns is probably one of Illustrator's most attractive features, but sometimes the actual process of adding them can prove to be a difficult task, especially if you've never done it before. In today's tutorial, I'll show you how you can make it look easy.
The swatch pattern used in this tutorial is available to purchase from GraphicRiver.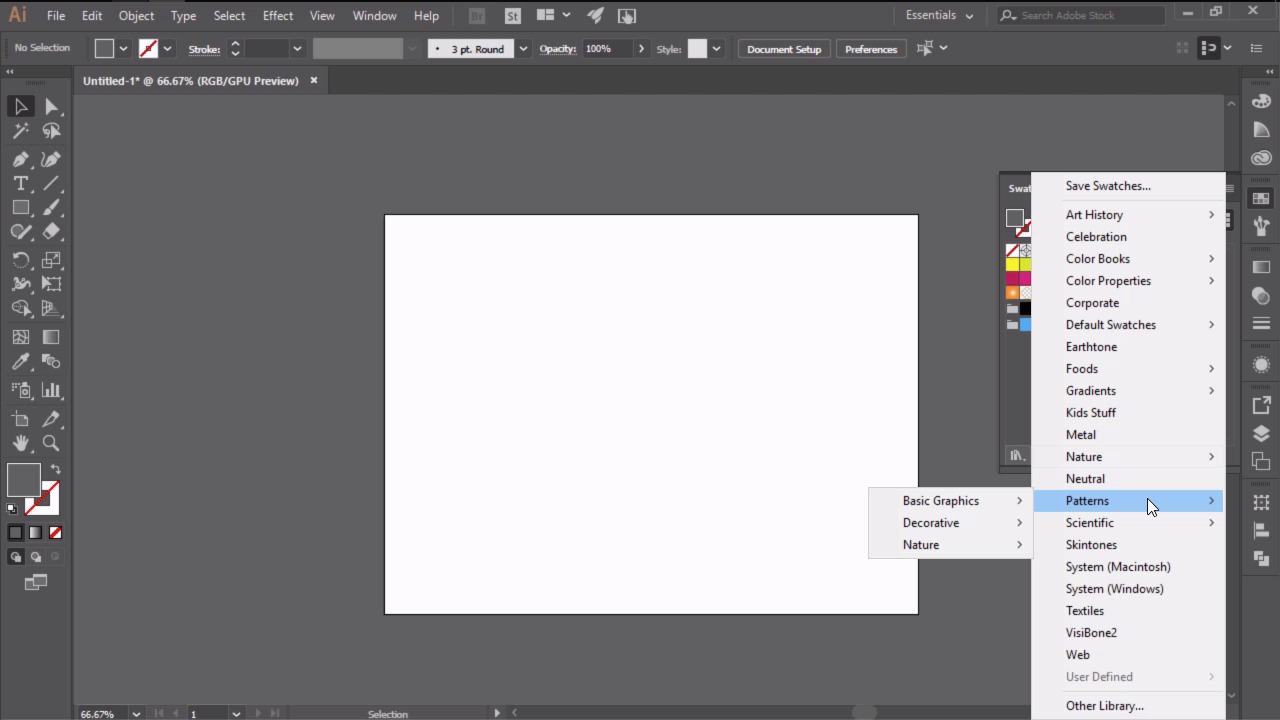 How to Install and Use a Custom Swatch Pattern

Step 1
So you want to expand your pattern library using a new set that you've just gotten your hands on. But you've never actually done it before.
If that's the case, you'll want to start by extracting your new assets from their archives since most of the time they come pre-packed that way.
Step 2
Once you're done, you can open up Illustrator and bring up the Swatches panel, where you'll want to access the Swatch Libraries menu and look for Patterns.
As you can see, there are a couple of included patterns that the software comes pre-packed with.
Step 3
But since we want to add some new ones, we need to click on Other Library. A new window will pop up allowing us to indicate the location of our new pattern set so that we can load and use it.
Now since the set isn't located within the software's default folders, we'll have to manually add it by going over to Swatches and then Patterns and creating a new folder inside it which we'll name Custom Patterns. As soon as you've added your assets within the new folder, your patterns will show up within the Swatch Libraries menu, where you can select and use them as you please.
A Bit More Detail

Learn more about Adobe Illustrator on Envato Tuts+:
60 Seconds?!
This is part of a series of quick video tutorials on Envato Tuts+ in which we introduce a range of subjects, all in 60 seconds—just enough to whet your appetite. Let us know in the comments what you thought of this video and what else you'd like to see explained in 60 seconds!

Want a weekly email summary?
Subscribe below and we'll send you a weekly email summary of all new Design & Illustration tutorials. Never miss out on learning about the next big thing.
Sign up
coffee addict / pixel grinder
Just another young gun coffee fanatic from Europe, designing colorful worlds one pixel at a time. When I'm not "making stuff" you can usually find me at my place, flipping news and catching up on all the crazy things happening in both the tech and design realms.
One subscription. Unlimited Downloads.