Monika Zagrobelna
Learn how to make a mockup without Photoshop by using the online mockup generator at Placeit.
Mockups are a very effective way of showing a design in its intended form without actually investing any time and money in its production. You don't have to print your design on a T-shirt to see how it looks—you just need a mockup. 
But how do you create mockups? For years, designers have been using Photoshop for this task, but it's not necessary anymore. In this short tutorial, I will show you how to make a mockup without Photoshop, in a few simple steps. I'll use a T-shirt mockup and an iPhone mockup as examples.
Follow along with me over on our Envato Tuts+ YouTube Channel:
What You Will Learn in This Mockup Tutorial
How to use Placeit, an online mockup tool
How to create a mockup online, without using Photoshop
How to create a T-shirt mockup online 
How to create an iPhone mockup
1.

 How to Create a T-Shirt Mockup
Step 1
Ready to learn how to create mockups online? Go to the online mockup tool at Placeit. Find the Mockups tab and go to Apparel and then T-Shirts to create a T-shirt mockup online.
Step 2
Now you're inside the huge gallery of photos and scenes you can add your design to. Select the photo you want to work with. 
Once you're in, click on the Drop file here! button on the left side of your screen. Select the image you want to see on the templates. Give it a moment to upload. I used this image. 
Step 3
When it's uploaded, you'll be asked to crop it. In my case, it looks fine as it is, but you can easily change its size with the slider. When you're ready, click Crop.
Step 4
The online mockup generator will now apply your design to your selected template automatically. The image you have uploaded will be adjusted to the T-shirt in terms of the position, shape, lighting, and even colors. 
Step 5
Edit the design as you wish. You can change the color of the T-shirt to see if the design works for other colors, and you can still crop the image differently if you need by clicking this icon. I decided to change the color of the shirt. 
Step 6
If you're happy with how the mockup looks, and you want to show it to the client without the watermark, just scroll up and click the Download button. Here you can purchase the image or download it as a part of your unlimited subscription.
And now you know how to make a mockup online! 
10 Awesome Free & Paid Templates to Get You Started
Once you understand how to use a T-shirt mockup template, you know that creating a mockup isn't as hard as it sounds. Before you create free mockups, here are some terrific apparel templates to get you started. You will create a mockup online in no time and very easily.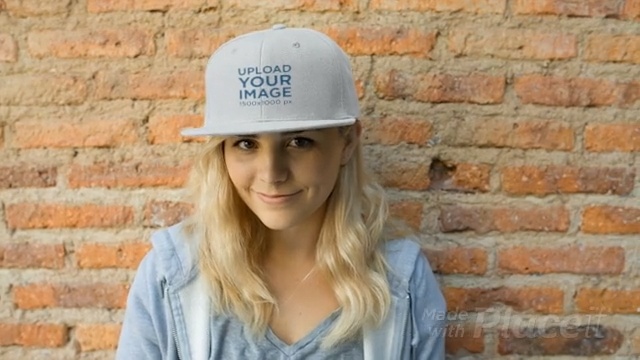 Video is everywhere these days, and we would be remiss if we didn't include a video mockup. This one is a nine-second clip featuring a young woman standing against a brick wall. The camera pans slowly from left to right as the woman smiles at the camera. Placeit works as a mockup creator for free where you can see your design before paying. 
Instead of working with a mockup creator for free, start creating a mockup with this free item. Either way, this free T-shirt mockup template is another great way to incorporate a real-life context with a neatly folded T-shirt lying on a bed next to other items. The perfect flat-lay to show your designs to their best advantage. Create free mockups to compare quality.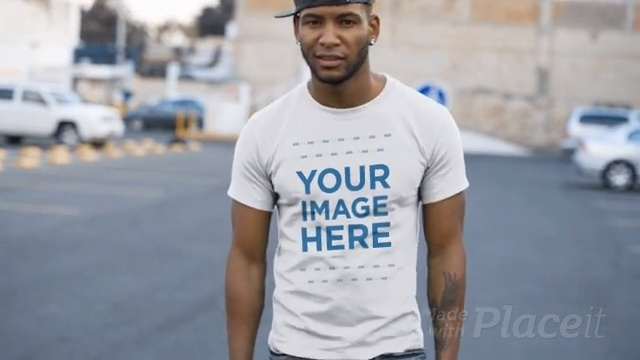 One of the best advantages of using our awesome online mockup tool is that you can also see how your mockup looks in video, not only in an image. Check out this pretty cool video of a man walking through a parking lot and wearing a T-shirt. Take advantage of this feature and make a T-shirt mockup online!
Looking for just the right couple to show off your hoodie design? Make a mockup with a cool young couple. It can be used for a myriad of purposes, including edgy hairdressing salon, tattoo parlor, laidback clothing line, and more.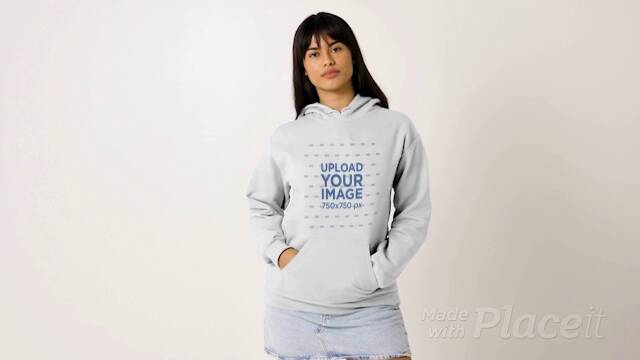 Next up, we've got this video mockup of a woman wearing a hoodie. This is a great opportunity to see your own hoodie design in action. Go create a mockup online at Placeit!
Featuring a young woman posing in front of a flat color background, this free T-shirt mockup template uses bright colors to bring your designs to life. It will help people visualize themselves wearing your T-shirts. This is a simple and effective T-shirt mockup online. Make a mockup with your design by simply placing your image into the mockup generator.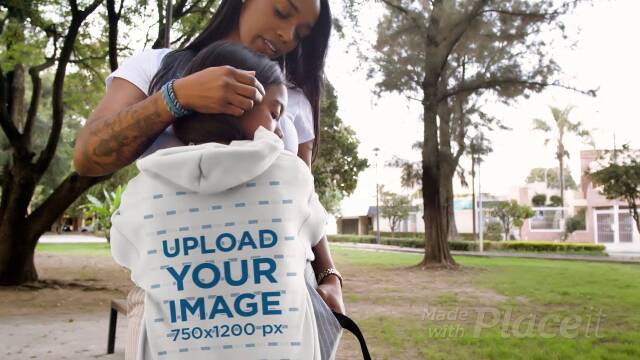 If you've browsed our online mockup generator, I'm sure you've found an extensive variety of options for your mockup. We also have mockups for kids' clothes, like this girl wearing a hoodie. Check this cool video for your next mockup online. 
Here's a cool sweatshirt template of a couple, one of whom is wearing a sweatshirt and facing the camera directly, which allows your design to be seen clearly. Another great feature of creating this mockup online is that you can change the background to whatever colour you want. 
If you need a stylish jersey design mockup for volleyball, this is a great template to consider. The image in the template is shot against a black background, and you customize everything from the color of the shorts to each color in the ball. Our online mockup tool has plenty of customization options for you. You won't find such a cool photo when you use a free online mockup generator with no watermark.
This simple, free T-shirt mockup template with its neutral background would be a great way to show off products or services targeting a male audience. Just upload your image, select the desired T-shirt color, and you're done.  It isn't that hard to create mockups online. It's even fun! 
Create mockups for sweatshirts, hats, tote bags, etc., check out these handy roundups of the best apparel mockups:
2.

How to Create an iPhone Mockup
Step 1
Creating an iPhone mockup is just as easy as we showed you with the T-shirt mockup online. Again, go to Placeit, and this time navigate to Mockups > Digital > iPhone Mockups.
Here's our list of the best iPhone mockup templates available:
Step 2
Navigate through the gallery of iPhone mockups. Select the mockup you want to work with. 
Once you're in, click on the Drop file here! button on the left side of your screen. Select the image you want to see on the templates. 
Step 3
Give it a few seconds to upload, and then crop the image if necessary. When you're done, click Crop and see how the image is applied to the template in real time. All of this will happen automatically, and you just have to wait and let the magic happen.
Step 4
Now you see your design applied to the template! Looking good, huh? Adjust the elements around your iPhone mockup as much you'd like. Maybe place the image higher or change the background colors.
Step 5
Here, again, you can edit the picture, but if you like how it looks, just scroll up and click the Download button to buy the mockup. And that's it! This online mockup generator is pretty easy to use.
Congrats! Now you know how to create a mockup! 
10 More Terrific Free & Paid Templates You'll Love
Still wondering how to create a mockup? Let me share with you more awesome mockup templates from Placeit, our online mockup tool. In there, you can create mockups not only on clothes, but also on the everyday objects and gadgets we use. You can create a book mockup online too!
Now that you know how to create your own iPhone mockups, here's a free iPhone mockup you can use to advertise your new app. Displayed against a beautiful colored 3D environment, this is the perfect mockup to keep all eyes on your design. 
This tote bag mockup is perfect for the minimalists out there. The design features a tote hanging on a nail against a duo-tone wall. The cotton bag mockup allows you to change the colour of the bag as well as both colours of the background.
If you want to know how to create a book mockup online, this is the template for you. A terrific paperback book mockup, this template features a stylish young woman reading a paperback on the steps of a building. This very realistic book cover mockup allows you to upload images for the front, spine, and back cover of your book. You can create a book mockup online easily.
You've just opened up a pizzeria, and you need a low-cost way of advertising your new venture. Showcasing some of the wonderful freshness of ingredients that go into the making of a pizza, this realistic pizza box packaging mockup is the perfect template for you. 
An over-the-shoulder image of a woman using her iPad in an outdoor cafe, this mockup gives the viewer a big, bright, clear view of the screen, with enough blur in the background to keep their attention focused.
Keep your viewer's eyes riveted to your design when you use this terrific free iPhone and iPad. The photo composition makes the devices stand out quite clearly in this real-life scene. 
There's a reason flat-lays are so popular nowadays: they're a perfect way to display objects on any surface. What's great about this particular flat-lay is that it's a perfect phone and computer mockup for showing off how a webpage would look on a computer screen and on a mobile device. A great laptop phone mockup combo for web designers, writers, or entrepreneurs.  
What could be better than being able to display your product design labels in a number of styles and dimensions? This gift bag packaging mockup allows you to do just that, with gift bags that range from small to medium to very large. 
Create a colourful and dynamic background to display your magazine spread mockup against with this multicoloured print magazine mockup. First, upload your magazine pages, and then use the colour picker to experiment with colours that would best complement and show off your spread to the best advantage. 
Why not show off your gorgeous iPhone design with this awesome iPhone mockup? The template features a male hand holding an iPhone 12 Pro poster against a beautiful yellow background. The free mockup template would be suitable for artistic or advertising designs. 
If you're interested in other cool mockups for iPads, laptops, books, magazines, mugs and a whole host of templates, check out these handy roundups of the best mockups at Placeit:
Good Job!
Creating a mockup isn't as hard as you thought. Now you know how to create a mockup online easily and quickly. To learn more, check out our video on what Placeit is and how to use it. 
And if you're interested in more tutorials about mockups, you need to see this list of terrific tutorials below: 
Editorial Note: This post has been updated with contributions from Janila Castañeda. Janila is a staff writer with Envato Tuts+.
Want a weekly email summary?
Subscribe below and we'll send you a weekly email summary of all new Design & Illustration tutorials. Never miss out on learning about the next big thing.
Sign up
Freelance artist, Poland
I'm a Polish artist with a great passion for creating new things—whether by drawing, digital painting, or photo manipulation. I have 10+ years of experience in using Adobe Photoshop and Adobe Illustrator, both for graphic design and for creating unique works of art as well. I hold a degree in graphic design, but nowadays I work as a freelance illustrator and a tutorial author. I specialize in creating realistic art, especially of animals, and I'm good at designing imaginary creatures in a realistic way. I'm a big fan of dragons and feline creatures! Because I learn the best by teaching, and I love sharing my skills with others, in my free time I like to create educational posts on my own blog. I also share the behind-the-scenes of my art on my Instagram. I consider myself an unofficial ambassador of Sketchbook Pro, a seriously underrated program for digital art, which I use every day in my work. You can learn more about me on the Sketchbook Blog: https://www.sketchbook.com/blog/animals-creatures-by-monika-zagrobelna
Start your 7-day free trial*
*All Individual plans include a 7-day free trial for new customers; then chosen plan price applies. Cancel any time.