Andrew Childress
There might not be as many printed comic books these days, but comic characters are more popular than ever. This has created a real sense of nostalgia for the visual styles that shape the comic book style. 
You don't have to be an illustrator (or hire one) to create a comic style of your own. It's easy to take an image, apply the halftone and ink styles, and create a finished image that looks like it would fit right into a comic.
So, how do you apply a comic style to images of your own? It starts with using actions and assets from Envato Elements: in a few clicks, you can apply the styles harken back to printed comics. Let's learn how.
Watch and Learn
In the screencast below, we'll use Photoshop and assets from Envato Elements to transform an image into a comic illustration.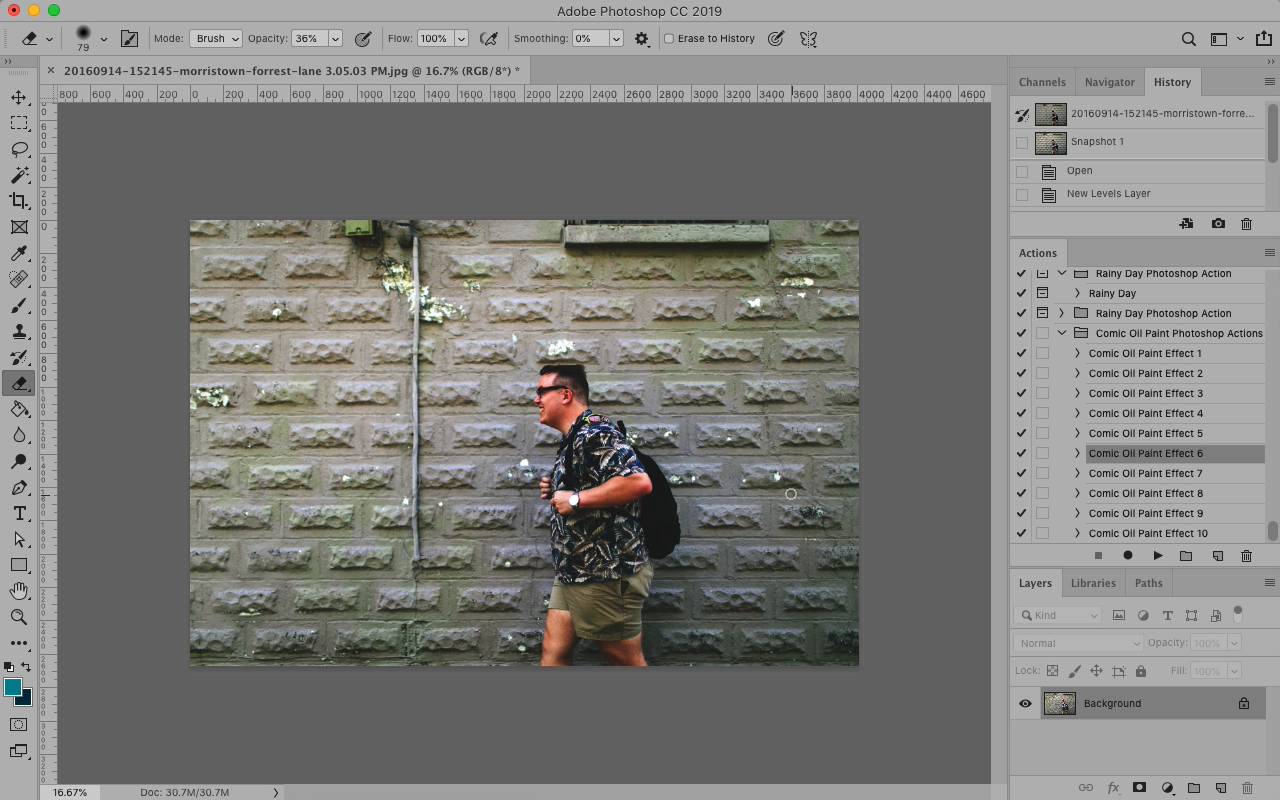 Download the Comic Assets
I'll bet that your project budget doesn't include a line item for hiring a comic illustrator. But that's okay, we can use Photoshop actions to re-create the look with just a few clicks. Start with an image of your own, apply an action, and tweak it to your liking.
In this tutorial, we're going to work with two assets that are included with a subscription to Envato Elements. 
The first of these is the Comic Oil Paint Photoshop Actions pack. I like this project because it applies an inky, hand-illustrated effect to an image. And, best of all, there are ten different styles included with the pack for different takes on the comic oil paint style.
One of the defining features of the comic visual style are those little dots that add shading. I'm also going to use one of my favorite halftone assets, Clean Vector Halftones, to add even more of a comic book style to an image.

(If you're interested in learning more about the process of printing comics, check out this blog post. It shows the magic of the visual styles that dominate comic books.)
A subscription to Elements can save you many hours in trying to hack together a visual style. Let's learn to combine these assets to create a comic effect with no illustration work needed.

1.

Select a Photo

In this tutorial, I'm going to work with a candid image of a subject.  In general, what I've found works best is to use fairly simple scenes with the comic actions. Too much detail can complicate the scene.
Ideally, an image on solid, bright colors would work perfectly for the comic action as you can see in the example on Elements. For this tutorial, I've chosen an image with a pretty simple background. I'm okay with the details of the wall in the image mostly falling out of view as we apply the action, as they aren't relevant to the subject. 
2.

Create a Snapshot Copy

If you've applied other adjustments (like corrections or effects) to an image, it helps to create a new snapshot of your image. That snapshot gives you an easy way to revert back to a saved point in your workflow.


To add a snapshot, make sure you show the History panel. If you don't already see it, come up to the Window menu and choose it.

On the History panel, find the camera icon at the bottom of a panel. Click on it to create a new snapshot of an image, freezing your progress.
At the top of the History panel, you'll see a new Snapshot that allows you to jump back to the current state of the image. Just click on it to revert back to an earlier version. Think of this as version control for your Photoshop actions.
3.

Load the Photoshop Actions

After you download the Photoshop actions, you'll need to add them to the app so that they're available to apply.

Photoshop actions come packages as .atn files. If you already have Photoshop installed, the easiest way to add them to Photoshop is to double-click on the action.
Then, find the Actions panel in Photoshop. If it's not visible or you can't find it, go to the Window > Actions menu to open it up. You'll see a folder titled Comic Oil Paint Photoshop Actions. Inside this folder are ten different actions, each with a different take on styling your images comically.
4.

Apply an Action

To apply an action, choose from one in the list and press the Play button at the bottom of the Actions panel. You'll watch Photoshop spring to life and apply a series of transformations to an image. With this single click, much of the work of a comic book transformation is automatically handled.
Remember that there are ten actions included with the single Action file. If you want to try out other styles, use the snapshot we created to jump back to the original version of the image, and then try out another style in the action list. 
5.

Adjust the Action to Taste


The action is a great way to skip the individual steps it takes to create a comic style image. But, sometimes the effect is applied to parts of the image that you want to exclude, like a subject's face for example. In that case, you'll want to adjust the action so that 

To adjust the action, start by opening up the Group 1 folder in the Layers panel. Scroll down to find the layers titled "Effect", like "Effect Copy" and "Effect Copy 2."

Start off by toggling these off and on using the eye icon on the left side of the layers panel. You'll see effects toggled off and on. This helps you understand the purpose of each layer and how it changes the image.
Once you have a feel for what each layer does, grab the eraser tool from the tools panel. Then, erase out the areas you want to exclude from the comic effect. Repeat this with enough layers, and now you've adjusted how the action is applied to your image.
6.

Add Halftone Overlays (Optional)


One of the additional assets that I recommend adding to your comic image is a halftone effect. With the halftone effect, you simulate the print style of comic books. Many of the actions in this package already have a halftone effect, but adding an additional layer can just take the effect that much further. 

To add this, I'm simply going to open the folder with the halftone PNG's, then drag it on top of the image. Resize and reposition it and place it on top of the image. You could also adjust the opacity to adjust the presence of the halftone effect.

That's it! These steps take your image from photorealistic to comic ready. With the help of actions and assets, you'll save hours of illustration. 
Keep Learning
The comic style is an easy one to apply when you start with actions and assets. Open a photo, apply an action, and add an overlay to really make your imagery ready for print in a cartoon.
Still looking for more assets that can bring a comic style to your images? Check out the round-ups and tutorials below to see other options.
10 Best Print-Inspired Halftone Effects (Color and Black-and-White) for Photoshop

Andrew Childress

31 Jul 2022
Want a weekly email summary?
Subscribe below and we'll send you a weekly email summary of all new Design & Illustration tutorials. Never miss out on learning about the next big thing.
Sign up
I believe that life is too short to do just one thing. In college, I studied Accounting and Finance but continue to scratch my creative itch with my work for Envato Tuts+ and other clients. By day, I enjoy my career in corporate finance, using data and analysis to make decisions. I cover a variety of topics for Tuts+, including photo editing software like Adobe Lightroom, PowerPoint, Keynote, and more. What I enjoy most is teaching people to use software to solve everyday problems, excel in their career, and complete work efficiently. Feel free to reach out to me on my website.
One subscription. Unlimited Downloads.