Melody Nieves
Добро пожаловать на нашу серию Photoshop за 60 секунд, в которой вы научитесь навыкам работы в Photoshop, узнаете особенности программы, и техники работы в ней всего за минуту!
Photoshop за 60 Секунд: Геометрический Паттрен
Геометрические паттерны - это потрясающий дизайн элемент, созданный из простых фигур. И вы можете использовать эти паттерны как фон, наклейку на ноутбук, или в любых других проектах графического дизайна. Узнайте как создать простой геометрический паттерн используя Adobe Photoshop и инструменты фигур в этом коротком видео.

Хотите добавить паттерны к вашему рабочему набору? Попробуйте набор паттернов из видео, которые вы можете найти на Envato Elements.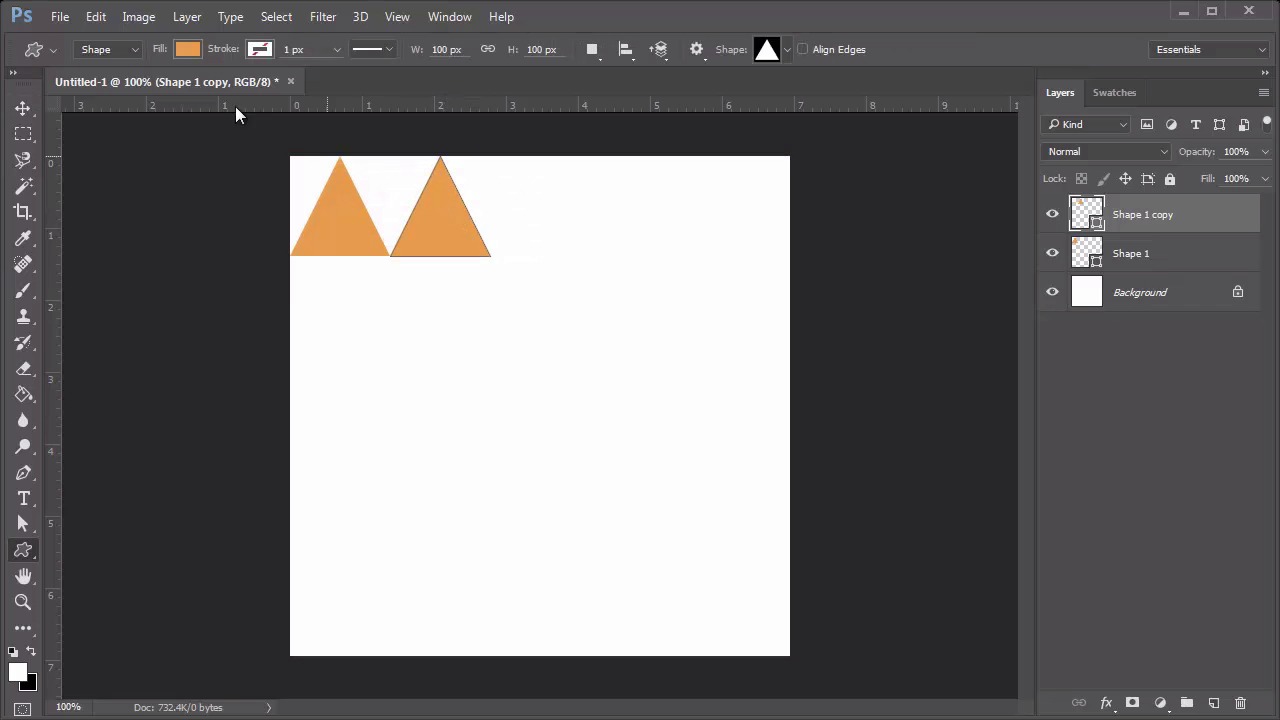 Как Создать Простой Геометрический Паттерн в Phototshop

Создайте рабочий холст любого размера. Выберите ваши любимые Образцы Цвета (Color Swatches) для ваших паттернов. Я использую здесь следующие цвета: #eb9c4d, #bac9a9, #f3ffcf и #f2d680

Выберите инструмент Многоугольник (Polygon Tool) или инструмент Произвольная Фигура (Custom Shape Tool) (U) что бы создать треугольник размером 100 x 100 пикс.(px). Используйте сперва оранжевый цвет для треугольника и поместите его в верхний левый угол. 
Нажмите Control-J что бы Дублировать фигуру еще три раза. Измените цвета треугольников в соответствии с вашей темой, и добавьте копию первого треугольника в конец вашей строки. Используйте инструмент Кадрирование (CropTool) (C) что бы откадрировать холст, обрезав  крайние стороны первого и последнего треугольников.

Выберите все фигуры и Дублируйте их. Создайте второй ряд треугольников ниже, и расположите его левее первого ряда. Затем используйте инструмент Прямоугольная область (Rectangular Marquee Tool) (M) чтобы выделить ваш паттерн и зайдите в меню Редактировать>Задать Паттерн (Edit > Define Pattern) чтобы создать новый паттерн.
Используйте инструмент Заливка (Paint Bucket Tool) (G) с вашим Паттерном, что бы испробовать ваш новый дизайн в деле.

Хотите увидеть как это делается? Посмотрите видео выше, что бы увидеть как это работает!
Немного Информации
Хотите узнать больше советов и приемов для создания крутых паттернов? Тогда посмотрите уроки по ссылкам ниже:
60 Секунд?!
Это часть из серии коротких видеоуроков на Envato Tuts+ в которых мы представляем вам различные темы за 60 секунд - ровно столько, чтобы вас заинтересовать. Оставляйте свои комментарии об этом видео, а также, пишите чему бы вы еще хотели научиться за 60 секунд!
Want a weekly email summary?
Subscribe below and we'll send you a weekly email summary of all new Design & Illustration tutorials. Never miss out on learning about the next big thing.
Sign up
Digital Artist - CT, USA
I'm an Afro-Latina digital artist originally from Long Island, NY. I love to paint, design, and photo manipulate in Adobe Photoshop while helping others learn too. Follow me on
Instagram
or tweet me
@MelloNieves
and tell me what you'd like to see next!
One subscription. Unlimited Downloads.