Monika Zagrobelna
Um pedaço de linha de arte ainda é um desenho, mas, e se quisermos torná-lo mais realista? Nessa lição, mostraremos como usar ferramentas digitais para sombrear linhas de arte.

Lembremo-nos de ver a lição anterior, Do Esboço Para Linha de Arte, e de baixar os arquivos fonte do curso.

Sombreamento Digital
Noss objetivo será obter o visual do desenho tradicional. O processo de sombreamento e desenho leva muito tempo porque não se pode, simplesmente, desenhar sombras com um pincel grande. Estaríamos pintando assim.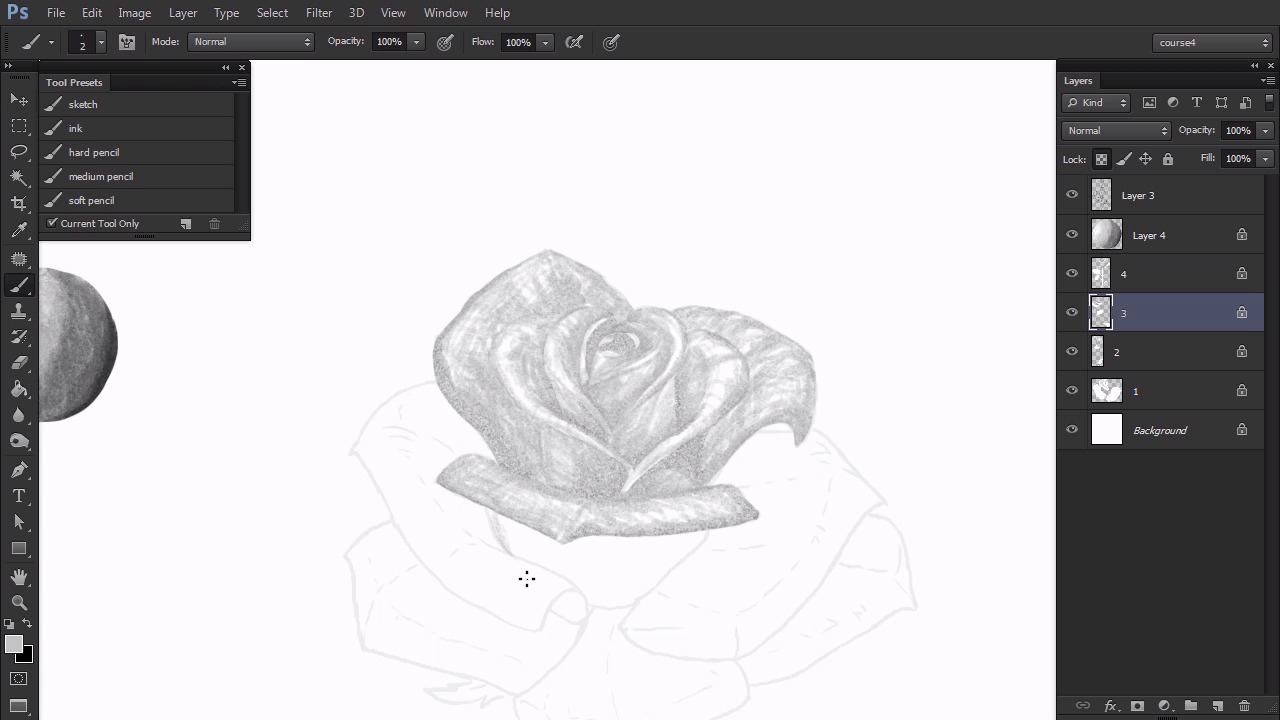 No fim, tudo se resume em criar padrões repetitivos que são fáceis mas tomam tempo. Também requerem concentração contante porque é fácil ir além de algumas bordas se não formos cuidadosos.
Preparando a Linha de Arte para Sombreamento
Passo 1
No Photoshop, podemos acelerar o processo usando máscaras de corte. Com menor opcidade da linha de arte, criemos nova camada.
Passo 2
Peguemos o pincel de tinta e escolhamos uma cor clara.

Passo 3
Vejamos a linha de arte e decidamos que contornos separam os elementos. Preenchamo-nos com cores, mas não iguais para elementos adjacentes. Tentemos ser o preciso, seguindo exatamente a linha de arte. Quando não tivermos mais áreas para preencher sem que esteja tocando outra já colorida, criemos uma nova camada por baixo e escolhamos outra cor.
Repitamos o processo. Separemos com cores areas sem tocar as áreas da cor que estamos usando. Podemos ser menos cuidadoso agora, porque partes da cor serão cobertas pela camda acima. Repitamos o processo e teremos todas as áreas coloridas. Nesse caso, criamos quatro camadas para a rosa toda.
Passo 4
Arrastemos a linha de arte para cima para torná-la visível.

Quer Mais?
Se gostamos do resultado final, não deixe de acompanhar a última lição onde prepararemos o desenho para publicação.
Want a weekly email summary?
Subscribe below and we'll send you a weekly email summary of all new Design & Illustration tutorials. Never miss out on learning about the next big thing.
Sign up
Freelance artist, Poland
I'm a Polish artist with a great passion for creating new things—whether by drawing, digital painting, or photo-manipulation. I have 10+ years of experience in using Adobe Photoshop and Adobe Illustrator, both for graphic design and for creating unique artworks as well. I hold a degree in graphic design, but nowadays I work as a freelance illustrator and a tutorial author. I specialize in creating realistic art, especially of animals, and I'm good at designing imaginary creatures in a realistic way. I'm a big fan of dragons and feline creatures! Because I learn the best by teaching, and I love sharing my skills with others, in my free time I like to create educational posts on my own blog. I also share the behind-the-scenes of my artworks on my Instagram. I consider myself an unofficial ambassador of Sketchbook Pro, a seriously underrated program for digital art, which I use every day in my work. You can learn more about me on the Sketchbook Blog: https://www.sketchbook.com/blog/animals-creatures-by-monika-zagrobelna
Scroll to top
Start your 7-day free trial*
*All Individual plans include a 7-day free trial for new customers; then chosen plan price applies. Cancel any time.