Melody Nieves
Bem vindo à série Photoshop em 60 segundos, onde aprendemos uma habilidade, recurso ou técnica em apenas 1 minuto!
Photoshop em 60 Segundos: Bijuteria Customizada
O Misturador de Pinceis, no Adobe Photoshop, permite-nos criar maravilhosos carimbos de qualquer objeto. Nesse tutorial, usaremos essa ferramenta para mostrar como criar um colar de pérolas com nosso próprio pincel de colar.

Somos livres para baixar as imagens do colar e da mulher usados no vídeo. Também naveguemos a coleção incrível de fotografias na PhotoDune para mais ótimas referências.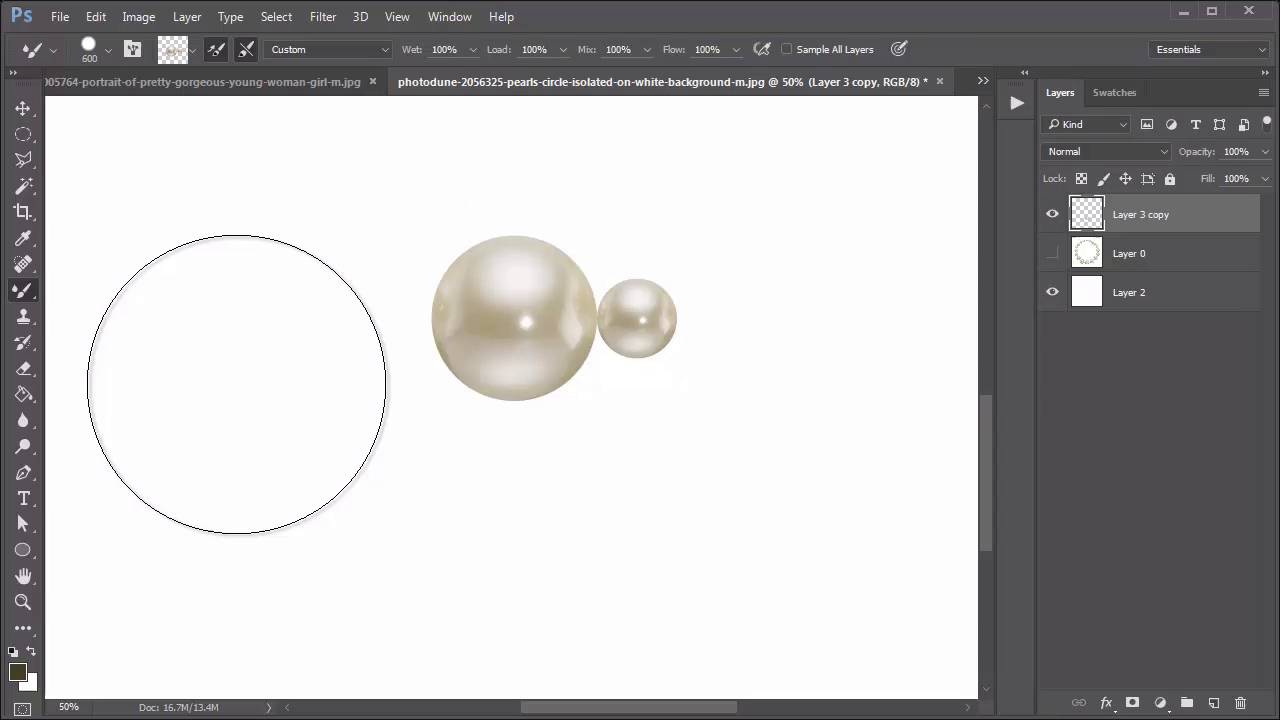 Criando um Colar Customizado no Photoshop
Abramos as fotos no Photoshop. Usaremos as fotos do colar e da mulher.

Primeiro, extraiamos as pérolas do colar, usando o Letreiro Elíptico (M). Então, com Ctrl+J, dupliquemo-no e redimensionemo-no com a Transformação Livre (Ctrl+T). A segunda pérola servirá como uma pequena peça conectora.

Mesclemos as camadas das pérolas. Com o Misturador de Pinceis (B) e aumentemos o Tamanho do Pincel para cobri-las, então apertemos Alt para carregar as pérolas como um novo pincel. Com F5, ajustemos as configurações do Pincel, assim.
Espaçamento: 90-95%
Dinâmica de Forma: Marcado, Controle de Ângulo: Direção Inicial
Com o Misturador de Pinceis (B), comecemos a desenhar o colar de pérolas no alvo. Pode ser que precisemos tentar várias vezes para acertar. Então, configuremos uma Máscara de Camada no colar de pérolas e pintemos de preto a máscara para esconder as imperfeições ou pérolas com o Pincel (B).
Quase pronto! Agora, Clique com Botão Direito na camada e vamos em Opções de Mesclagem. Usemos Sombra no colar com essa configuração.

Somos livres para continuar a ajustar a iluminação e cor com Camadas de Ajustes adicionais. Eis nosso resultado final:
Quer ver isso em ação? Veja o vídeo acima para ver como funciona!

Um Pouco Mais de Detalhe
Aprendamos mais efeitos fotográficos com especialistas! Vejamos os tutoriais abaixo:
60 Segundos?!
Essa é uma parte da série de tutoriais rápidos em vídeo na Envato Tuts+, onde introduzimos uma gama de assuntos, tudo em 60 segundos—o suficiente para chamar sua atenção. Diga-nos o que achou do vídeo e o que mais poderíamos explicar em 60 segundos!
Want a weekly email summary?
Subscribe below and we'll send you a weekly email summary of all new Design & Illustration tutorials. Never miss out on learning about the next big thing.
Sign up
Digital Artist - CT, USA
I'm an Afro-Latina digital artist originally from Long Island, NY. I love to paint, design, and photo manipulate in Adobe Photoshop while helping others learn too. Follow me on
Instagram
or tweet me
@MelloNieves
and tell me what you'd like to see next!
One subscription. Unlimited Downloads.