Melody Nieves
Bem-Vindo à nossa série Photoshop em 60 Segundos, onde você pode aprender uma habilidade, recurso ou técnica do Photoshop em apenas um minuto!
Photoshop em 60 Segundos: Efeito Bokeh
Um lindo efeito bokeh alcançado pela fotografia fora de foco pode ser agora aplicado a qualquer foto! Recrie o visual com uma rápida Ação do Photoshop para todas as suas fotografias de retrato ou paisagem. Navegue em nossa incrível seleção de Ações do Photoshop disponíveis na GraphicRiver e na Envato Elements para outros ótimos efeitos.
Neste vídeo rápido, aprenda como criar uma Ação do Photoshop que produz um efeito bokeh caloroso. Use um pincel personalizado, estilos de camada e muito mais para alcançar este visual!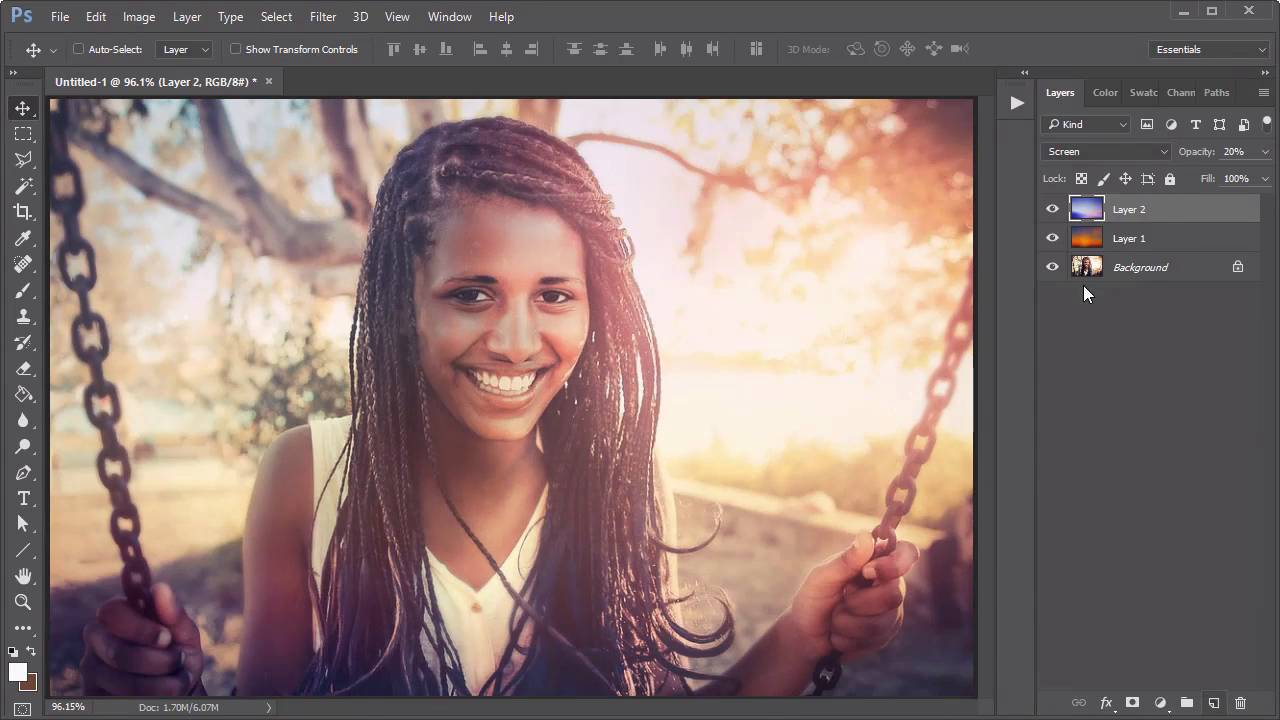 Como Criar uma Ação Bokeh para o Photoshop
Comece criando um pincel personalizado. Pressione F5 para exibir o painel Pincel (Brush). Usando um Pincel Duro Arredondado (Hard Round Brush), ajuste a Dispersão (Scatter) para 1000% e então Salve seu pincel personalizado para que nós possamos usá-lo posteriomente em nossa ação.

Agora vá para Janela > Ações (Window > Actions) e configure uma nova Ação bokeh no painel de Ações. Quando você estiver pronto, clique no botão Início da Gravação (Record) para começar a gravação dos próximos passos.
Abra sua foto no Photoshop. Eu vou usar esta Imagem de uma Mulher.

Copie e Cole dois fundos destes Fundos de Ruído Desfocados acima de sua imagem. Selecione ambas as camadas e reduza a Opacidade para 20% e em seguida, defina o Modo de Mesclagem (Blend Mode) da primeira para Luz Direta (Hard Light) e o da segunda para Divisão (Screen).
Crie uma Nova Camada e use o Pincel Bokeh personalizado que nós criamos anteriormente para aplicar alguns efeitos bokeh. Defina o Modo de Mesclagem (Blend Mode) da camada para Sobrepor (Overlay) e então clique com o Botão Direito do Mouse e vá para as Opções de Mesclagem (Blending Options), adicionando um rápido Brilho Interno (Inner Glow) com as seguintes configurações:
Duplique (Ctrl-J) a camada, trazendo ligeiramente a cópia para baixo, antes de ir para Filtro > Desfoque > Desfoque Gaussiano (Filter > Blur > Gaussian Blur) e desfocá-la com um Raio de 5 pixels.

Defina o modo de uma Nova Camada para Subexposição de Cores (Color Dodge). Pinte com variações de marrom suaves (ou use a Ferramenta Conta-Gotas (I) para selecionar as cores mais escuras da foto) para mais intensidade. Reduza a Opacidade para 22%. Prossiga com uma Nova Camada de Ajuste de Exposição (Exposure), configurando a Exposição para 1 e a Opacidade para 20%.

Quando você terminar, lembre-se de clicar no botão Interromper (Stop) no painel de Ações para usar esta ação em fotos futuras.

Aqui está o efeito final.
Experimente esta ação em outras imagens para resultados impressionantes!

Quer ver isso em ação? Confira o vídeo acima para ver este tutorial na prática!

Um Pouco Mais de Detalhe
Aprenda como criar mais efeitos fotográficos com os nossos especialistas! Confira os seguintes tutoriais abaixo:
60 Segundos?!
Este tutorial é parte de uma série de tutoriais rápidos em vídeo da Envato Tuts+ onde introduzimos uma variedade de assuntos, tudo em 60 segundos - apenas o suficiente para aguçar o seu apetite. Deixe-nos saber nos comentários o que você achou deste vídeo e o que você gostaria de ver explicado em 60 segundos!
Want a weekly email summary?
Subscribe below and we'll send you a weekly email summary of all new Design & Illustration tutorials. Never miss out on learning about the next big thing.
Sign up
Digital Artist - CT, USA
I'm an Afro-Latina digital artist originally from Long Island, NY. I love to paint, design, and photo manipulate in Adobe Photoshop while helping others learn too. Follow me on
Instagram
or tweet me
@MelloNieves
and tell me what you'd like to see next!
One subscription. Unlimited Downloads.