Andrei Stefan
Witamy w naszym cyklu poradników Illustrator w 60 sekund, dzięki któremu nauczysz się techniki, poznasz funkcję lub zyskasz umiejętność w programie Illustrator w ciągu zaledwie jednej minuty!
Illustrator w 60 sekund: jak zainstalować i używać własne wzory
Możliwość dodawania i korzystania z własnych wzorów jest jedną z najbardziej atrakcyjnych funkcji programu Illustrator, ale proces dodawania ich czasami może okazać się trudnym zadaniem, szczególnie, jeśli robimy to po raz pierwszy. W tym poradniku, pokażę ci jak można to zrobić bez nadmiernego wysiłku.
Wzór wykorzystywany w tym poradniku można kupić na GraphicRiver.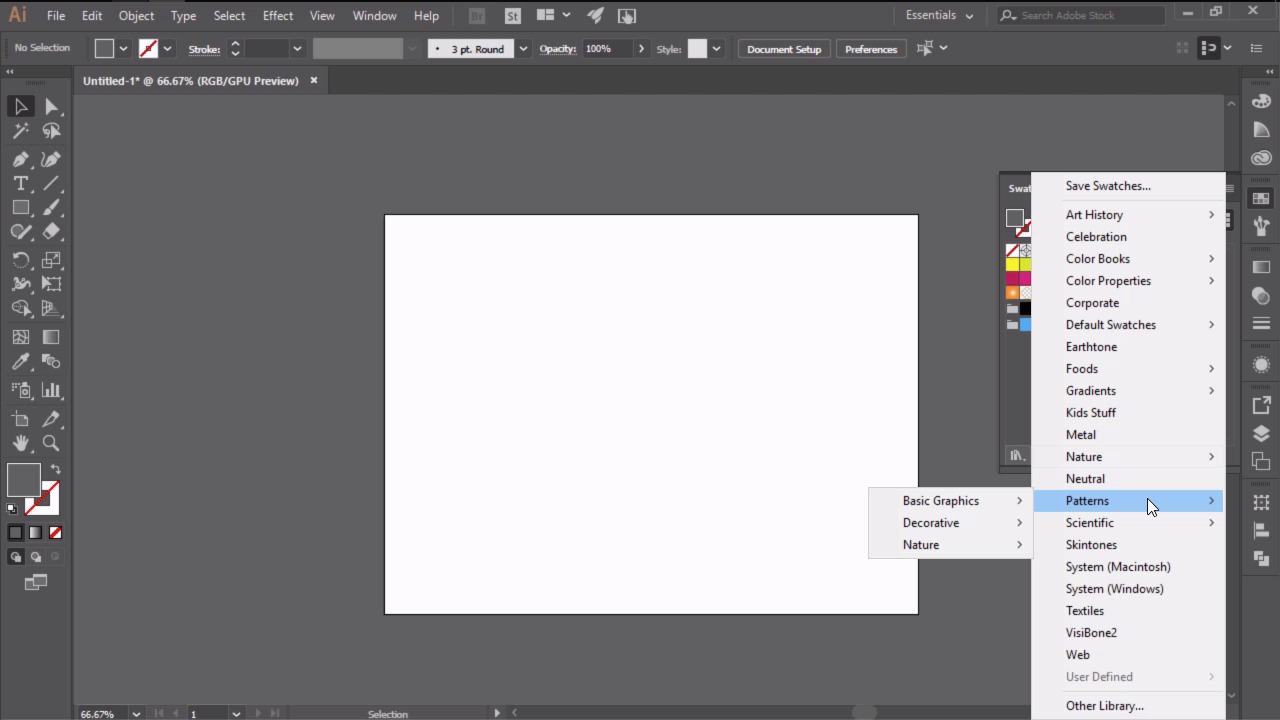 Jak zainstalować i używać własne wzory

Krok 1
A więc chcesz rozszerzyć swoją bibliotekę wzorów o nowy zestaw, który właśnie wpadł ci w ręce. Ale właściwie nigdy tego nie robiłeś.
W związku z tym, najlepiej będzie jak zaczniesz od rozpakowania plików, ponieważ w większości przypadków otrzymasz je w formie archiwum.
Krok 2
Po rozpakowaniu, możesz otworzyć Illustrator i włączyć panel Swatches, gdzie uzyskasz dostęp do menu Swatch Libraries oraz Patterns.
Jak widzisz, znajduje się tam kilka wzorów, które są domyślnie dołączone do oprogramowania.
Krok 3
Ale skoro chcemy dodać kilka nowych, musimy kliknąć Other Library. Pojawi się okno pozwalające nam na wskazanie lokalizacji naszego nowego zestawu wzorów, który potem wczytamy.
W racji tego, że zestaw nie znajduje się w domyślnym folderze oprogramowania, musimy dodać go ręcznie przechodząc do Swatches, następnie Patterns i utworzyć nowy folder, który nazwiemy Custom Patterns. Jak tylko dodamy zestaw do nowego folderu, twoje wzory pojawią się w menu Swatch Libraries, gdzie możesz wybrać i korzystać z nich jak tylko chcesz.
Trochę więcej szczegółów

Dowiedz się więcej o Adobe Illustrator na Envato Tuts+:
60 sekund?!
To część serii krótkich wideo poradników na Envato Tuts+, w których przedstawiamy wiele tematów, wszystkie w 60 sekund—tyle wystarczy, aby pobudzić twoją ciekawość. Daj nam znać w komentarzu, co myślisz o tym materiale wideo i co jeszcze chciałbyś zobaczyć w 60 sekund!

Want a weekly email summary?
Subscribe below and we'll send you a weekly email summary of all new Design & Illustration tutorials. Never miss out on learning about the next big thing.
Sign up
coffee addict / pixel grinder
Just another young gun coffee fanatic from Europe, designing colorful worlds one pixel at a time. When I'm not "making stuff" you can usually find me at my place, flipping news and catching up on all the crazy things happening in both the tech and design realms.
Start your 7-day free trial*
*All Individual plans include a 7-day free trial for new customers; then chosen plan price applies. Cancel any time.