Melody Nieves
Witamy w naszym cyklu poradników Photoshop w 60 sekund, dzięki któremu nauczysz się techniki, poznasz funkcję lub zyskasz umiejętność w programie Photoshop w ciągu zaledwie jednej minuty!
Photoshop w 60 sekund: własna biżuteria
Pędzel mieszający w Adobe Photoshop umożliwia ci stworzenie niesamowitych kopii dowolnego obiektu. W tym krótkim poradniku, użyję tego narzędzia, aby pokazać ci jak stworzyć śliczny naszyjnik z pereł za pomocą własnego pędzla.

Zachęcam cię do pobrania zdjęć pereł i kobiety użytych w tym wideo. Zapoznaj się z ogromną kolekcją fotografii w PhotoDune, aby uzyskać więcej inspiracji.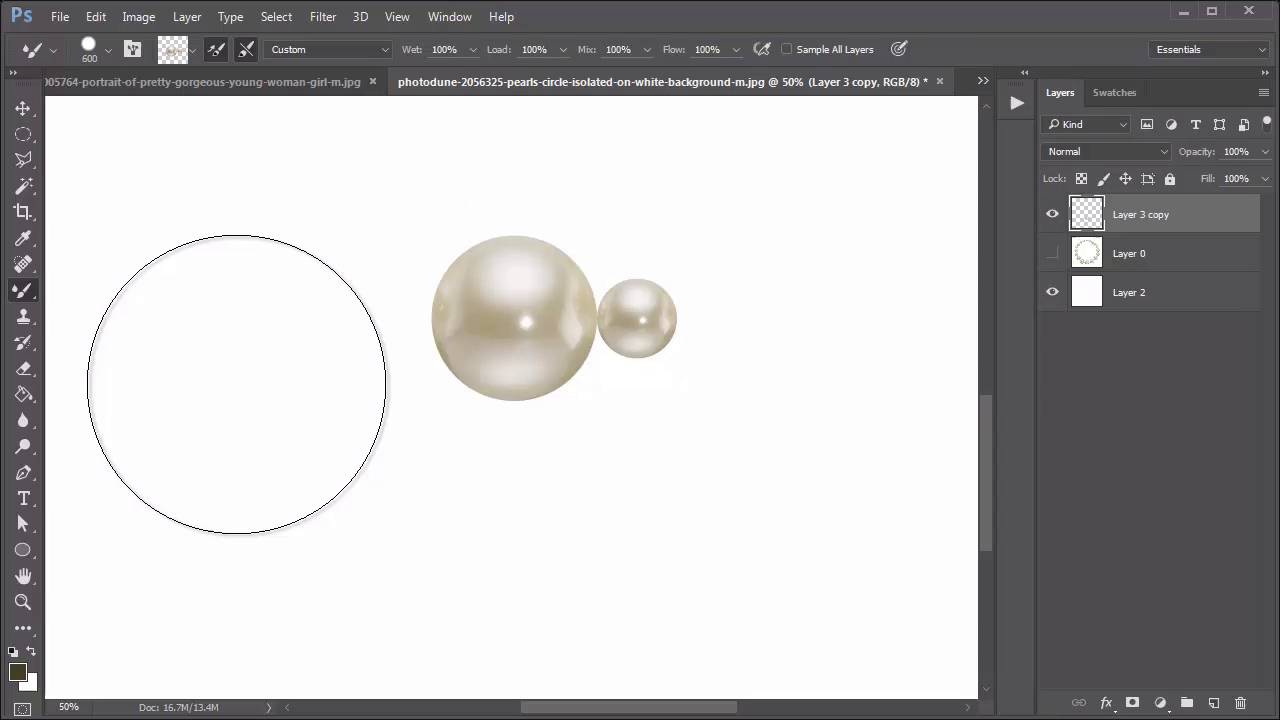 Jak stworzyć własny naszyjnik w Photoshopie
Otwórz zdjęcia w Photoshopie. Tutaj skorzystam z fotografii pereł i kobiety.

Najpierw wyodrębnij jedną perłę z bransoletki za pomocą narzędzia Zaznaczanie eliptyczne (M). Następnie naciśnij CTRL-J, aby ją powielić oraz zmniejsz kopię za pomocą narzędzia Swobodne przekształcanie (CTRL-T). Druga perła będzie służyła jako mały łącznik.

Scal obie warstwy pereł. Wybierz narzędzie Pędzel mieszający (B) i zwiększ jego rozmiar, aby pokrywał obie perły, a następnie przytrzymaj klawisz ALT, aby wyczytać perły jako nowy pędzel. Naciśnij F5, aby zmienić ustawienia panelu Pędzla w następujący sposób:
Odstępy: 90-95%
Dynamika kształtu: zaznaczona, Sterowanie kątem: kierunek wewnętrzny
Po zaznaczeniu Pędzla mieszającego (B), rozpocznij rysowanie naszyjnika z pereł wzdłuż obiektu. Być może będziesz potrzebował na to kilku prób. Następnie ustaw maskę warstwy na naszyjnik z pereł i maluj czarnym kolorem, aby ukryć wszystkie niedoskonałości za pomocą narzędzia Pędzel (B).
Prawie gotowe! Teraz kliknij lewym klawiszem warstwę, aby przejść do Stylu warstwy. Zaznacz opcję Cień i zmień ustawienia w następujący sposób:

Zachęcam cię do dalszego eksperymentowania z oświetleniem lub kolorami wykorzystując warstwy dopasowania. Oto mój efekt końcowy:
Chcesz zobaczyć to w innej formie? Przewiń na początek strony i obejrzyj wideo z lektorem!

Trochę więcej szczegółów
Dowiedz się więcej na temat efektów fotograficznych od naszych ekspertów. Zapoznaj się z poradnikami poniżej:
60 sekund?!
To część serii krótkich wideo poradników na Envato Tuts+, w których przedstawiamy wiele tematów, wszystkie w 60 sekund—tyle wystarczy, aby pobudzić twoją ciekawość. Daj nam znać w komentarzu, co myślisz o tym materiale wideo i co jeszcze chciałbyś zobaczyć w ciągu 60 sekund!
Want a weekly email summary?
Subscribe below and we'll send you a weekly email summary of all new Design & Illustration tutorials. Never miss out on learning about the next big thing.
Sign up
Digital Artist - CT, USA
I'm an Afro-Latina digital artist originally from Long Island, NY. I love to paint, design, and photo manipulate in Adobe Photoshop while helping others learn too. Follow me on
Instagram
or tweet me
@MelloNieves
and tell me what you'd like to see next!
One subscription. Unlimited Downloads.