Melody Nieves
Witamy w naszym cyklu poradników Photoshop w 60 sekund, dzięki któremu nauczysz się techniki, poznasz funkcję lub zyskasz umiejętność w programie Photoshop w ciągu zaledwie jednej minuty!
Photoshop w 60 sekund: 4 pomysły na unikalne pędzle

Pędzle Photoshopa umożliwiają stworzenie pięknych światów pełnych magii. Jednak wiedziałeś, że możesz również dodać własne pędzle wykorzystując różne typy grafik? W tym krótkim wideo, pokażę ci cztery pomysły na unikalne pędzle, które korzystają z elementów dostępnych w GraphicRiver.
Przekonaj się sam i skorzystaj z poniższych materiałów użytych w tym poradniku:
Zachęcamy do pobrania zdjęcia zimy z Pixabay w celu odtworzenia sceny z poradnika wideo.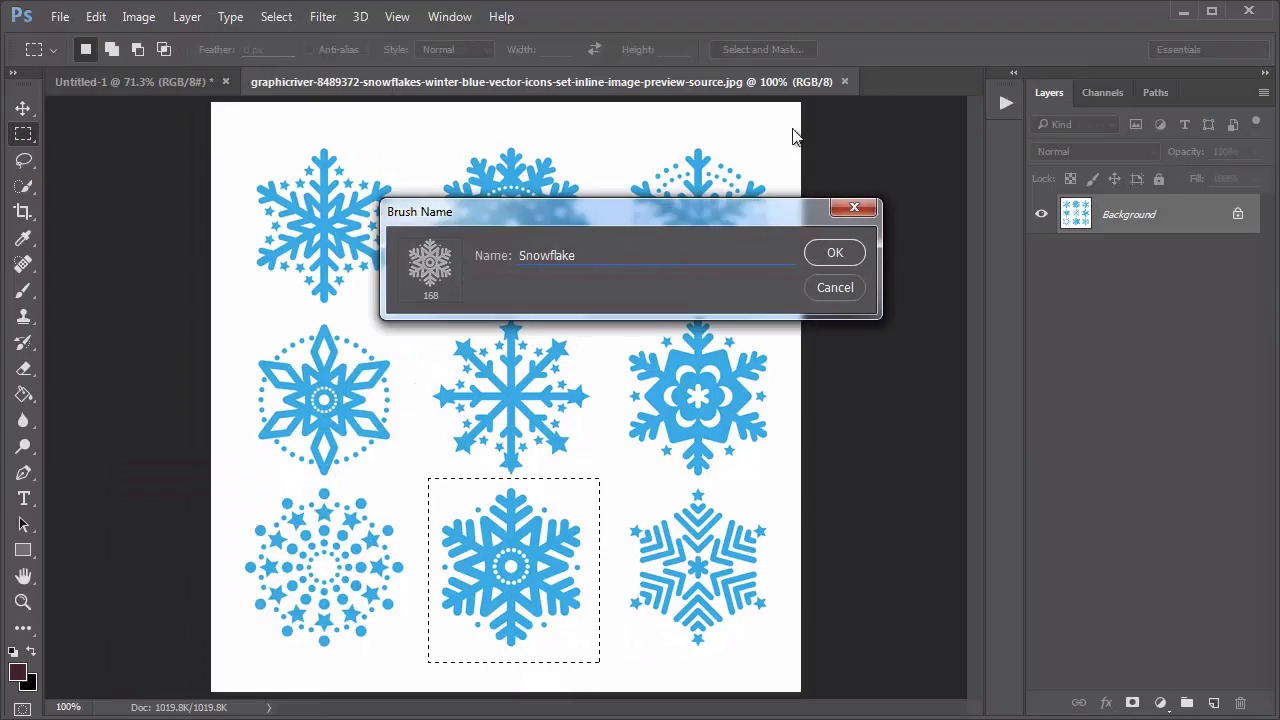 Tworzenie czterech własnych pędzli w Adobe Photoshop
W tej lekcji, stworzymy pędzle wykorzystując zestaw ikon, paczki tekstur, odizolowane obiekty oraz znaki czcionki. Najpierw otwórz grafikę tekstury w programie Photoshop i użyj narzędzia Zaznaczanie prostokątne (M), aby zaznaczyć jej fragment. Przed stworzeniem pędzla, wymaż krawędzie zaznaczenia za pomocą narzędzia Gumka (E) i przejdź do Edycja > Zdefiniuj ustawienie domyślne pędzla.
W drugim pomyśle na pędzel, zaznacz jeden z niebieskich ikon wektorowych płatków śniegu i przekształć go w własny pędzel. Użyj go do pokrycia sceny płatkami śniegu.
Następnie użyj odizolowanego obiektu, takiego jak wspomniany żółty kwiatek i stwórz własny cyfrowy ogród. Jeśli chcesz, dostosuj Kontrast za pomocą warstw dopasowania, aby podkreślić szczegóły kwiatka.
Na koniec, stwórz pędzel w ceku nałożenia symbol praw autorskich na projekty za pomocą czcionki. Wystarczy wybrać znak czcionki za pomocą narzędzia Zaznaczanie prostokątne (M) i przejść do Edycja > Zdefiniuj ustawienie domyślne pędzla Nazwij swój nowy pędzel i gotowe!

Chcesz zobaczyć to w innej formie? Przewiń na początek strony i obejrzyj wideo z lektorem!

Trochę więcej szczegółów
Chcesz dowiedzieć się więcej o projektowaniu oraz narzędziach i ustawieniach Photoshopa? Zapoznaj się z poradnikami poniżej:

60 sekund?!
To część serii krótkich wideo poradników na Envato Tuts+, w których przedstawiamy wiele tematów, wszystkie w 60 sekund—tyle wystarczy, aby pobudzić twoją ciekawość. Daj nam znać w komentarzu, co myślisz o tym materiale wideo i co jeszcze chciałbyś zobaczyć w ciągu 60 sekund!
Want a weekly email summary?
Subscribe below and we'll send you a weekly email summary of all new Design & Illustration tutorials. Never miss out on learning about the next big thing.
Sign up
Digital Artist - CT, USA
I'm an Afro-Latina digital artist originally from Long Island, NY. I love to paint, design, and photo manipulate in Adobe Photoshop while helping others learn too. Follow me on
Instagram
or tweet me
@MelloNieves
and tell me what you'd like to see next!
Scroll to top
One subscription.
Unlimited Downloads.