Kirk Nelson
Dalam video singkat 60 detik ini, kamu akan belajar bagaimana menggunakan Adobe Photoshop untuk menggabungkan sebuah gambar portrait dan typografi ke dalam sebuah foto kutipan yang menarik.

Bagaimana Membuat Sebuah Foto Kutipan Dalam Photoshop
Sebuah kutipan personal adalah sebuah cara yang bagus untuk mengkomunikasikan nilai-nilai dan kepercayaanmu. Satu cara bagus untuk mengasosiasikan dirimu sendiri dengan kutipan pilihan adalah membentuknya ke dalam sebuah gambar portrait. Ini dapat digunakan untuk header sebuah resume atau gambar profil pada media sosial. Dalam banyak hal, itu adalah proses yang cukup sederhana untuk membuatnya dalam Photoshop.
Project berikut menggunakan foto Gadis Yang Menoleh ini dari PhotoDune dan font Amulhed Brush dari GraphicRiver.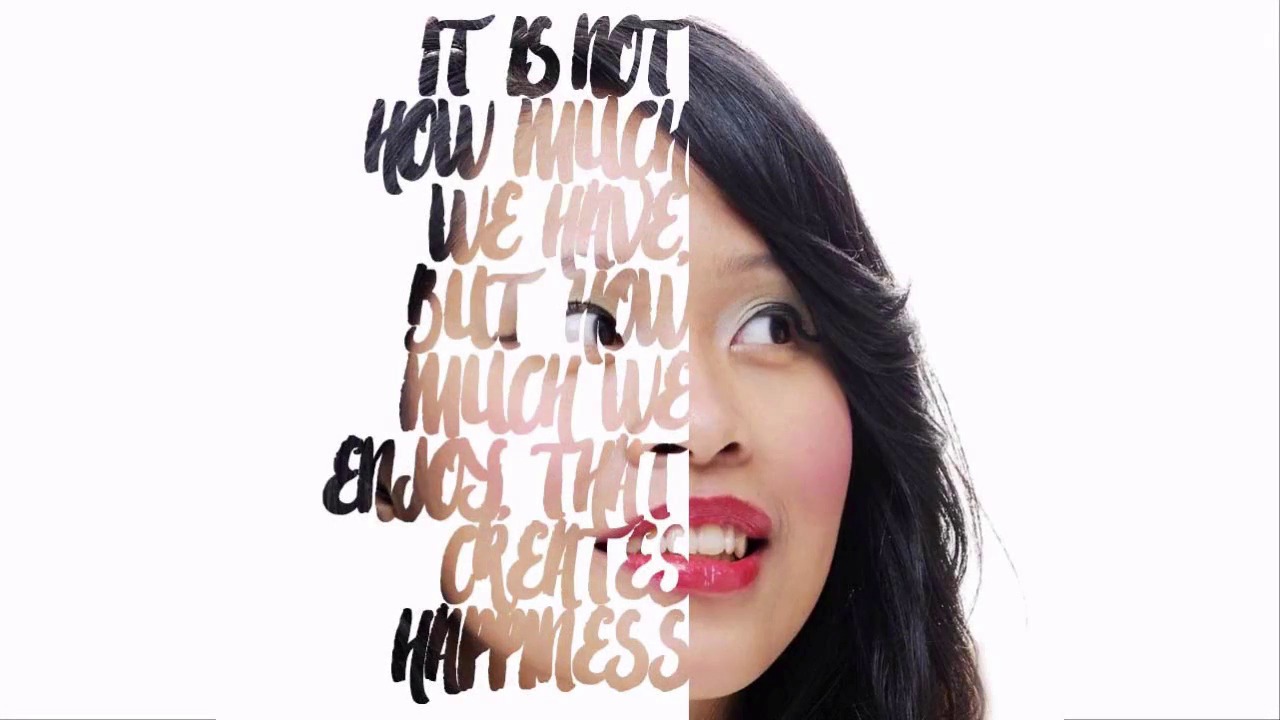 Bagaimana Membuat Foto Kutipan

Langkah 1
Mulailah dengan portrait dalam layernya sendiri di atas sebuah background berwarna solid, dan duplikasikan portrait dengan menarik layer itu untuk icon layer baru. Kemudian sembunyikan salinannya.
Langkah 2
Berikutnya, gunakan Rectangular Marquee Tool untuk membuat sebuah seleksi segiempat di sekitar separuh gambar profil. Pastikan layer portrait original adalah layer aktif, dan gunakan tombol layer mask dalam bagian bawah panel Layers untuk menyembunyikan separuh wajah model.
Langkah 3
Kemudian gunakan Horizontal Type Tool untuk menarik keluar area segiempat untuk menampung teks.
Dengan menentukan area teks terlebih dahulu, kita memastikan bahwa teks dimasukkan sebagai teks paragraf, yang berarti itu akan secara otomatis membungkus kalimat dan kamu tidak perlu melakukannya secara manual. Pastikan layer teks diposisikan di antara layer portrait original dan salinannya, dan kemudian menampilkan layer salinan dan menempelkannya pada teks dengan menahan tombol Alt atau Option dan mengklik di antara dua layer.
Sedikit Lebih Banyak Detail
Jika kamu tertarik dalam mempelajari lebih lanjut tentang menggabungkan typografi dengan foto, pertimbangkan tautan berikut:
Want a weekly email summary?
Subscribe below and we'll send you a weekly email summary of all new Design & Illustration tutorials. Never miss out on learning about the next big thing.
Sign up
I have been working as an all-round graphics geek or "Visual Information Specialist" for the past 17 years around the Washington DC Metro area. With my career spanning almost every aspect of the design industry, I have worked on everything from web design to 3D animation, logo design, and photo retouching.
One subscription. Unlimited Downloads.