Kirk Nelson
Üdvözlünk a Photoshop 60 másodpercben sorozatunknál, ahol megtanulhatsz Photoshop jártasságokat, lehetőségeket, vagy technikákat csak egy percben!
Photoshop 60 másodpercben: Szokásos textúra ecset

Ehhez a rövid videóhoz, vessünk egy pillantást arra, hogyan készítsd el a saját Szokásos Textúra Ecsetedet Adobe Photoshopban.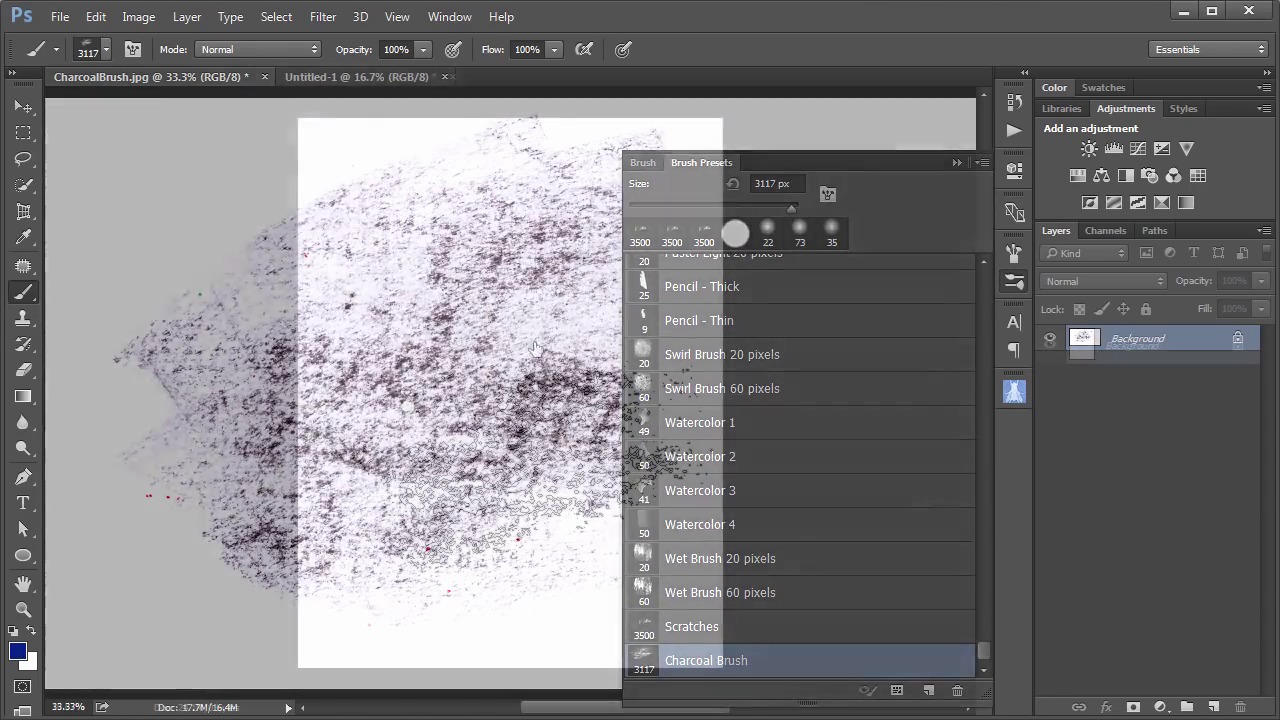 Hogyan készíts Szokásos Textúra Ecseteket Photoshopban
Ezzel a gyors faszén dörzsölés letapogatással fogjuk kezdeni

Ezután menj a Szerkesztés > Előre beállított ecset definiálása, ezt Faszén Ecsetnek fogjuk hívni.

Kattints az OKra, fogd meg az Ecset Eszközt, és az Ecset előre beállításainkban, az új ecset megjelenik az egész úton az előre beállítás könyvtár alján.

Hogy beállítsd a beállításokat, nyisd fel az Ecset Panelt, növeld a Térközt, kapcsold be az Alak Dinamikákat, adj egy megfelelő értékét Jitter szögnek, ezután a Forgás X és Y Jitter. Készíts további beállításokat több testreszabáshoz.
Akarod látni akcióban? Nézd meg a videót fentebb hogy lásd ezt gyakorlatban!

Egy kicsit több adat
Akarsz többet tanulni az Adobe Photoshop hatalmas eszközeiről és beállításairól? Nézd meg ezeket a bemutatókat lentebb:

60 másodperc?!
Ez egy része a gyors bemutatóvideó sorozatunknak Envato Tuts+-on, ahol bevezetünk széleskörű témákba, mindössze 60 másodpercben-épp elég, hogy felkeltse az érdeklődésedet. Tudasd velünk a komment részlegben, mit gondolsz erről a videóról, és mi mást szeretnél még látni elmagyarázva 60 másodpercben!
Want a weekly email summary?
Subscribe below and we'll send you a weekly email summary of all new Design & Illustration tutorials. Never miss out on learning about the next big thing.
Sign up
I have been working as an all-round graphics geek or "Visual Information Specialist" for the past 17 years around the Washington DC Metro area. With my career spanning almost every aspect of the design industry, I have worked on everything from web design to 3D animation, logo design, and photo retouching.
One subscription. Unlimited Downloads.