Andrei Stefan
Üdvözlünk az Illustrator 60 másodpercben sorozatunknál, ahol megtanulhatsz Illustrator jártasságokat, lehetőségeket, vagy technikákat csak egy percben!
Illustrator 60 másodpercben: Hogyan telepítsünk és használjunk egy egyedi mintadarab mintát
A képesség, hogy hozzáadjunk és használjunk egyedi mintadarab mintákat valószínűleg az Illustrator legvonzóbb lehetőségeinek egyike, de néha a valódi folyamata a hozzáadásuknak egy komoly feladatnak bizonyulhat, kifejezetten ha még sosem csináltál ilyet előtte. A mai bemutatóban, meg fogom mutatni, hogyan csinálhatod könnyen.
A videóban használt mintadarab minta elérhető megvételre GraphicRiveren.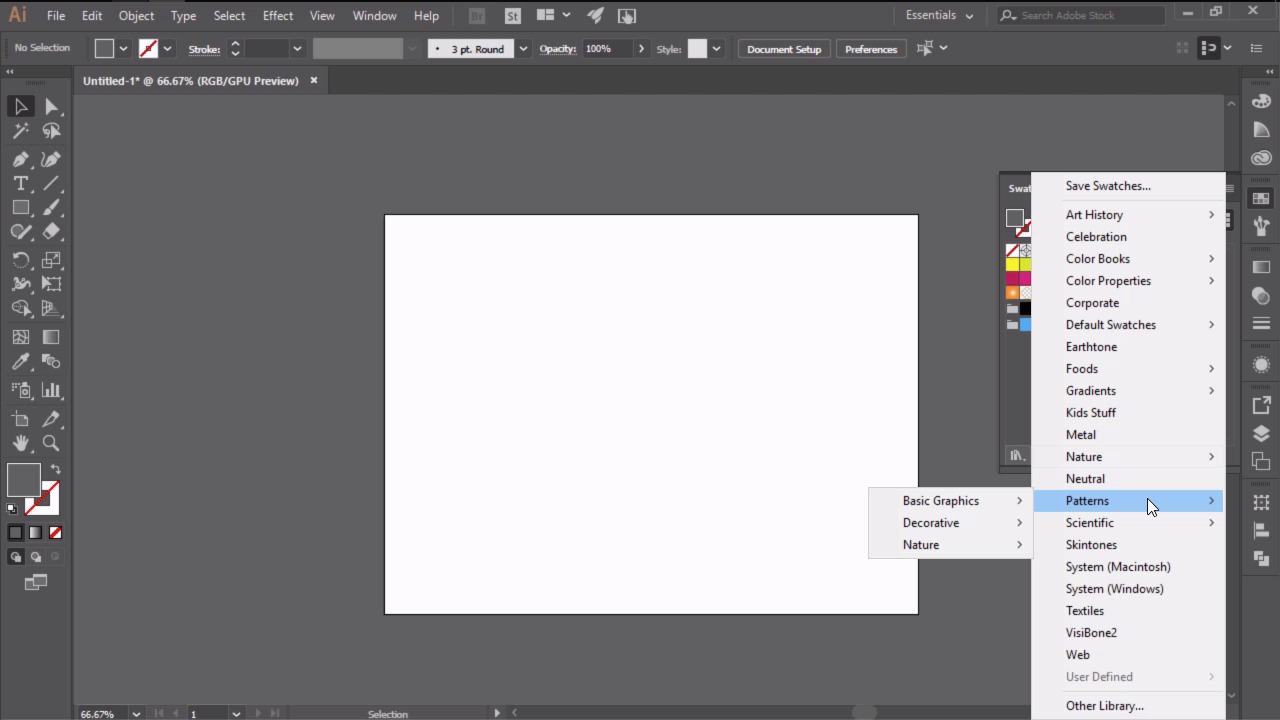 Hogyan telepítsünk és használjunk egy egyedi mintadarab mintát

1. Lépés
Szóval bővíteni akarod a minta könyvtáradat egy új szett használatával amit épp a kezedbe kaptál. De valójában még soha sem csináltad.
Ebben az esetben, az új vagyonod kitermelésével akarsz majd kezdeni a levéltárukból, mert az idő nagy részében előre csomagoltan jön így.
2. Lépés
Mikor kész vagy, felnyithatod az Illustratort és felhozhatod a Mintadarabok panelt, ahol hozzá akarsz majd férni a Mintadarab könyvtárak menühöz és Minták után nézni.
Ahogy láthatod, van egy pár tartalmazott minta ami a szoftverrel jön előrecsomagolva.
3. Lépés
De mióta hozzá akarunk adni néhány újat, rá kell kattintanunk a Más Könyvtárra. Egy új ablak fog felugrani ami lehetővé teszi megjelölni az új minta szettünk helyét, szóval betölthetjük és használhatjuk.
Most mióta a szett nem található a szoftver alapértelmezett mappáiban, manuálisan kell majd hozzáadnunk a Mintadarabokra aztán a Mintákra menéssel és egy új mappa készítése a belsejében amit el fogunk nevezni Egyedi Mintáknak. Mikor hozzáadtad a tőkédet az új mappához, a mintáid fel fognak mutatni a Mintadarab Könyvtárak menün belül, ahol kiválaszthatod és használhatod őket ahogy szeretnéd.
Egy kicsit több adat

Tanulj többet az Adobe Illustratorról Envato Tuts+-on:
60 másodperc?!
Ez része egy rövid bemutatóvideó sorozatnak Envato Tuts+-on, ahol bevezetünk különféle témákba, mindössze 60 másodpercben - épp elég, hogy felkeltse az érdeklődésedet. Tudasd velünk a komment részlegben, mit gondolsz erről a videóról, és mi mást szeretnél még látni elmagyarázva 60 másodpercben!

Want a weekly email summary?
Subscribe below and we'll send you a weekly email summary of all new Design & Illustration tutorials. Never miss out on learning about the next big thing.
Sign up
coffee addict / pixel grinder
Just another young gun coffee fanatic from Europe, designing colorful worlds one pixel at a time. When I'm not "making stuff" you can usually find me at my place, flipping news and catching up on all the crazy things happening in both the tech and design realms.
One subscription. Unlimited Downloads.