Üdvözlünk a Photoshop 60 másodpercben sorozatunknál, ahol elsajátíthatsz Photoshop jártasságokat, lehetőségeket, technikákat csak egy percben!
Photoshop 60 másodpercben: Geometriai minták
A geometriai minták hihetetlen tervezések egyszerű formákkal készítve. És ezeket a mintákat használhatod háttereidhez, laptop bőrökhöz, vagy bármilyen grafikai tervezés projekthez. Tanulj meg készíteni egy egyszerű geometriai mintát az Adobe Photoshop és forma eszközök használatával ebben a rövid videóban lentebb.

Szükséged van pár mintára, hogy hozzáadhasd az alapanyag készletedhez? Próbáld ki ezt a mintaválogatást a videóból, mindent Envato Elementsről.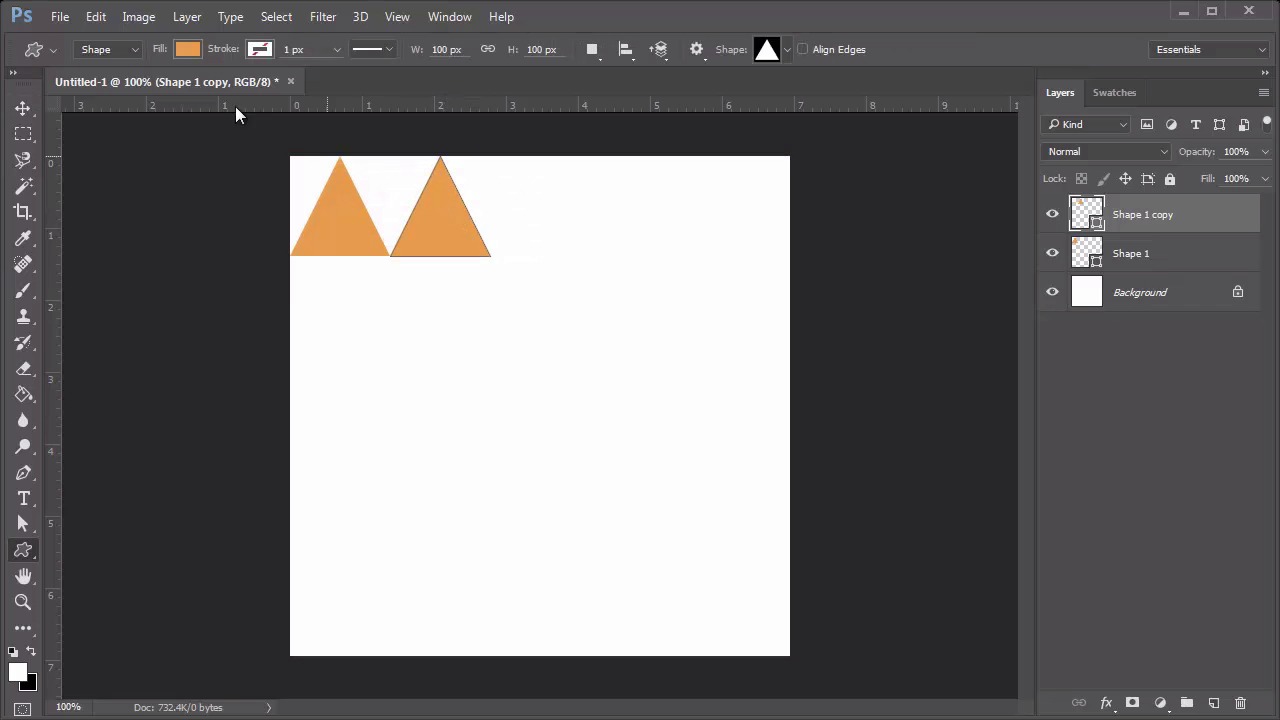 Hogyan készítsünk egy egyszerű geometriai mintát Photoshopban

Kezdj bármilyen méretű vászonnal. Állíts be egy szelekciót a kedvenc Szín Mintadarabaidból a mintád témájához. Itt én a következő színeket használom: #eb9c4d, #bac9a9, #f3ffcf, és #f2d680.

Válaszd ki a Poligon eszközt vagy az Egyedi forma eszközt (U), hogy készíts egy háromszög alakot 100 x 100 pixelnél. Használd az első narancssárga színt a háromszöghöz és helyezd el a balfelső sarokban.
Tartsd lenyomva a Control-J-t, hogy Másold a formát háromszor. Változtasd meg a színeket a témádtól függően, aztán adj hozzá egy másolatot az első háromszögről, hogy végezz a soroddal. Használd a Vágóeszközt (C), hogy elvágd a vásznat az első és utolsó háromszögek oldalaihoz.

Válaszd ki az összes formát és Másold őket. Készíts egy második sort háromszögekből alatta, az első sor bal részére pozícionálva. Ezután használd a Négyszögletes sátor Eszközt (M), hogy kiválaszd a mintádat, és menj a Módosítás > Minta definiálására, hogy készíts egy új mintát.
Használd a Festékes Vödör Eszközt (G) Mintára állítva, hogy kipróbáld az új tervezésedet.

Akarod látni akcióban? Nézd meg a fenti videót, hogy lásd ezt az órát munkában!
Egy kicsit több adat
Akarsz több tippet és trükköt tanulni, hogy menő minta tervezéseket készíts? Nézd meg a következő bemutatókat lentebb:
60 másodperc?!
Ez része egy gyors bemutatóvideók sorozatának Envato Tuts+-on,ahol különféle témákba vezetünk be, mindössze 60 másodpercben - épp elég, hogy felkeltse az érdeklődésedet. Tudasd velünk a komment részlegben, mit gondolsz erről a  videóról, és mi mást szeretnél még látni elmagyarázva 60 másodpercben!
Want a weekly email summary?
Subscribe below and we'll send you a weekly email summary of all new Design & Illustration tutorials. Never miss out on learning about the next big thing.
Sign up
Digital Artist - CT, USA
I'm an Afro-Latina digital artist originally from Long Island, NY. I love to paint, design, and photo manipulate in Adobe Photoshop while helping others learn too. Follow me on
Instagram
or tweet me
@MelloNieves
and tell me what you'd like to see next!
One subscription. Unlimited Downloads.