Melody Nieves
Üdvözlünk a Photoshop 60 másodpercben sorozatunknál, ahol elsajátíthatsz Photoshop jártasságokat, lehetőségeket, vagy technikákat csak egy percben!
Photoshop 60 másodpercben: Kéttónusú Akció

A legforróbb trendek egyike a kéttónusú fotó effekt. Ez az effekt megváltoztatja a képedet a szín rendszert mindössze két színné változtatva. Készíthetsz egy könnyű Photoshop akciót, hogy alkalmazd a kedvenc Gradiens Térképedet bármilyen fotóhoz. Böngészd a Photoshop Akciók hihetetlen szelekcióját GraphicRiveren és Envato Elementsen, hogy felfedezz több színvariációt.
Tanuld meg, én hogyan készítek egy gyors kéttónusú Photoshop akciót ebben a rövid videóban lentebb.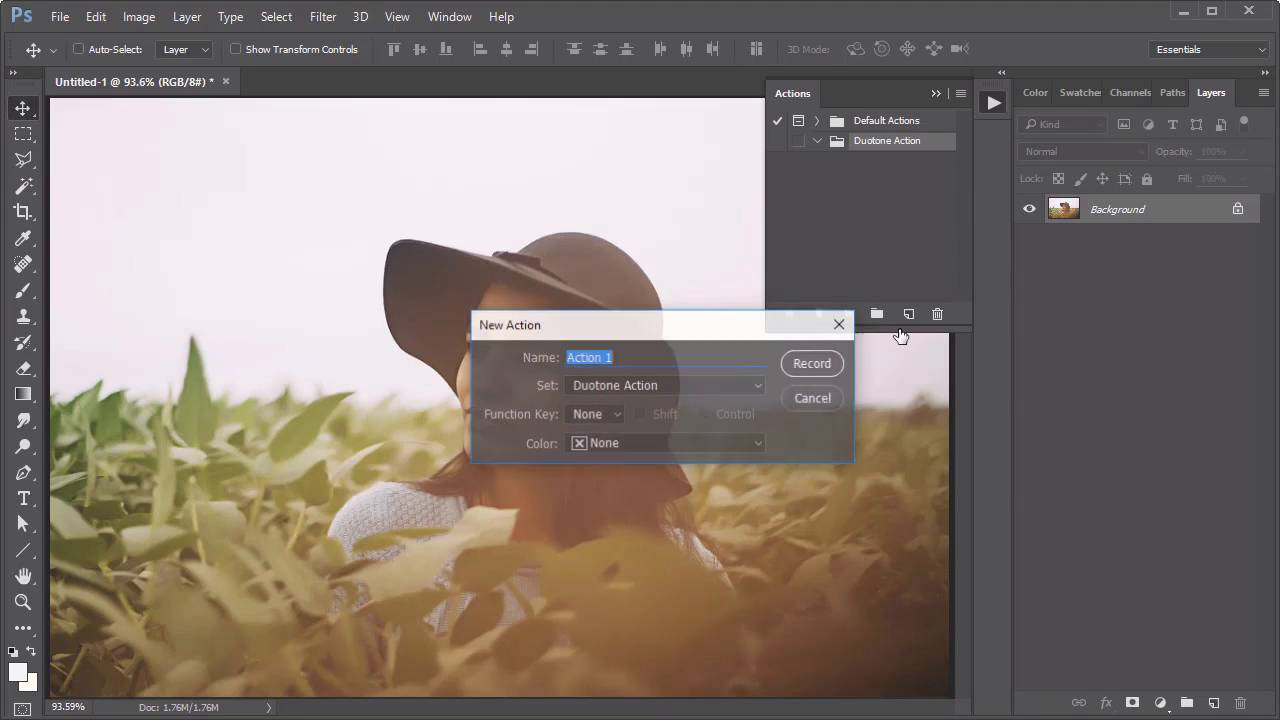 Hogyan készítsünk egy Kéttónusú Photoshop Akciót

Nyisd meg a fotódat Photoshopban. Én itt ezt a Woman Field Stockot fogom használni.
Hozd fel az Akciók palettát az Ablak > Akciókkal. Készíts egy Új Szettet, elnevezve "Kéttónusú Akciónak", aztán készíts egy Új Akciót elnevezve "Zöld és Narancssárgának". Mikor kész vagy, üsd le a Rögzítés gombot, hogy elkezdd a következő lépések felvételét.
Ezután, készíts egy Új Csoportot a Beállítási Rétegeidhez. Menj a Réteg > Új Beállítási Réteg > Gradiens Térképre. Válassz egy Gradienst az Előrebeállítások listából, vagy készíts egy egyedit, mint ez a kékeszöld #133444 és narancssárga #fc993d Lineáris Gradiens.

Hogy növeld a kontrasztot, menj a Réteg > Új Beállítási réteg > Fényesség és kontrasztra. Növeld a Kontrasztot 60-ra. Mikor kész vagy, emlékezz megnyomni a Megállítás Gombot az Akciók palettán, hogy használd ezt az akciót későbbi fotókhoz.

Itt a végső effekt.
És tesztelj még több gradienst, hogy hatásos színeket kapj, például a leniteket.

Akarod látni ezt az effektet akcióban? Nézd meg a fenti videót, hogy lásd ezt az órát munkában!

5 Prémium Kéttónusú Photoshop Akció
Tetszik az eredmény? Megszerezhetsz egy még gyorsabb effektet az elképesztő Kéttónusú Photoshop Akciók csekkolásával, amik elérhetőek GraphicRiveren és Envato Elementsen.
Készíts egy megerőltetés nélküli kéttónusú effektet ezzel a gigantikus kollekcióval Photoshop akciókból. Ez a szett tartalmaz 60 akciót, gyönyörű matt színek szelekciójának felvázolásával. Csak egy kattintással, elérhetsz egy varázslatos effektet egy rombolásmentes munkafolyamatért.

Nem elég? Próbáld ki ezt a masszív szettet több mint 100 kéttónusú akcióval egy alacsony árért! Ez a szett tartalmaz több mint 100 teljesen különböző kéttónusú effektet felkapott színrendszerekkel. Fedezz fel számos kombinációt egy gyönyörű, magas-minőségű eredményért.

A kéttónusú effektek funkcionálhatnak vibráló, matt, vagy kifakult színekként. És ez a kollekció készít egy apró kéttónusú effektet ami tökéletes album borítókhoz, profilképekhez, és sok minden máshoz! Élvezz 20 magas-minőségű Photoshop akciót egy könnyen követhető segítség fájllal több instrukcióért.

Ünnepeljük az év ezen hihetetlen részét, mikor az időjárás tökéletes! Ez a kéttónusú szett nyár-témájú Photoshop akciókat kínál lenyűgöző, merész színekkel. Hagyd a kreatívságodat folyni ezzel a hihetetlen kollekcióval, hogy átalakítsd a fotóidat csak egy kattintással!

A Photoshop akció csomagok rendkívüli alapanyagok grafikai tervezőknek. Szóval miért ne adnál hozzá egy kis színt az alapanyag készletedhez ezzel a bűbájos kéttónusú akció csomaggal? Ez a szett 25 magas-minőségű Photoshop akciót kínál egy tökéletes, professzionális eredményért.

60 másodperc?!
Ez része a gyors bemutatóvideók sorozatának Envato Tuts+-on, ahol bevezetünk különféle témákba, mindeössze 60 másodpercben - pont elég, hogy felkeltse az érdeklődésedet. Tudasd velünk a komment részlegben, mit gondoltál erről a videóról, és mi mást szeretnél még látni elmagyarázva 60 másodpercben!
Want a weekly email summary?
Subscribe below and we'll send you a weekly email summary of all new Design & Illustration tutorials. Never miss out on learning about the next big thing.
Sign up
Digital Artist - CT, USA
I'm an Afro-Latina digital artist originally from Long Island, NY. I love to paint, design, and photo manipulate in Adobe Photoshop while helping others learn too. Follow me on
Instagram
or tweet me
@MelloNieves
and tell me what you'd like to see next!
One subscription.
Unlimited Downloads.