Melody Nieves
Üdvözlünk a Photoshop 60 másodpercben sorozatunknál, ahol elsajátíthatsz Photoshop jártasságokat, lehetőségeket, technikákat csak egy percben!
Photoshop 60 másodpercben: Egyedi ékszerek
A Keverő Ecset Eszköz, Adobe Photoshopban, lehetővé teszi, hogy elképesztő bélyegeket készíts bármilyen tárgyról. És ebben a rövid bemutatóban, ezt a tiszta eszközt fogom használni, hogy megmutassam, hogyan készíts egy szép gyöngy nyakláncot a saját nyaklánc ecseted elkészítésével.

Nyugodtan töltsd le a gyöngy és nő készleteket (a videóban használtak). És böngészd fotográfiai készletek elképesztő gyűjteményét PhotoDunen még több elképesztő referenciáért.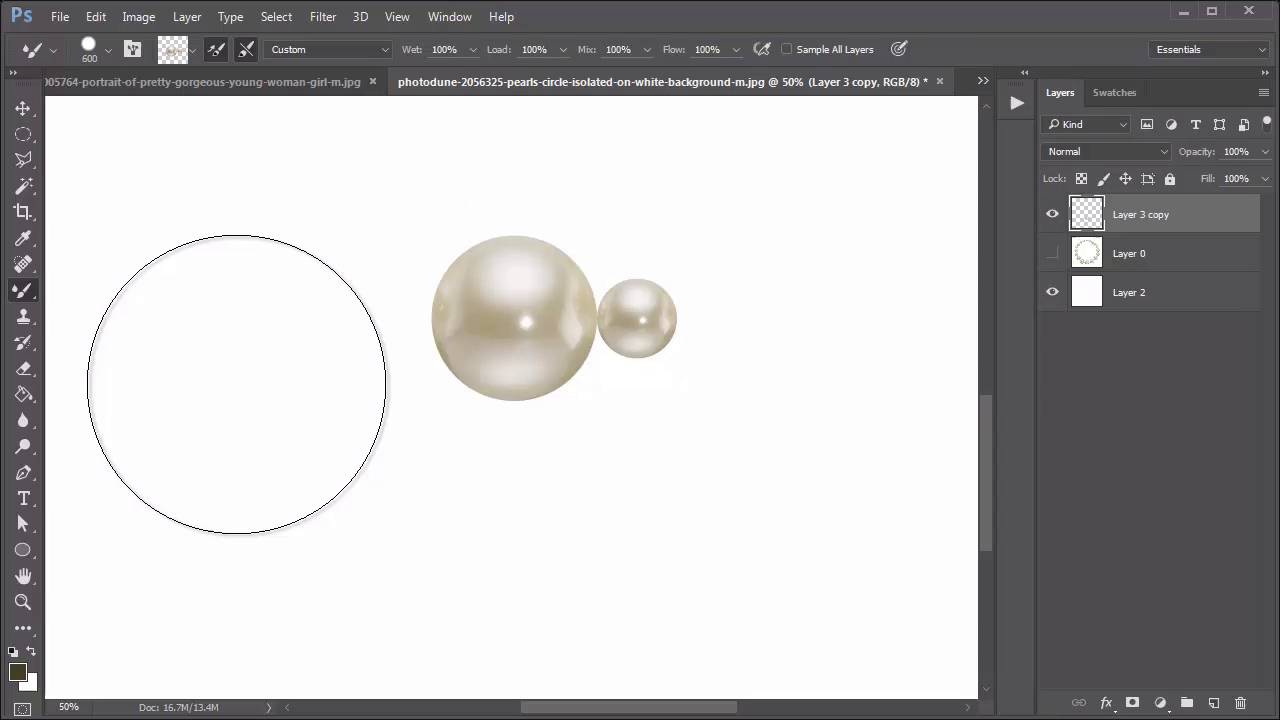 Hogyan készítsünk egy egyedi nyakláncot Photoshopban
Nyisd meg a képedet Photoshopban. Itt én ezeket a gyöngy és nő készleteket fogom használni.

Először, vonj ki egy gyöngyöt a karkötőből az Elliptikus Sátor Eszköz (M) használatával. Aztán Control-J, hogy Másold, méretezd át a másolatot, hogy kisebb legyen a Szabad Átalakító Eszközzel (Control-T). A második gyöngy egy kis kapcsoló darabként fog szolgálni.

Olvaszd össze a gyöngy rétegeket. Válaszd a Keverő Ecset Eszközt (B) és növeld az Ecset Méretét, hogy illeszkedjen mindkét gyöngyhöz, aztán tartsd az Alt gombot, hogy betöltsd a gyöngyöket egy új ecsetként. Nyomd meg az F5-öt, hogy beállítsd a beállításokat az Ecset panelben így:
Térköz: 90-95%
Forma dinamikák: Ellenőrzött, Szög Irányítás: Kezdeti irány
A kiválasztott Keverő Ecsettel (B), kezdd el egy gyöngy nyaklánc rajzolását a tárgyadon. Talán sok idő lesz jól megcsinálni. Ezután állíts be egy Réteg Maszkot a gyöngy nyaklánchoz és fess feketével a maszkra, hogy eltakarj minden tökéletlenséget vagy gyöngyöt az Ecset Eszközzel (B).
Majdnem kész! Most jobb-katt a rétegre, hogy menj a Keverési lehetőségekhez. Állíts be egy Árnyékot a nyaklánchoz a következő beállításokkal:

Nyugodtan folytasd a fény vagy színek csavarását további Beállítási Rétegekkel. Itt a végeredményem lentebb:
Akarod látni akcióban? Nézd meg a fenti rövid videót, hogy lásd ezt az órát munkában!

Egy kicsit több adat
Tanulj több képeffektet szakértőinktől! Nézd meg a következő bemutatókat lentebb:
60 másodperc?!
Ez része egy rövid bemutatóvideó sorozatnak Envato Tuts+-on, ahol bevezetünk különféle témákba, mindössze 60 másodpercben - épp elég, hogy felkeltse az érdeklődésedet. Tudasd velünk a komment részlegben, mit gondoltál erről a videóról, és mi mást szeretnél még látni elmagyarázva 60 másodpercben!
Want a weekly email summary?
Subscribe below and we'll send you a weekly email summary of all new Design & Illustration tutorials. Never miss out on learning about the next big thing.
Sign up
Digital Artist - CT, USA
I'm an Afro-Latina digital artist originally from Long Island, NY. I love to paint, design, and photo manipulate in Adobe Photoshop while helping others learn too. Follow me on
Instagram
or tweet me
@MelloNieves
and tell me what you'd like to see next!
One subscription. Unlimited Downloads.