Melody Nieves
Üdvözlünk a Photoshop 60 másodpercben sorozatunknál, ahol elsajátíthatsz Photoshop jártasságokat, lehetőségeket, vagy technikákat csak egy percben!
Photoshop 60 másodpercben: 4 Egyedi ecset ötlet

A Photoshop Ecsetek lehetővé teszik, hogy varázslatos digitális világokat készíts tele csodával. De tudtad, hogy elkészítheted a saját egyéni ecseteidet egy csomó tervezési eszköz használatával? Ebben a rövid videóban, meg fogok mutatni 4 egyedi ecset ötletet eszközök széles választékát használva GraphicRiverről.
Próbáld ki ezt az órát magad, a következő alapanyagok használatával ebből a bemutatóból:
És nyugodtan töltsd le a Winter Stockot Pixabayről, hogy felfrissítsd a havas jelenetet a videóból.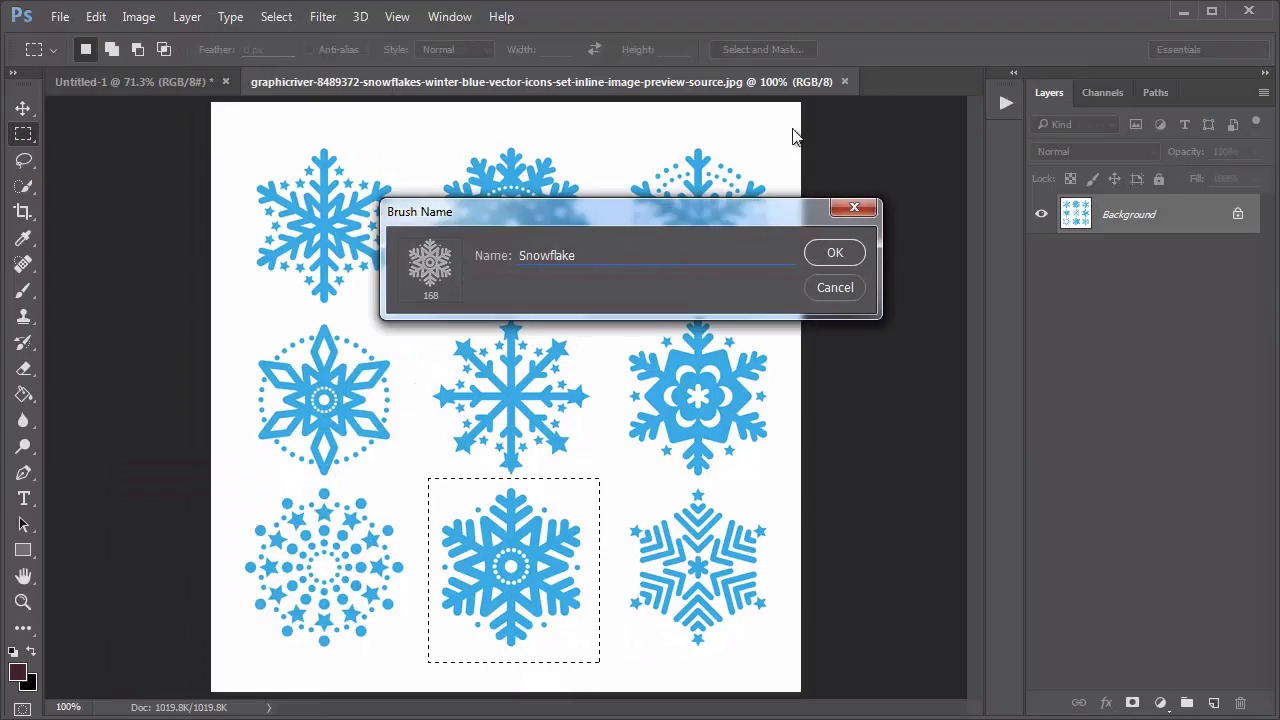 Készíts négy egyedi ecsetet Adobe Photoshopban
Ehhez az órához, ecseteket fogunk készíteni ikon szettek, textúra csomagok, izolált objektumok és betűtípus glyphek használatával. Először, nyiss meg egy szutykos textúra grafikát Photoshopban és használd a Téglalap alakú Marquee Eszközt (M), hogy egy válogatást készíts. Töröld ki a válogatás kockáit a Törlő eszközzel (E) mielőtt egy ecsetet készítesz a Szerkesztés > Ecset előre beállítás definiálásával.
A második ecset ötletként, készíts egy Válogatást kék hópihe vektor ikonokból és változtasd át egyedi ecsetté. Használd ezt hóviharok festésére egy téli jelenetre.
Ezután, használj egy izolált objektumot, mint ez a sárga virág, hogy elkészítsd a saját digitális kertedet. Ha szükséges, állítsd be a Kontrasztot a Beállítás rétegekkel először, hogy kihozd a virág adatait.
Végül, készíts egy ecsetet, hogy megbélyegezz egy szerzői jelképet a tervezéseidet egy betűtípus használatával. Egyszerűen válaszd ki a betűtípus glyphet a Téglalap alakú Marquee Eszközzel (M) és menj a Szerkesztés > Ecset előre beállítás definiálására. Nevezd el az új ecsetedet, és készen vagy!

Akarod látni akcióban? Nézd meg a videót fentebb, hogy lásd ezt az órát a munkában!

Egy kicsit több adat
Akarsz többet tanulni az Adobe Photoshop hatalmas eszközeiről és beállításairól? Nézd meg ezeket a bemutatókat lentebb:

60 másodperc?!
Ez része a gyors bemutatóvideók sorozatának Envato Tuts+-on, ahol bevezetünk különféle témákba, mindössze 60 másodpercben - pont elég, hogy felkeltse az érdeklődésedet. Tudasd velünk a komment részlegnél, mit gondoltál erről a videóról, és mi mást szeretnél még látni elmagyarázva 60 másodpercben.
Want a weekly email summary?
Subscribe below and we'll send you a weekly email summary of all new Design & Illustration tutorials. Never miss out on learning about the next big thing.
Sign up
Digital Artist - CT, USA
I'm an Afro-Latina digital artist originally from Long Island, NY. I love to paint, design, and photo manipulate in Adobe Photoshop while helping others learn too. Follow me on
Instagram
or tweet me
@MelloNieves
and tell me what you'd like to see next!
Scroll to top
Start your 7-day free trial*
*All Individual plans include a 7-day free trial for new customers; then chosen plan price applies. Cancel any time.