Read Time:
2 mins
Languages:
Üdvözlünk a Photoshop 60 másodpercben sorozatunknál, ahol megtanulhatsz Photoshop jártasságokat, lehetőségeket, vagy technikákat csak egy percben!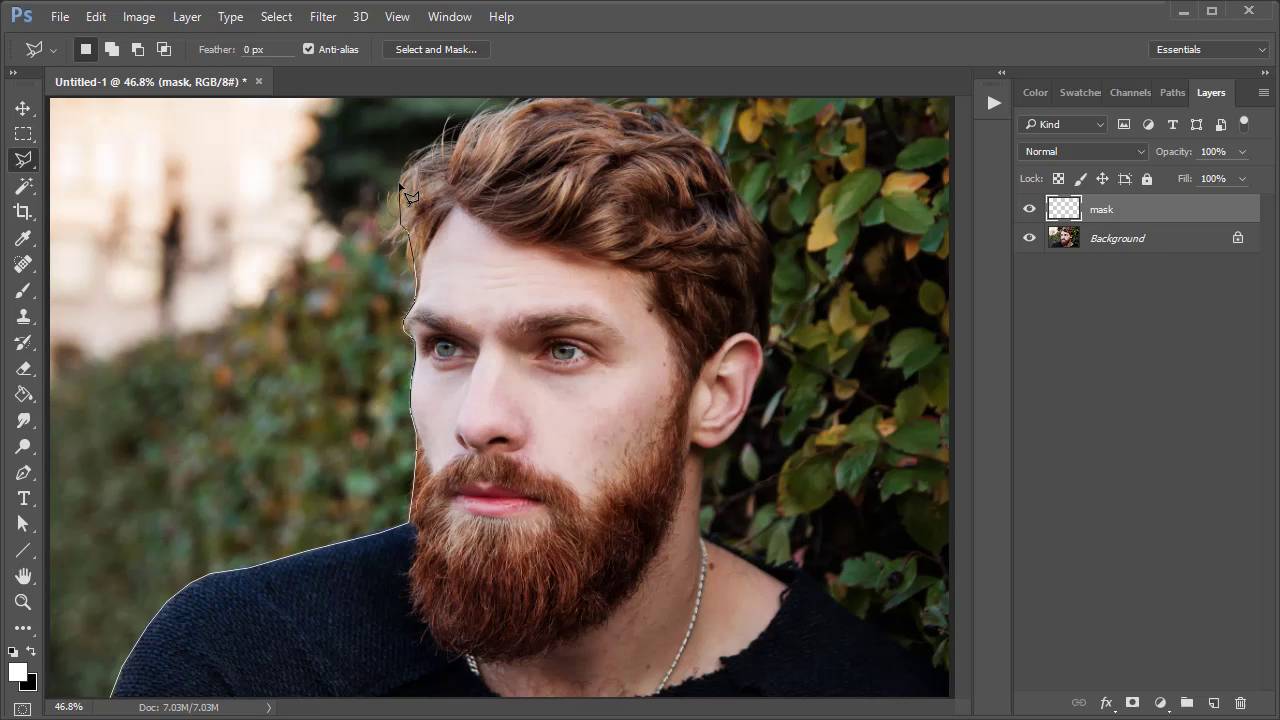 Photoshop 60 másodpercben: Festékfolt effekt
Elérhetsz egy csodálatos festékfolt effektet bármilyen képhez vagy háttérhez egy hasznos Photoshop Akció használatával. És ebben a rövid videóban, meg fogom mutatni, hogyan készítsd el az effektet ennek a Festékfolt Photoshop Akciónak a használatával.

Inspirálva vagy, hogy több képeffektet csinálj? Böngészd Photoshop Akciók hihetetlen elérhető válogatását GraphicRiveren és Envato Elementsen keresztül több csodálatos opcióért.
Hogyan készítsünk egy festékfolt effektet

Nyisd meg a képdedet Photoshopban. Itt én ezt a Férfi Portrét fogom gasználni 1920x1280 pixellel.

Most készítsd el az akciót. Menj az Ablak > Akciók-ra és töltsd be a Festékfolt Akciódat az Akciók palettába. Ez a különös effekt egy csomó ecsettel is jön, szóval menj az Ablak > Ecset előrebeállítások-ra és Cseréld ki a jelenlegi ecseteidet az új folt szettel.
Ezután, készíts egy Új Réteget fentebb, "masznak" elnevezve. Használd a Sokszögű Lasszó Eszközt (L), hogy egy tiszta szelekciót készíts a tárgyad körül, mielőtt színnel töltöd ki a Festékes Vödör Eszköz (G) használatával. Ezután válaszd ki az akciót és nyomd meg a Lejátszást.

Adj az effektnek pár másodpercet, hogy kijátszódjon. Mikor kész, folytasd az eredményed módosítását a Beállítási Rétegek tapasztalásával az új akció Csoportban. Csökkentsd az előtér alapréteg Átlátszatlanságát, adj hozzá festékfoltokat azon rétegek Láthatóságának Felfedésével, és adj hozzá egy Színes Keresés Beállítási Réteget beállítva a Teal Orange Plus Kontrasztra.

Itt a végeredmény.

Akarod látni valós időben? Nézd meg a fenti videót, hogy lád ezt a leckét munkában!

Egy kicsit több adat
Tanulj több tippet és trükköt, hogy fejleszd a képretusálási képességeidet szakértőinktől. Nézd meg a következő bemutatókat lentebb:
60 másodperc?!
Ez része egy gyors bemutatóvideók sorozatának Envato Tuts+-on, ahol különféle témákba vezetünk be, mindössze 60 másodpercben - épp elég, hogy felkeltse az érdeklődésedet. Tudasd velünk a komment részlegben, mit gondolsz erről a videóról, és mi mást szeretnél még látni elmagyarázva 60 másodpercben!
Digital Artist - CT, USA
I'm an Afro-Latina digital artist originally from Long Island, NY. I love to paint, design, and photo manipulate in Adobe Photoshop while helping others learn too. Follow me on
Instagram
or tweet me
@MelloNieves
and tell me what you'd like to see next!
One subscription.
Unlimited Downloads.