Melody Nieves
Üdvözlünk a Tervezés 60 másodpercben rovatunkban, amiben új dizájn képességeket, funkciókat vagy technikákat sajátíthatsz el egy perc alatt!
Tervezés 60 másodpercben: Infografikák

Az infografikák összekötnek téged a világgal azáltal, hogy lehetővé teszik számodra érdekes tények és információk megosztásását gyönyörű látványvilággal. Aktivizáld olvasóidat és növeld az eléréseid számát a közösségi médiában izgalmas dizájnokkal.

Ebben a rövid videóban többet is megtanulhatsz az infografikákról és arról, hogyan szabj testre egy egyszerű Envato Marketes sablont. Nézd meg az ebben a videóban használt infografikákat a GraphicRiveren.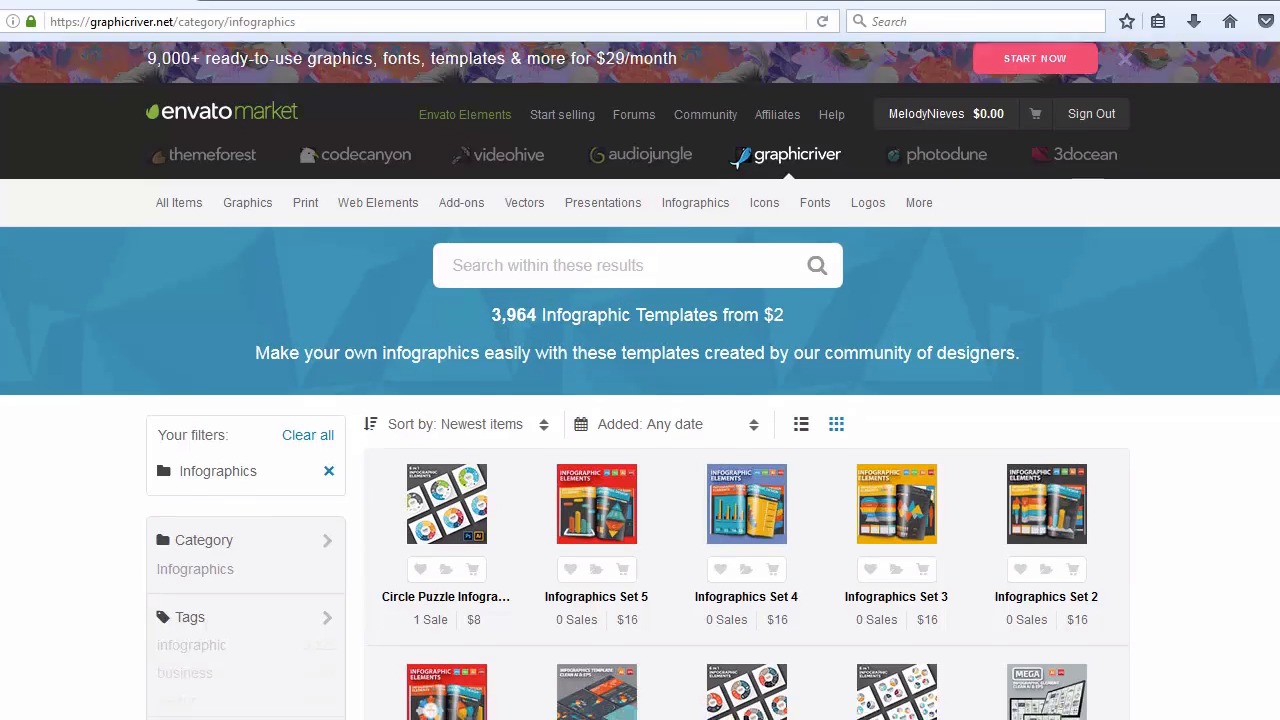 Egy infografikus sablon testreszabása Photoshoppal

A letöltött sablontól függően Photoshopra vagy Illustratorra lesz szükséged a dizájn szerkesztéséhez. Mi Photoshopot fogunk használni. Kezdd a címek, számok és a fontos információk igazításával a Szöveg eszköz (T) segítségével.
Menj a testre szabandó színekre. A Kiválasztás eszköz (A) használatával válaszd ki valamelyik alakzatot és állítsd be a Színkitöltéstt.
Végül válts a felső rétegre és rendszerezd őket az egyes Rétegcsoportok kiválasztásával, majd mozgasd őket a helyükre a Mozgatás eszköz (V) segítségével.

Akarod látni élőben? Nézd meg a fenti videót, hogy lásd, hogyan működik ez a lecke a gyakorlatban! Vagy vedd igénybe egy profi dizájner segítségét az Envato Studioról a szükséges infografikáidhoz.

Egy kicsit részleteseben
Szeretnél többet tudni a dizájnról, valamint az Adobe Photosop rengeteg eszközéről és beállításáról? Nézd meg ezeket az alábbi bemutatókat:
60  másodperc?!
Ez része az Envato Tuts+ rövid videobemutató sorozatának, amiben bemutatunk többféle témát, mindet 60 másodpercben - ami épp elég arra, hogy felkeltse az érdeklődésedet. Tudasd velünk hozzászólásban, hogy mit gondolsz erről a videóról, és hogy mi mást szeretnél még megtudni 60 másodpercben!
Want a weekly email summary?
Subscribe below and we'll send you a weekly email summary of all new Design & Illustration tutorials. Never miss out on learning about the next big thing.
Sign up
Digital Artist - CT, USA
I'm an Afro-Latina digital artist originally from Long Island, NY. I love to paint, design, and photo manipulate in Adobe Photoshop while helping others learn too. Follow me on
Instagram
or tweet me
@MelloNieves
and tell me what you'd like to see next!
One subscription. Unlimited Downloads.