Kirk Nelson
Dobro došli u našu seriju "Photoshop u 60 sekundi" u kojoj možete naučiti vještine rada u Photoshopu, njegove značajke i tehnike u samo jednoj minuti! Danas ćemo istražiti prednosti korištenja Smart objekata opcijom Smart Objects u Photoshopu.
Photoshop u 60 sekundi: Smart Objects

Većina predložaka proizvoda, product mock-ups dostupnih preko stranica Envato Market koriste opciju Smart Objects za umetanje sadržaja kako bi ga bilo lako obnavljati bez utjecaja na raspored i dizajn. Najbolji način da se izvuče najviše iz ovih sjajnih materijala je shvatiti kako Smart Objects koristiti.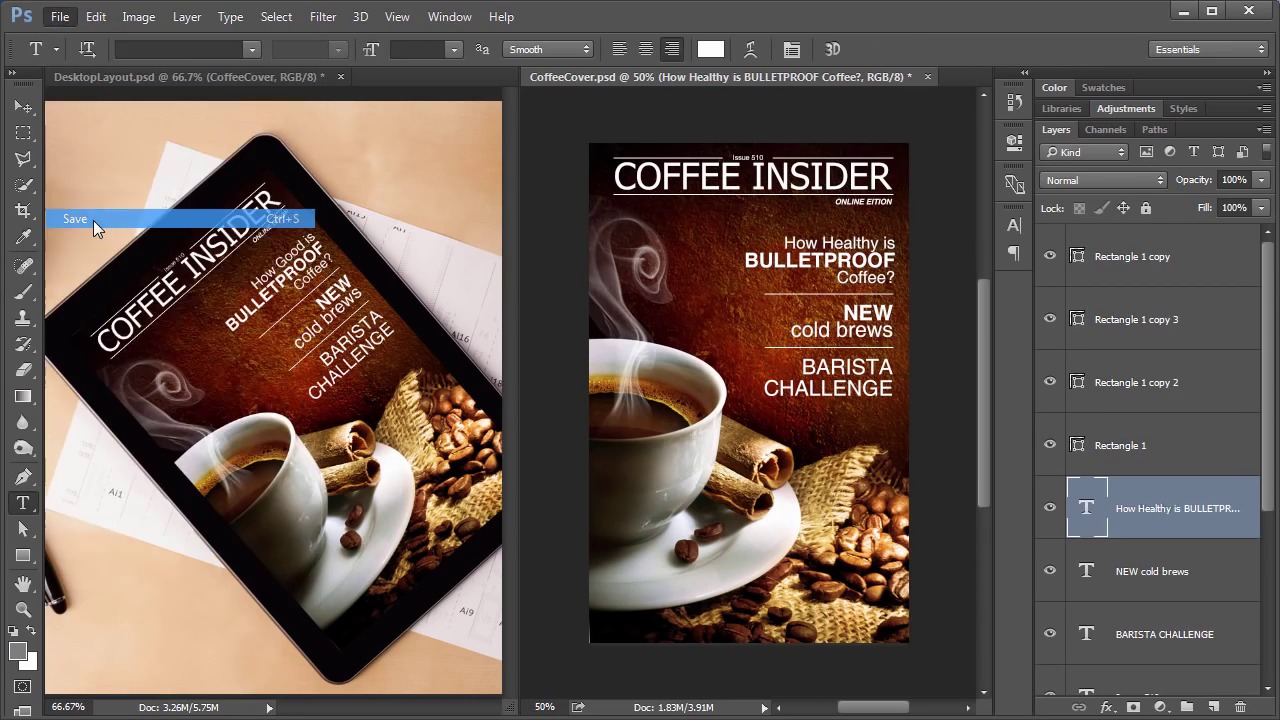 Kako koristiti Smart Objects
Smart Object je odvojena Photoshopova datoteka koja je ugrađena u drugu datoteku. Dakle, bilo koji sloj ili slojevi mogu se pretvoriti u Smart objekt korištenjem izbornika Smart Object.

Umetnuti Smart Object može se uređivati, a kad ga spremite, sve datoteke u koje je umetnut automatski se obnavljaju.

Smart Object možete skalirati na jako malu veličinu i ponovo vratiti na njegovu izvornu veličinu bez gubitka kvalitete razlučivosti.

Na kraju, Smart Objects možete koristiti uz filtere Smart, Smart Filters. Čak i najdrastičnije promjene nastale primjenom ovih filtera mogu se korigirati ili sasvim ukloniti.
Želite vidjeti njihovu primjenu? Provjerite gornji video kako biste pratili ovaj tutorijal.

Još malo detalja!
Želite li naučiti više o brojnim alatima i postavkama programa Adobe Photoshop? Pogledajte ove tutorijale:
60 sekundi?
Ovo je dio novog serijala kratkih video tutorijala dostupnih preko stranice Tuts+. Cilj nam je predstaviti veliki raspon tema, sve u 60 sekundi, tek toliko da potaknemo vašu znatiželju. Napišite u komentarima što mislite o ovom prilogu i što biste još željeli vidjeti objašnjeno u samo 60 sekundi!
Want a weekly email summary?
Subscribe below and we'll send you a weekly email summary of all new Design & Illustration tutorials. Never miss out on learning about the next big thing.
Sign up
I have been working as an all-round graphics geek or "Visual Information Specialist" for the past 17 years around the Washington DC Metro area. With my career spanning almost every aspect of the design industry, I have worked on everything from web design to 3D animation, logo design, and photo retouching.
One subscription. Unlimited Downloads.