Dobrodošli u našu 'Illustrator u 60 Sekundi' seriju u kojoj možete naučiti vještine, značajke i tehnike Illustratora u samo jednoj minuti!
Illustrator u 60 Sekundi: Kako Instalirati i Upotrijebiti Korisničku Paletu Uzoraka
Mogućnost dodavanja i korištenja palete uzoraka je vjerojatno jedna od najatraktivnijih značajki Illustratora, ali ponekad proces njihovog dodavanja može biti težak zadatak, posebno ako je to nešto što nikada prije niste radili. U današnjem tutorijalu ću vam pokazati kako to možete lako učiniti.
Paleta uzoraka korištena u ovom tutorijalu je dostupna za kupnju na Graphic River-u.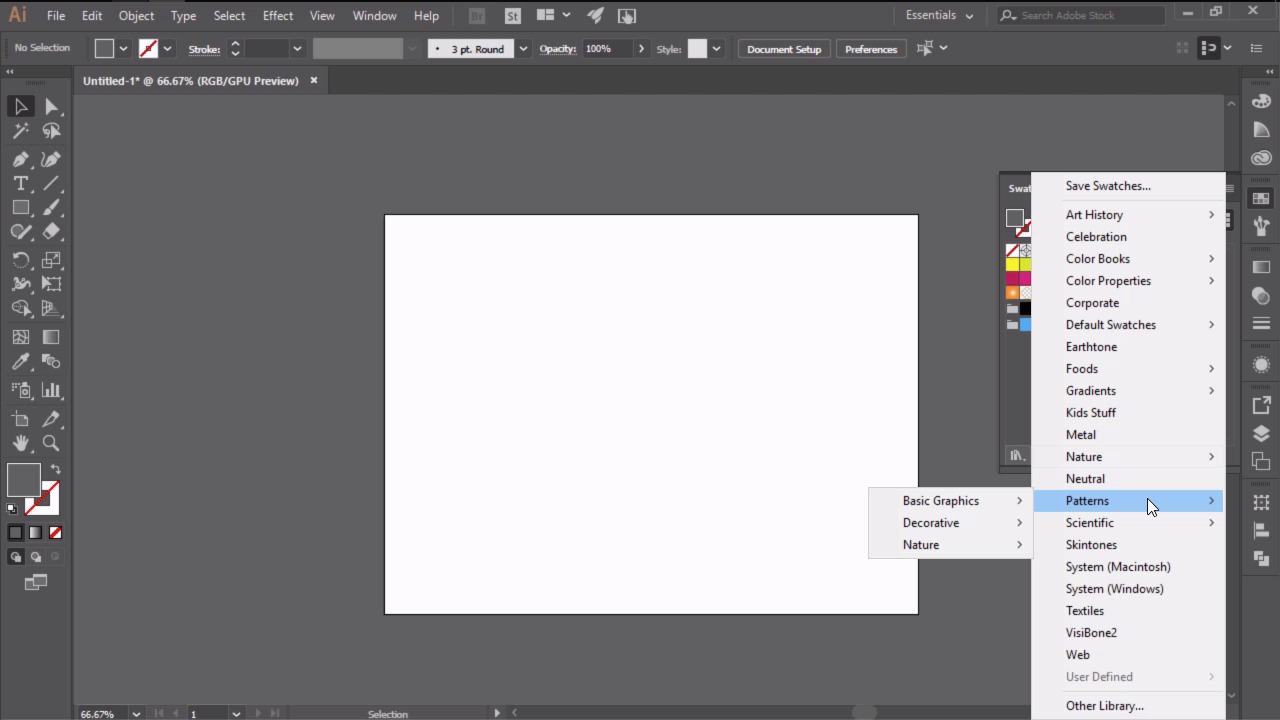 Kako Instalirati i Upotrijebiti Korisničku Paletu Uzoraka

1. korak
Znači, želite proširiti vašu 'knjižnicu' uzoraka koristeći novi set koji ste upravo nabavili. Ali nikada prije to niste radili.
Ako je tako, prvo ćete morati početi ekstrakcijom vaših novih resursa iz njihovih arhiva pošto u većini slučajeva dolaze zapakirani na taj način.
2. korak
Kada završite ekstrakciju možete otvoriti Illustrator i otvoriti Swatches karticu u kojoj pristupite Swatch Libraries izborniku i zatim potražite Patterns..
Kao što vidite, ovdje je nekoliko već zadanih uzoraka koji dolaze unaprijed u softveru.
3. korak
Pošto želimo dodati neke nove, moramo kliknuti na Other Library. Otvoriti će se novi dijaloški okvir koji će nam dozvoliti da odredimo lokaciju našeg novog seta uzoraka kako bismo ga mogli učitati i spremiti.
S obzirom da se set ne nalazi u zadanim datotekama softvera, morati ćemo ga manualno dodati stoga idite na Swatches i zatim odaberite Patterns unutar kojih izradite novu datoteku koju nazovite Custom Patterns. Kada ste završili s dodavanjem elemenata u novu datoteku vaši će se uzorci pojaviti u Swatch Libraries izborniku gdje ih možete odabrati i upotrebljavati kako god želite.
Detaljnije

Naučite više o Adobe Illustratoru na Envato Tuts+:
60 Sekundi?!
Ovo je dio serije kratkih video tutorijala na Envato Tuts+ u kojoj vam predstavljamo cijeli raspon tema, sve u 60 sekundi - taman dovoljno da vam potaknemo apetit. U komentarima nam možete napisati vaše mišljenje o ovom videu i javiti što biste još željeli da vam objasnimo u 60 sekundi!

Want a weekly email summary?
Subscribe below and we'll send you a weekly email summary of all new Design & Illustration tutorials. Never miss out on learning about the next big thing.
Sign up
coffee addict / pixel grinder
Just another young gun coffee fanatic from Europe, designing colorful worlds one pixel at a time. When I'm not "making stuff" you can usually find me at my place, flipping news and catching up on all the crazy things happening in both the tech and design realms.
One subscription. Unlimited Downloads.