Daniel White
Ako vam je potreban jednostavan početnički uvod za rad s gradijentima, pogledajte ovaj brzi video zapis s mog tečaja o usavršavanju logotipa, Mastering Logo Design u Adobe Illustratoru. Pokazat ću vam kako stvoriti različite vrste gradijenata i kako mijenjati različite opcije kao što su boje, položaj i neprozirnost.
Do kraja tutoriala, biti će vam jasno kako izraditi različite vrste gradijenata, te kako ih urediti da dobijete točno ono što želite.
Kako napraviti i uređivati gradijente u Adobe Illustrator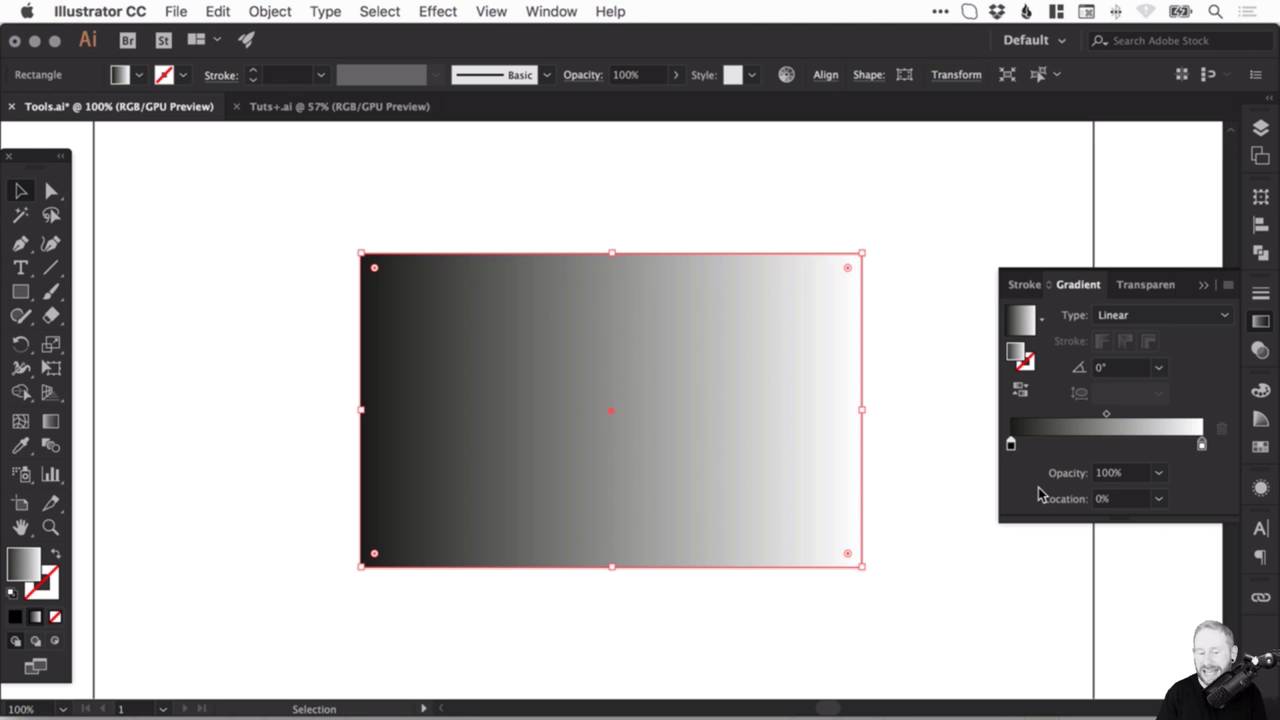 Kako kreirati jednostavan gradijent
Započnite korištenjem alata Rectangle Tool, te nacrtaje pravokutnik na kojem ćete raditi. Zatim otvorite panel Gradient, klikom na ikonu u alatnoj traci ili tako da odete na Window > Gradient.
Ako kliknete bilo gdje na klizaču s gradijentom, stvorit će se defaultni (bazični) crno-bijeli gradijent. A ikona Reverse Gradient (obrnutog gradijenta) iznad njega, omogućuje vam promijeniti smjer, jer može ići s lijeva na desno ili s desna na lijevo. Ili možete sami ručno podesiti kut nagiba gradijenta unosom vrijednosti u okvir.
Postoji mnogo unaprijed podešenih postavki, s nagibom od vrha prema dnu ili s lijeva na desno, a gradijent možete primijeniti na samu ispunu, pa i okvirnu liniju. Ako promijenite vrstu gradijenta iz linearnog u radijalni, on će krenuti od središta prema rubovima (naravno, smjer se može promijeniti, okrenuti).
Kako promijeniti boje gradijenta
Svakoj boji možete podesiti polaznu točku. Dakle, ako želite više crne, možete povući strelicu ispod klizača prema desnoj strani. A ako, s desne strane, dovedete bijelu boju, vidjet ćete da se stvara vrlo, vrlo oštra podjela (spoj).
Dakle, za mekši gradijent, uvijek je bolje odvojiti, udaljiti uzorke boja.
Dakle, za bilo koji gradijent, potrebne su minimalno dvije boje, jer se jedna boja mora "preliti" u drugu. Međutim, kada pređete mišem preko klizača, pojavi se ikona plus, s kojom možete dodati još uzoraka boja. Dvoklikom na uzorak možete odabrati i boju.
Stoga dodajte još nekoliko boja. Ako želite općenite uzorke, možete otići na panel Swatches, promijeniti uzorak, a on će se, u svakom slučaju, ažurirati, uključujući i gradijente.
Kako promijeniti položaj i neprozirnost gradijenta
Da biste izbrisali uzorak (swatch), samo ga kliknite i odvucite - to možete učiniti s crnom na lijevoj strani.
Možete dodati i druge boje, povlačenjem uzoraka, ili možete biti još precizniji pa upisati Location (vrijednost za lokaciju). Za narančastu, upišite 50% kako biste ju pozicionirali točno u sredinu.
Naravno, možete prilagoditi Opacity svake boje njenim odabirom i odabirom vrijednosti s padajućeg izbornika ili unosom vrijednosti.
Između svakog pojedinačnog uzorka boje, nalazi se mala ikona dijamanta na vrhu klizača, s kojom možete podesiti poziciju boje. Vrlo je slično pomicanju samog uzorka boje - možete unijeti malo više jedne boje i nešto manje druge, samo podešavanjem točke unutar gradijenta.
I one imaju Location (opciju pozicije), tako da možete unijeti točne vrijednosti ako želite.
Pogledajte cijeli tečaj
U cijelom tečaju, Mastering Logo Design u Adobe Illustratoru, upoznat ćete osnovne alate za izradu logotipa u Adobe Illustratoru. Kao što sam učinio u ovom videu s gradijentima, proći ću kroz neke važne alate i tehnike u Illustratoru, a zatim ćemo na kraju primijeniti sve što smo naučili u praktičnom dijelu projekta, kako bismo stvorili cjeloviti dizajn logotipa.
Možete odmah pogledati tečaj pretplateći se na Envato Elements. Za nisku mjesečnu naknadu, dobivate pristup ne samo ovom tečaju, već i našoj rastućoj biblioteci od preko 1.000 video tečajeva i vodećih elektroničkih knjiga na Envato Tuts+.
Osim toga, dobivate i neograničeno downloadiranje (preuzimanje) iz ogromne biblioteke Envato Elements koja ima preko 300.000 kreativnih vodiča. Stvarajte jedinstvenim fontovima, fotografijama, grafikama i predlošcima, kako bi brže isporučili još bolje projekte.
Want a weekly email summary?
Subscribe below and we'll send you a weekly email summary of all new Design & Illustration tutorials. Never miss out on learning about the next big thing.
Sign up
Bristol, England
Daniel White is a designer who loves to share his experience, and help aspiring creatives to develop their skills.
Scroll to top
Start your 7-day free trial*
*All Individual plans include a 7-day free trial for new customers; then chosen plan price applies. Cancel any time.