Monika Zagrobelna
Rad izrađen od samih linija još uvijek je crtež, ali što ako ga želite učiniti još realističnijim? U ovoj lekciji ću vam pokazati kako upotrijebiti digitalne alate da na brzinu osjenčate konturni rad.

Ne zaboravite nadoknaditi prošlu lekciju (ako ste je propustili), "Od Skiciranja do Linijske Umjetnosti" i preuzeti izvorne datoteke za ovaj tutorijal.

Digitalno Sjenčanje
Naš cilj će biti da postignemo izgled tradicionalnog crteža. Proces sjenčanja i crtanja zahtijeva mnogo vremena jer ne možete jednostavno crtati preko sjena sa velikim kistom. To bi bilo slikanje.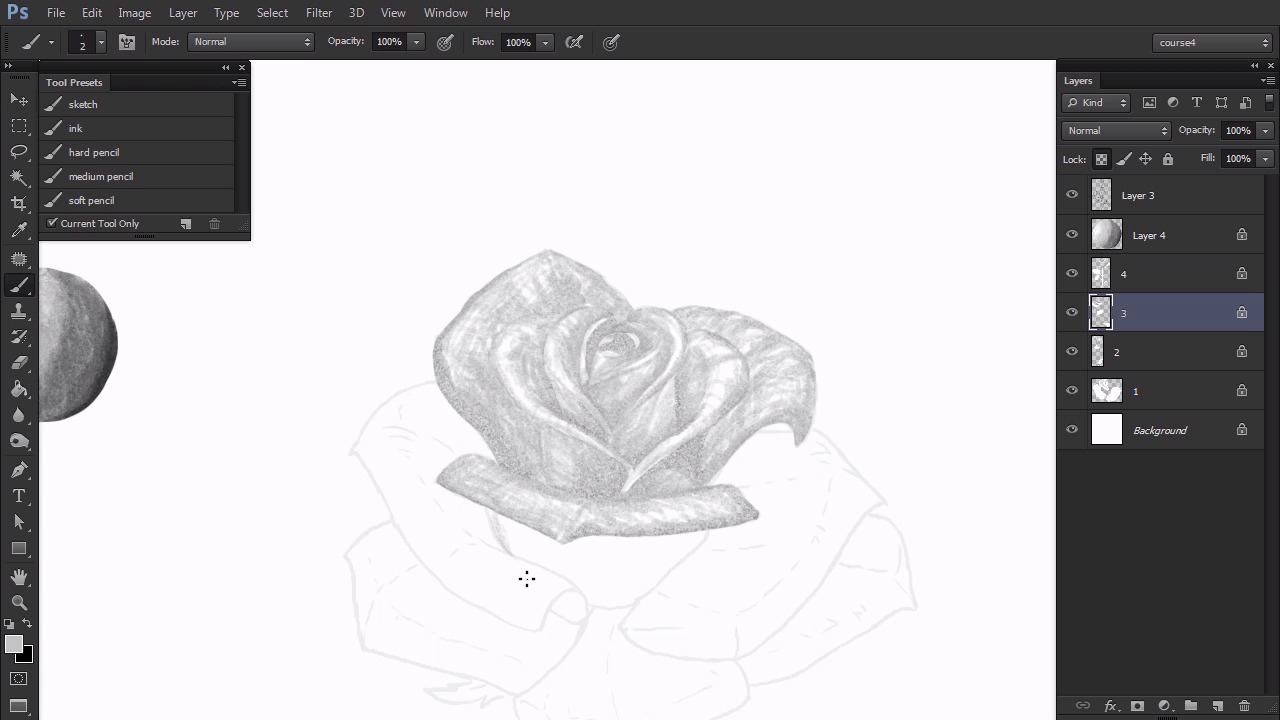 Na kraju, sve se svodi na izradu ponavljajućih uzoraka što je lako ali zahtijeva mnogo vremena. Također traži neprekidnu koncentraciju jer je vrlo lako prijeći rubove ako niste pažljivi.
Pripremite svoj Konturni Rad za Sjenčanje
1. korak
U Photoshopu možemo ovaj proces odraditi brže upotrebom Clipping masks funkcije. Smanjite opacity na linijskom crtežu i izradite novi sloj.
2. korak
Uzmite ink brush (kist tinte) i odaberite svijetlu boju.

3. korak
Analizirajte svoj linijski crtež i odlučite koje linije naglašavaju odvojene elemente. Ispunite takve linije bojom ali nemojte dva elementa koji se dodiruju obojiti istom bojom. Pokušajte biti što je moguće precizniji strogo prateći linije. Kada nema više dijelova koje možete ispuniti bojom bez diranja onih koje ste već obojili, napravite novi sloj ispod i odaberite drugu boju.
Ponovite proces. Obojite odvojene dijelove bez bojenja dijelova na kojima je boja koju trenutno koristite. Sada ne morate više biti toliko pažljivi jer će dijelovi boje biti prekriveni slojem iznad. Ponovite proces i sada imate sve dijelove obojene. U mojem slučaju, trebalo je četiri sloja da obojim cijelu ružu.
4. korak
Povucite linijski crtež ponovno iznad njih kako bi opet bio vidljiv.

Želite Još?
Ako ste sigurni da vam se sviđa konačan rezultat, pratite me do posljednje lekcije da naučite kako pripremiti digitalni crtež za objavljivanje.
Want a weekly email summary?
Subscribe below and we'll send you a weekly email summary of all new Design & Illustration tutorials. Never miss out on learning about the next big thing.
Sign up
Freelance artist, Poland
I'm a Polish artist with a great passion for creating new things—whether by drawing, digital painting, or photo manipulation. I have 10+ years of experience in using Adobe Photoshop and Adobe Illustrator, both for graphic design and for creating unique works of art as well. I hold a degree in graphic design, but nowadays I work as a freelance illustrator and a tutorial author. I specialize in creating realistic art, especially of animals, and I'm good at designing imaginary creatures in a realistic way. I'm a big fan of dragons and feline creatures! Because I learn the best by teaching, and I love sharing my skills with others, in my free time I like to create educational posts on my own blog. I also share the behind-the-scenes of my art on my Instagram. I consider myself an unofficial ambassador of Sketchbook Pro, a seriously underrated program for digital art, which I use every day in my work. You can learn more about me on the Sketchbook Blog: https://www.sketchbook.com/blog/animals-creatures-by-monika-zagrobelna
One subscription. Unlimited Downloads.