Melody Nieves
Dobrodošli u našu seriju "Photoshop u 60 Sekundi", u kojoj možete naučiti vještine, značajke ili tehnike Photoshopa u samo jednoj minuti!
Photoshop u 60 Sekundi: Nakit
Mixer Brush Tool, u Adobe Photoshopu, omogućuje vam da napravite odlične pečate bilo kojeg objekta. I u ovom kratkom tutorialu, koristiti ću ovaj fantastičan alat da vam pokažem kako kreirati lijepu bisernu ogrlicu izrađujući vlastiti kist ogrlice.

Možete preuzeti slike bisera i djevojke koje su korištene u ovom videu. I, za dodatne fantastične reference, pretražite nevjerojatnu kolekciju fotografija na PhotoDune-u.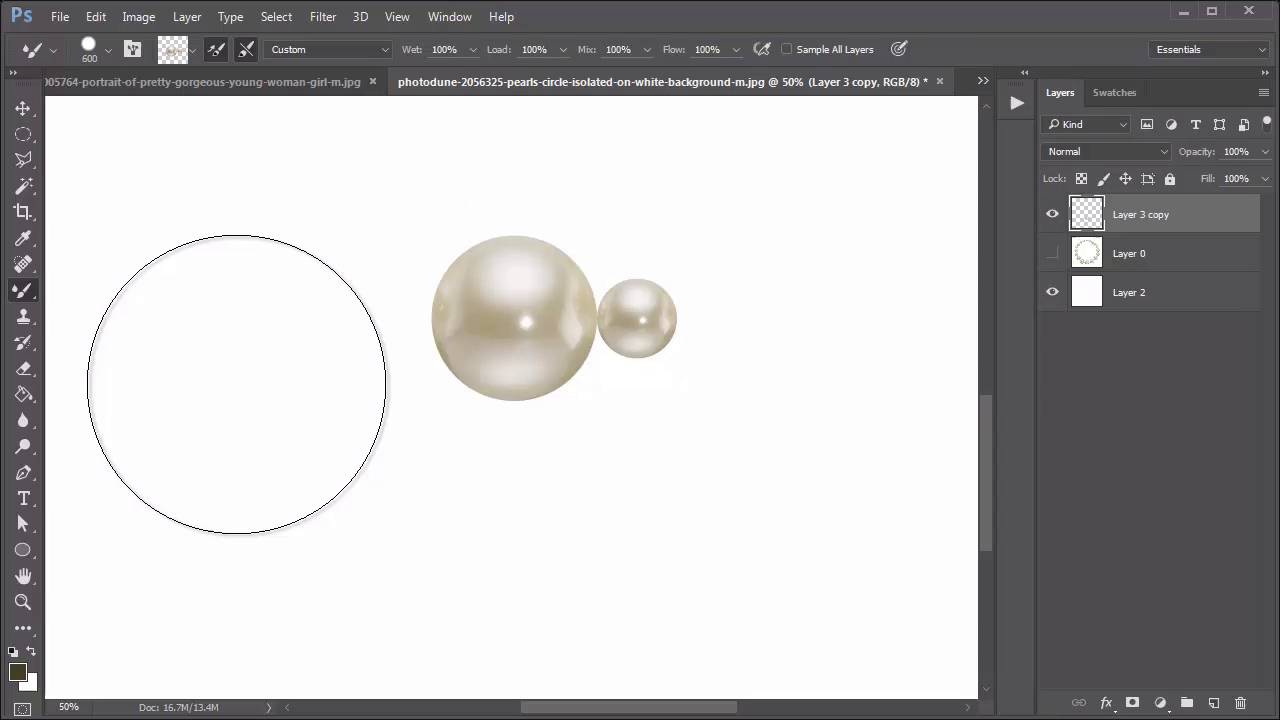 Kako u Photoshopu Izraditi Ogrlicu Prilagođenu Vlastitim Potrebama
Otvorite svoje fotografije u Photoshopu. Ja ću koristiti ove fotografije bisera i djevojke.

Prvo, izdvojite jedan biser s ogrlice koristeći Ellipse Marquee Tool (M). Zatim ga pomoću Control-J prečaca na tipkovnici duplicirajte (klik na Duplicate), smanjite kopiju sa Free Transform Tool (Control-T) alatom. Drugi biser poslužiti će kao mali dio konektora.

Pomoću funkcije Merge spojite zajedno oba sloja bisera. Odaberite Mixer Brush Tool (B) i povećajte Brush Size tako da odgovara preko oba bisera, i zatim držite tipku Alt da učitate bisere kako novi kist. Kliknite F5 da podesite postavke u Brush kartici kao što slijedi:
Spacing: 90-95%
Shape Dynamics: Označite, Angle Control: Initial Direction
Sa Mixer Brush (B) počnite preko subjekta crtati bisernu ogrlicu. Možda ćete morati pokušati nekoliko puta dok ne uspijete postići savršeni rezultat. Zatim podesite Layer Mask na bisernu ogrlicu i slikajte crnom bojom na masci kako biste sa Brush Tool (B) alatom sakrili sve nesavršenosti ili bisere.
Uskoro smo gotovi! Sada napravite desni klik na sloj da idete na Blending Options. Podesite Drop Shadow na ogrlicu sa sljedećim postavkama:

Slobodno nastavite podešavati svjetlinu ili boje sa dodatnim Adjustment Layers slojevima. Evo mojeg konačnog rezultata:
Želite vidjeti kako se ovo radi? Pogledajte kratki video iznad!

Detaljnije
Naučite više foto efekata od naših stručnjaka! Pogledajte sljedeće tutoriale:
60 Sekundi?!
Ovo je dio serije kratkih video tutoriala na Envato Tuts+ u kojima vam predstavljamo cijeli niz tema, sve u 60 sekundi - taman dovoljno da vam potaknemo apetit. U komentarima nam pišite što mislite o ovom videu i recite nam što biste još željeli da vam objasnimo u 60 sekundi!
Want a weekly email summary?
Subscribe below and we'll send you a weekly email summary of all new Design & Illustration tutorials. Never miss out on learning about the next big thing.
Sign up
Digital Artist - CT, USA
I'm an Afro-Latina digital artist originally from Long Island, NY. I love to paint, design, and photo manipulate in Adobe Photoshop while helping others learn too. Follow me on
Instagram
or tweet me
@MelloNieves
and tell me what you'd like to see next!
One subscription. Unlimited Downloads.