Melody Nieves
Dobrodošli u našu seriju "Photoshop u 60 Sekundi", u kojoj možete naučiti vještinu, značajku ili tehniku Photoshopa u samo jednoj minuti!
Adobe Photoshop u 60 Sekundi: Trendovski Hipster Efekt
Hipsteri vole čiste, vibrantne boje! I možete kreirati raznobojne efekte za vaše fotografije lako sa Photoshop Akcijama. U ovom kratkom videu ispod, pokazati ću vam kako izraditi vibrantni, hipster foto filter i pretvorite ih u prilagođenu akciju.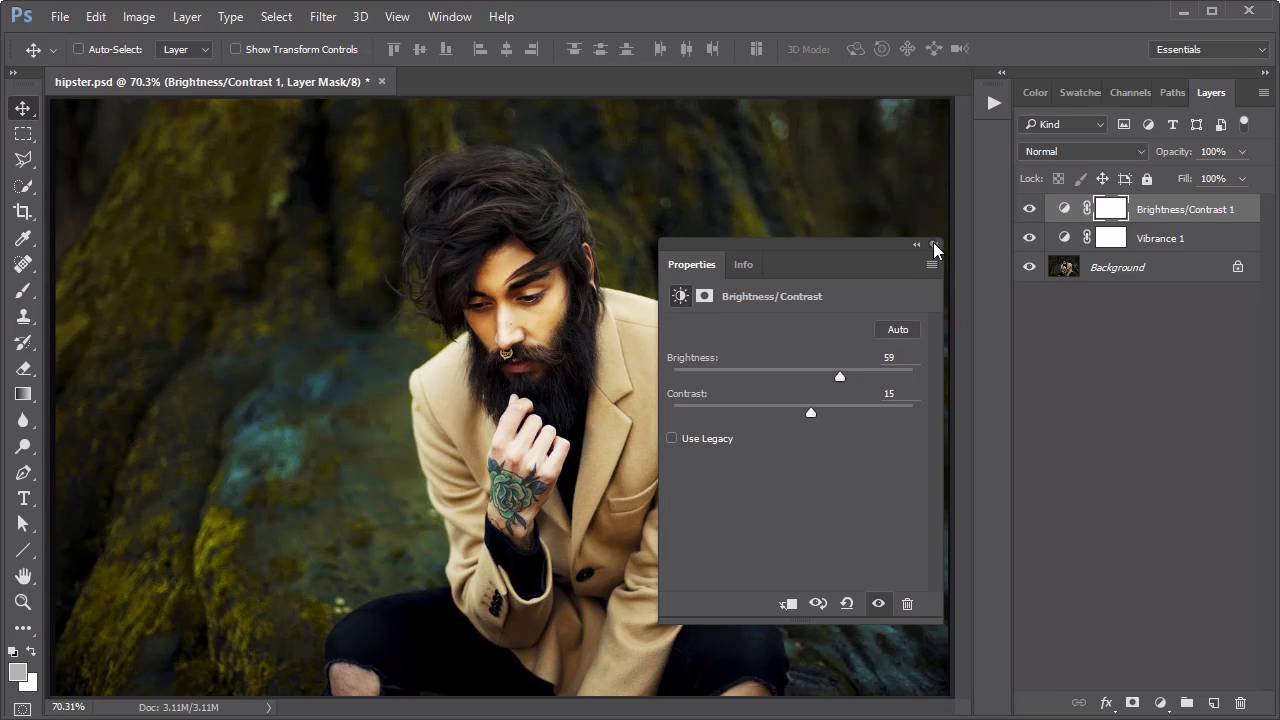 Kako Izraditi Hipster Filter Akcije u Photoshopu
Otvorite svoju fotografiju u Photoshop. Ovdje ću koristiti ovu Male Stock fotografiju.
Sada podesite svoju akciju. Idite na Window > Actions da pristupite Actions palette kartici. Idite na New Action Set ikonu da kreirate mapu za svoju akciju i zatim odaberite New Action i nazovite je "Hipster". Kada ste spremni nastaviti dalje, kliknite Record gumb da započnete snimanje svojih sljedećih koraka.

Idite na Layer > New Adjustment Layer > Vibrance. Podesite Vibrance na 83 i Saturation u 0. Zatim dodajte New Adjustment Layer za Brightness i Contrast. Podesite Brightness na 59 i Contrast u 15.

Dodajte konačni New Adjustment Layer za Gradient Map. Odaberite gradijent koji prelazi iz plave boje #1e13b4 u bijelu. Podesite Layer Blend Mode u Pin Light i smanjite Opacity u 50%.
Kako biste završili, izradite New Layer i upotrijebite veliki, Soft Round Brush kist sa 0% Hardness da slikate žutom bojom na jednoj strani i ljubičastom na drugoj. Podesite Layer Blend Mode u Color i smanjite Opacity u 25%.

Kada završite, pritisnite Stop na Actions palette kartici i spremite svoju novu akciju za buduće projekte.

Evo konačnog rezultata.
5 Raznobojnih Akcija
Želite li još akcija? Za lude efekte u bojama i više, pretražite nevjerojatan izbor Photoshop akcija dostupnih kroz GraphicRiver i EnvatoElements. I pogledajte ispod nekoliko naših favorita!
Pretvorite svoje fotografije u apstraktan umjetnički rad! Ova nevjerojatna akcija stvara fantastičan efekt sa neograničenim rezultatima i testirana je na višestrukim verzijama Photoshopa. Uživajte u dobro organiziranim slojevima i višebrojnim opcijama boja u ovom preuzimanju.

Dodajte zadivljujuću energiju svojim selfijima sa ovom odličnom gradijentnom akcijom. Ova akcija stvara zapanjujuće dvotonske efekte sa izborom više od 50 gradijentnih efekata. Najbolje radi sa engleskom verzijom Photoshopa i kompatibilna je sa CS6 i CC.

Uživajte u još ludih gradijenata sa ovom prekrasnom Spectrum akcijom. Ova akcija bazirana je na "Smart" Filterima, omogućavajući mjesto za dodatna prilagođavanja i detalje nakon što je akcija pokrenuta. Uključuje jednu akciju i pomoćni vodič za instrukcije koji je jednostavno pratiti.

Jeste li spremni za ljeto? Zakoračite u foto igru sa ovim fantastičnim setom Photoshop akcija. Birajte između 25 unaprijed podešenih varijacija inspiriranih prekrasnim, toplim bojama ljeta i odmora. Sa uključenim pomoćnim instrukcijama, ubrzo ćete biti na putu do odličnih fotografija za čas posla!

Kreirajte izuzetne detalje i kinematografsku dramatičnost sa ovim "cool" HDR Photoshop akcijom. Sa samo jednim klikom ova vam akcija pruža izbor preko 32 stila boje i mnoge druge opcije. Uživajte u ovom ne-destruktivnom načinu editiranja fotografija, također dostupnom u više jezika.

60 Sekundi?!
Ovo je dio serije kratkih video tutoriala na Envato Tuts+ u kojoj vam predstavljamo niz tema, sve u 60 sekundi - taman dovoljno da vam potaknemo apetit. Pišite nam u komentarima vaša mišljenja o ovom videu i javite nam što biste još željeli da vam objasnimo u 60 sekundi!
Want a weekly email summary?
Subscribe below and we'll send you a weekly email summary of all new Design & Illustration tutorials. Never miss out on learning about the next big thing.
Sign up
Digital Artist - CT, USA
I'm an Afro-Latina digital artist originally from Long Island, NY. I love to paint, design, and photo manipulate in Adobe Photoshop while helping others learn too. Follow me on
Instagram
or tweet me
@MelloNieves
and tell me what you'd like to see next!
Start your 7-day free trial*
*All Individual plans include a 7-day free trial for new customers; then chosen plan price applies. Cancel any time.