Melody Nieves
Dobrodošli u našu seriju tutoriala "Photoshop u 60 sekundi", u kojima možete naučiti vještine, značajke ili tehnike Photoshopa u samo jednoj minuti!
Photoshop u 60 Sekundi: 4 Ideje za Unikatne Kistove

Photoshop Kistovi omogućuju stvaranje čarobnih digitalnih svjetova. Ali, jeste li znali da možete izraditi i vlastite kistove pomoću raznih dizajnerskih resursa? U ovom kratkom videu ću vam pokazati četiri ideje za unikatne kistove koristeći odabrane resurse s GraphicRiver-a.
Isprobajte i sami ovu lekciju pomoću sljedećih resursa iz ovog tutoriala:
Možete preuzeti i Winter Stock sliku na stranici Pixabay da izradite snježni prizor koji možete vidjeti na videu.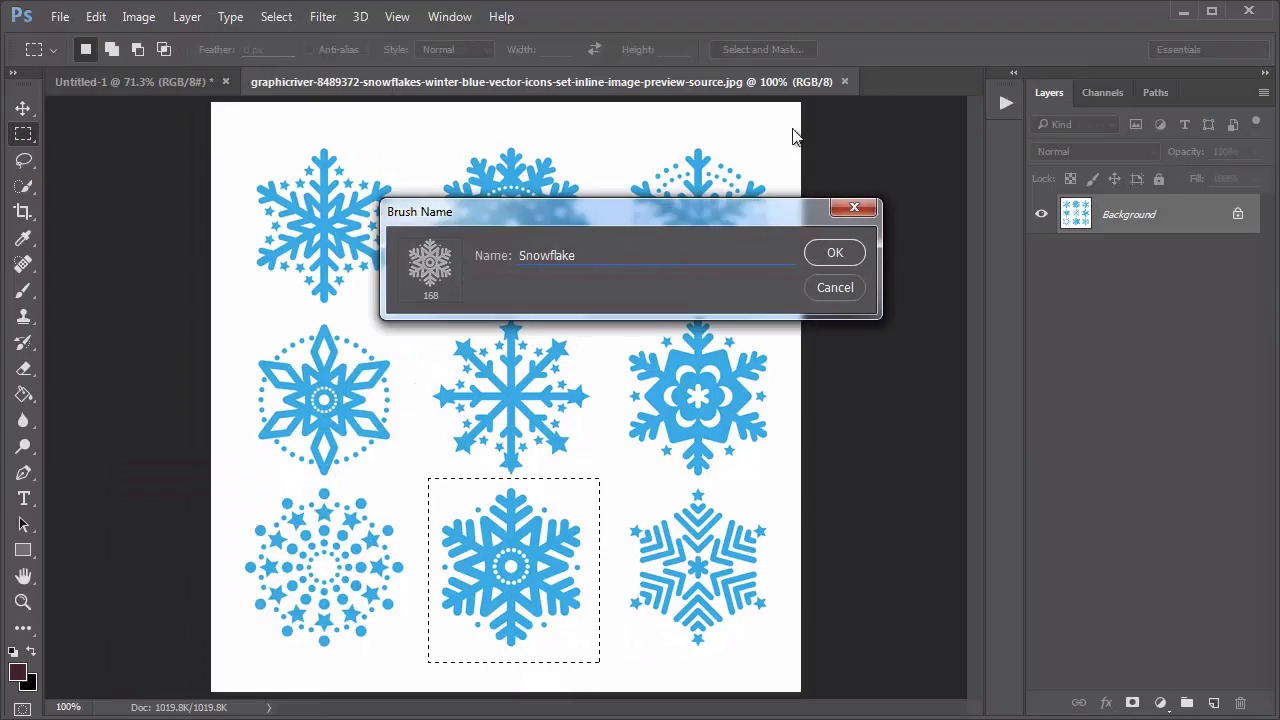 Izradite Četiri Kista u Adobe Photoshopu
U ovoj lekciji ćemo raditi kistove koristeći setove ikona, teksture, pakete, izolirane objekte i font. Prvo u Photoshopu otvorite teksturu i upotrijebite Rectangular Marquee Tool (M) alat za selektiranje. Obrišite rubove na selekciji pomoću alata Eraser Tool (E) prije nego što izradite kist tako što ćete ići na Edit > Define Brush Preset.
Za drugi kist, selektirajte jednu od vektorskih ikona snježne pahulje i pretvorite je u korisnički kist. Upotrijebite je za slikanje snježnih pahulja na zimskom prizoru.
Zatim upotrijebite izolirani objekt žutog cvijeta kako biste izradili vlastiti digitalni vrt. Ako je potrebno, prvo podesite Contrast sa Adjustment Layer slojevima za podešavanje da istaknete detalje na cvijetu.
Na kraju napravite kist da na dizajn dodate simbol korisničkih prava koristeći font.  Jednostavno selektirajte znak sa alatom Rectangular Marquee Tool (M) i idite na Edit > Define Brush Preset. Upišite ime novog kista, i završili ste!

Želite li vidjeti kako se to radi? U videu iznad možete pogledati ovu lekciju!

Detaljnije
Želite naučiti više o Adobe Photoshop alatima i postavkama? Pogledajte dolje navedene tutorijale:

60 Sekundi?!
Ovo je dio serije kratkih video tutorijala na Envato Tuts+ i kojima vam predstavljamo cijeli niz tema, sve u 60 sekundi - taman dovoljno da vam potaknemo apetit. Pišite nam u komentarima što mislite o ovom videu i što biste još željeli d vam objasnimo u 60 sekundi!
Want a weekly email summary?
Subscribe below and we'll send you a weekly email summary of all new Design & Illustration tutorials. Never miss out on learning about the next big thing.
Sign up
Digital Artist - CT, USA
I'm an Afro-Latina digital artist originally from Long Island, NY. I love to paint, design, and photo manipulate in Adobe Photoshop while helping others learn too. Follow me on
Instagram
or tweet me
@MelloNieves
and tell me what you'd like to see next!
One subscription. Unlimited Downloads.