Read Time:
2 mins
Languages:
Dobrodošli u našu seriju "Photoshop u 60 Sekundi", u kojoj možete naučiti vještinu, značajku ili tehniku Photoshopa u samo jednoj minuti!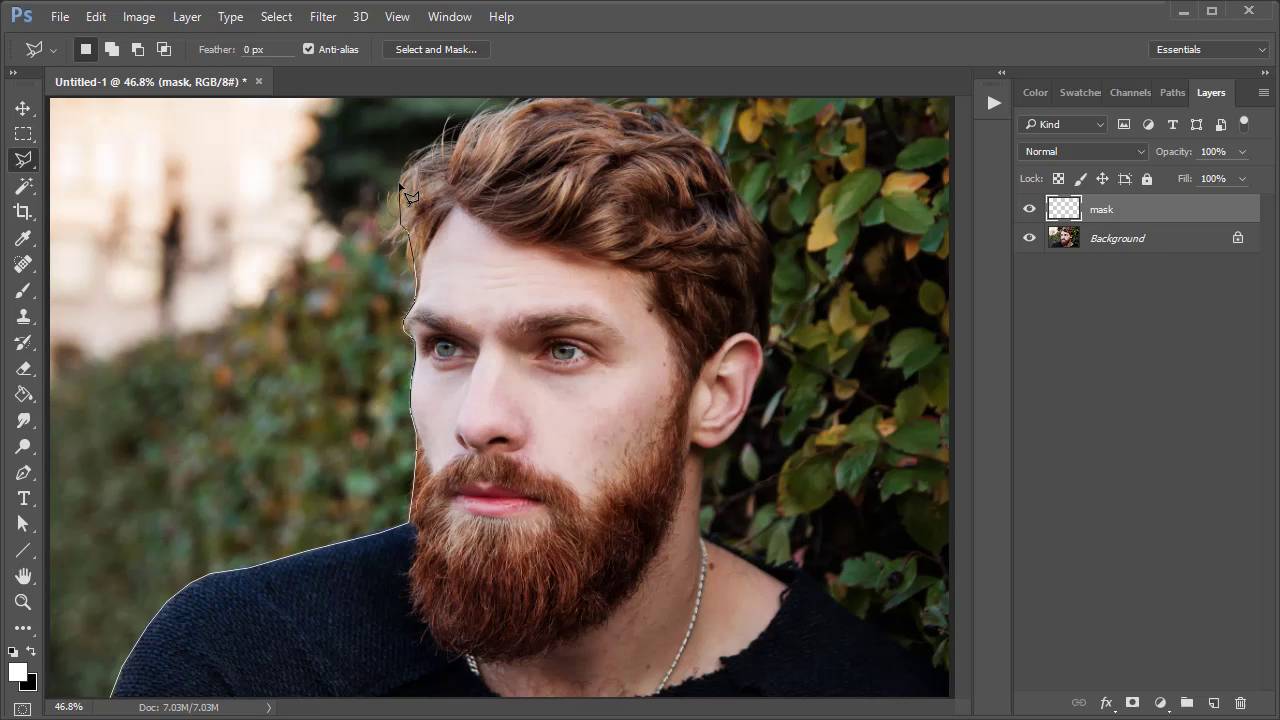 Photoshop u 60 Sekundi: Efekt sa Poprskanim Mrljama Boje
Možete postići izvanredan bojom poprskani efekt za bilo koju fotografiju ili pozadinu koristeći ovu korisnu Photoshop Akciju. I u ovom kratkom videu ću vam pokazati kako kreirati efekt koristeći ovu akciju: "Paint Splatter Photoshop Action".

Imate inspiraciju za izradu još nekih foto efekata? Pretražite nevjerojatan izbor Photoshop Akcija dostupnih na našim GraphicRiver i Envato Elements stranicama za dodatne prekrasne opcije.
Kako Izraditi Efekt sa Poprskanim Mrljama Boje

Otvorite svoju sliku u Photoshopu. Ja ću koristiti ovaj Muški Portret, veličine 1920x1280 px.

Kreirajte sada akciju. Idite na Window > Actions i učitajte svoju Paint Splatter Action u Actions paletu. Ovaj određeni efekt također dolazi sa setom kistova, stoga idite na Window > Brush Presets i zamijenite (Replace Brushes) svoje trenutne kistove sa novim setom kistova s mrljama. 
Zatim, iznad izradite New Layer (novi sloj), nazovite ga "mask." Upotrijebite Polygonal Lasso Tool (L) da napravite jasnu, čistu selekciju oko vašeg subjekta i ispunite ga zatim bojom koristeći Paint Bucket Tool (G). Nakon toga odaberite akciju i pritisnite Play.

Dopustite da efekt odradi svoje za što će mu trebati nekoliko minuta. Kada završi, nastavite uređivati vaš rezultat eksperimentirajući sa Adjustment Layer slojevima koji se nalaze i novoj grupi akcije. Smanjite Opacity za foreground bazni sloj, dodajte mrlje boja klikom na Unhide Visiblitiy ikonu za te slojeve kako biste im otkrili vidljivost i dodajte Color Lookup Adjustment Layer sloj podešen na Teal Orange Plus Contrast.

Evo konačnog rezultata.

Želite vidjeti ovo u stvarnom vremenskom periodu? Pogledajte video iznad da vidite ovu lekciju u funkciji!

Detaljnije
Naučite više trikova i savjeta od naših stručnjaka kako biste unaprijedili svoje sposobnosti vezane uz retuširanje fotografija. Pogledajte sljedeće tutoriale:
60 Sekundi?!
Ovo je dio serije kratkih video tutoriala na Envato Tuts+ u kojoj vam predstavljamo niz tema, sve u 60 sekundi - taman dovoljno da vam potaknemo apetit. Pišite nam u komentarima vaša mišljenja o ovom videu i javite nam što biste još željeli da vam objasnimo u 60 sekundi!
Digital Artist - CT, USA
I'm an Afro-Latina digital artist originally from Long Island, NY. I love to paint, design, and photo manipulate in Adobe Photoshop while helping others learn too. Follow me on
Instagram
or tweet me
@MelloNieves
and tell me what you'd like to see next!
One subscription.
Unlimited Downloads.