Melody Nieves
Dobrodošli u našu seriju "Photoshop u 60 Sekundi", u kojoj možete naučiti vještinu, značajku ili tehniku Photoshopa u samo jednoj minuti!
Photoshop u 60 Sekundi: Akcija za Graviranje

Pretvorite svoje fotografije u valutu. Rekreirajte izgled tradicionalne novčanice sa graviranim efektom u Adobe Photoshopu. U ovom kratkom videu ću vam pokazati kako izraditi jednostavan valoviti uzorak koristeći Line Tool (L) nakon čega slijedi izrada Photoshop Akcije za primjenu uzoraka na subjekt.

Pregledajte izvanredan izbor "Engraving Photoshop Actions" akcija s GraphicRiver i Envato Elements-a, s kojima možete primijeniti ovaj efekt na vaše fotografije u par sekundi!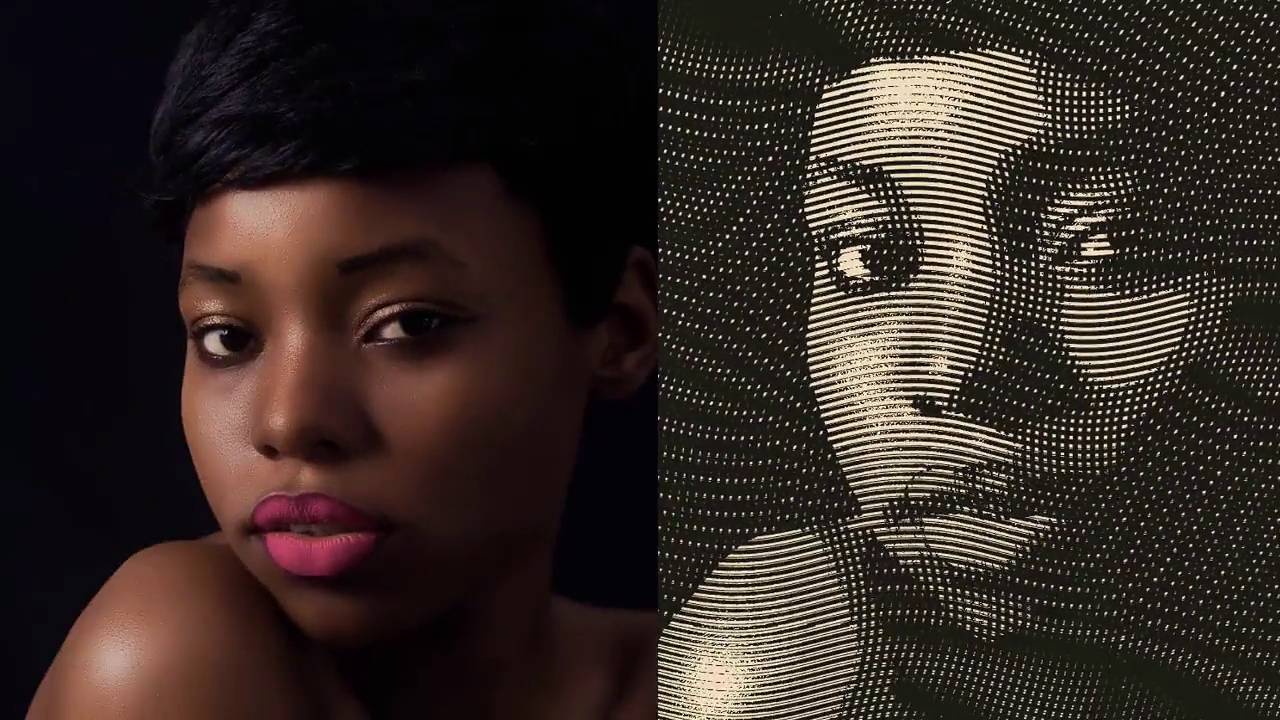 Kako izraditi Akciju za Graviranu Novčanicu

Počnite sa uzorkom, Otvorite veliki New Document, na veličini 2000x2000 px. Upotrijebite Line Tool (U) da napravite liniju na vrhu radne površine, na 1 px. Zatim idite na Filter > Distort > Wave i upotrijebite sljedeće postavke da kreirate veliki val.
Number of Generators: 10
Wavelength Min/Max: 199, 200
Amplitude Min/Max: 5,6
Scale: 100%

Zatim držite Alt-Shift-Down Arrow tipke da izradite mnogo slojeva valova, u smjeru prema dolje. Pomoću Merge značajke sjedinite zajedno sve slojeve valova. Upotrijebite Crop Tool (C) da obrežete radnu površinu za crtanje tako da kreirate jedan pravokutni okvir izvan kojeg s obje strane vire valovi jednake dužine.
Duplicirajte sloj vala pet puta. Za svaki sloj, dodajte deblju Stroke liniju (1 px nadalje) koristeći Blending Options, prije nego što Rasterizirate sve stilove slojeva (Layer Style). Zatim idite na Edit > Define Pattern da pohranite svaki val kao jedan zaseban uzorak.
Otvorite svoju sliku. Ja ću koristiti ovu sliku portreta, "Woman Portrait". Izradite na brzinu Action Group i Action Set za svoj efekt. Kada ste spremni snimiti sljedeće korake, kliknite Record gumb. Držite Control-J da duplicirate svoju fotografiju pet puta. Za svaki sloj koji imate, idite na Image > Adjustments > Threshold. Počnite sa niskom razinom za prvi sloj, i povećajte zatim Threshold za svali duplikat, barem 20 px više od posljednjeg.

Primijenite Fill svakog uzorka koji ste ranije kreirali na svoj vlastiti novi sloj (New Layer). Rotirajte nekoliko slojeva za veću raznolikost valova. Na kraju, selektirajte svoj prvi threshold sloj i idite na Select > Color Range, mijenjajući glavnu opciju u Shadows. Sa selektiranim sjenama, otkrijte vidljivost jednog od slojeva valova i kliknite Layer Mask gumb da kreirate savršenu masku. Ponovite to za svaki sloj prije nego što obrišete threshold slojeve.

Ne zaboravite kliknuti Stop gumb na Actions kartici da pohranite ovu akciju za buduće fotografije.

Ovo je konačni efekt.

Možete dodati i mrvicu zelenog tona za više raznih varijacija.

5 Photoshop Akcija za Graviranje
Kratki ste s vremenom? Primijenite instant efekt gravirane novčanice na vaše fotografije odabirući jednu od izvanrednih Photoshop Akcija dostupnih na Graphic River-u. I pogledajte ispod nekoliko naših favorita!
Izradite fenomenalan efekt gravirane novčanice u kratkom vremenu, sa ovim korisnim kompletom akcija. Komplet uključuje sedam impresivnih akcija koje na vaše fotografije primjenjuju različite razine detalja. I "cool" efekte boja i još mnogo više sa ovim preuzimanjem prepunim resursa!

Odlična za sve dizajne naslovnica ili eksperimentalne fotografije, ova akcija vam omogućuje da brzo izradite valoviti gravirani efekt! Samo kliknite Play gumb na Actions kartici i uživajte u efektu u nekoliko kratkih klikova!

Za više raznolikih tipova linija koje biste željeli postići, pogledajte ovu prekrasnu Photoshop akciju. Akcija je izrađena da podržava višestruke Photoshop verzije, stoga je testirajte na vlastitim fotografijama, bez obzira na verziju vašeg softvera.

Transformirajte bilo koju fotografiju sa samo jednim klikom! Dodajte prekrasne tonove svojem efektu ili zadržite originalne boje s fotografije za više opcija. Ovaj komplet akcija sadrži tri profesionalne akcije sa raznim razinama debljine linija. Birajte između tanke, srednje i podebljane linije da ih uskladite s vašim unikatnim stilom.

Zakoračite nazad u prošlost sa ovom izuzetnom Photoshop akcijom. Ova akcija kreira lude efekte graviranih novčanica koje su istinski rivali pravim pravcatim novčanicama! Uživajte u akciji sa tri razine dubine da dobijete razinu detalja koju želite.

60 Sekundi?!
Ovo je dio serije kratkih video tutoriala na Envato Tuts+ u kojoj vam predstavljamo niz tema, sve u 60 sekundi - taman dovoljno da vam potaknemo apetit. Pišite nam u komentarima vaša mišljenja o ovom videu i javite nam što biste još željeli da vam objasnimo u 60 sekundi!
Want a weekly email summary?
Subscribe below and we'll send you a weekly email summary of all new Design & Illustration tutorials. Never miss out on learning about the next big thing.
Sign up
Digital Artist - CT, USA
I'm an Afro-Latina digital artist originally from Long Island, NY. I love to paint, design, and photo manipulate in Adobe Photoshop while helping others learn too. Follow me on
Instagram
or tweet me
@MelloNieves
and tell me what you'd like to see next!
One subscription. Unlimited Downloads.