Melody Nieves
फोटोशॉप 60 सेकंड की श्रृंखला में आपका स्वागत है, जिसमें आप केवल एक मिनट में एक फ़ोटोशॉप कौशल, सुविधा या तकनीक सीख सकते हैं!
60 सेकेंड में फ़ोटोशॉप: ट्रेंडी हिपस्टर इफेक्ट
हिपस्टर्स स्वच्छ, जीवंत रंगों से प्यार करते हैं! और आप फ़ोटोशॉप एक्शन के साथ आसानी से अपनी तस्वीरों के लिए रंगीन प्रभाव बना सकते हैं। नीचे दिए गए इस त्वरित वीडियो में, मैं आपको दिखाऊगा कि कैसे एक जीवंत, हिप्स्टर(hipster) - प्रेरित फोटो फिल्टर बनाऐ और इसे एक कस्टम कार्रवाई में बदल दें।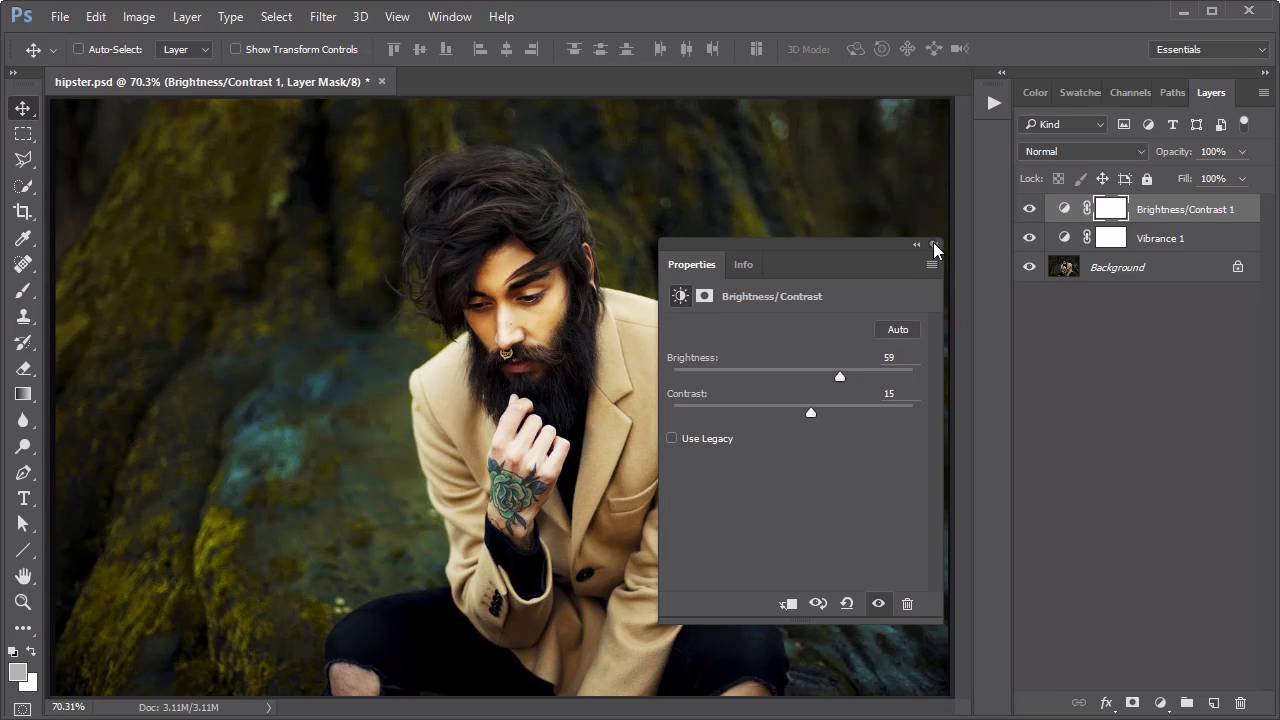 फ़ोटोशॉप में एक हिपस्टर फ़िल्टर क्रिया(ऐक्शन) कैसे बनाऐ
फ़ोटोशॉप में अपनी तस्वीर खोलें। यहां मैं इस पुरुष स्टॉक का इस्तेमाल करूँगा।
अब अपनी  क्रिया सेट करें। क्रिया पैलेट तक पहुंचने के लिए विंडो > क्रिया पर जाएं। अपऩे ऐक्शन का फ़ोल्डर बनाने के लिए, नई क्रिया सेट आइकन पर क्लिक करें, और फिर नई क्रिया का चयन करें और इसे "हिपस्टर" नाम दें। एक बार जब आप आगे बढ़ने के लिए तैयार हों, तो अपना अगला कदम रिकॉर्ड करने के लिए रिकॉर्ड बटन पर क्लिक करें।

परत पर जाएं> नया समायोजन परत> वायब्रंस। वायब्रंस को 83 और संतृप्ति को 0 पर सेट करें।फिर चमक और कंट्रास्ट के लिए एक नया समायोजन परत जोड़ें। चमक(ब्राइट्नस) को 59 और कंट्रास्ट को 15 सेट करें।

ग्रेडियंट मानचित्र के लिए अंतिम नई समायोजन परत जोड़ें।एक ढाल(ग्रेडीअन्ट ) चुनें, जो नीले #1e13b4 से सफेद मे बदले। लेअर ब्लेंड मोड को पिन लाइट सेट करें और अपारदर्शिता को 50% कम करें।
खत्म करने के लिए, एक नई परत बनाएं और नरम दौर ब्रश का उपयोग करते हुए, एक तरफ पीला और दूसरे पर बैंगनी रंग भरे 0% कठोरता पर।परत ब्लेंड मोड को रंग में सेट करें और अपारदर्शिता को 25% नीचे लाएं।

जब आप समाप्त हो जाऐ, तो क्रिया पैलेट पर रोकें और भविष्य की परियोजनाओं के लिए अपनी नई क्रिया को बचाएं(सेव)।

यहां अंतिम परिणाम है।
5 रंगीन फ़ोटोशॉप एक्शन
अधिक क्रिया चाहिए? अद्भुत रंग प्रभाव और अधिक के लिए, ग्राफिक्रिवर और एन्वाटो तत्वों के माध्यम से आपके लिए उपलब्ध फ़ोटोशॉप कार्रवाइयों के अद्भुत चयन को ब्राउज़ करें।और नीचे हमारे पसंदीदा में से कुछ देखें!
अपनी तस्वीरों को कला के एक अमूर्त काम में बदले! यह अद्भुत क्रिया असीमित परिणामों के साथ शानदार प्रभाव पैदा करता है और फ़ोटोशॉप के कई संस्करणों पर परीक्षण किया गया है। इस डाउनलोड में अच्छी तरह से संगठित परतों और एकाधिक रंग विकल्पों का आनंद लें।

इस अद्भुत ग्रेडीअन्ट क्रिया(क्क्शन) के साथ अपने स्वफ़लों के लिए अद्भुत ऊर्जा जोड़ें।इस क्रिया से चुनने के लिए 50 से अधिक ग्रेडिएंट प्रभाव के साथ तेजस्वी duotone प्रभाव बनाता है। यह फ़ोटोशॉप के अंग्रेजी संस्करण के साथ सबसे अच्छा काम करता है और दोनों CS6 और CC के साथ संगत है।

इस खूबसूरत स्पेक्ट्रम एक्शन के साथ अधिक मन-उड़ाने ग्रेडीअन्ट का आनंद लें। यह क्रिया स्मार्ट फ़िलर्स पर आधारित है, टोन के साथ अधिक समायोजन के लिए कमरा और ऐक्शन के बाद विवरण दिया गया है। इसमें निर्देशों के लिए एक ऐक्शन और आसानी से अनुमोदन सहायता मार्गदर्शिका शामिल है।

ग्रीष्म के लिए तैयार?फ़ोटोशॉप कार्यों के इस अद्भुत सेट के साथ अपना फोटो गेम बढ़ाएं। गर्मी और छुट्टी रहने वाले सुंदर, गर्म रंगों से प्रेरित 25 प्रीसेट विविधताओं में से चुनें। उपयोगी निर्देशों के साथ शामिल है, आप जल्द ही अद्भुत फ़ोटो के साथ अपने समय पर ही रहेंगे!

इस शांत एचडीआर(HDR) फोटोशॉप एक्शन के साथ असाधारण विस्तार और सिनेमाई नाटक बनाएं। अपनी फ़ोटो को संपादित करने के लिए इस गैर-विनाशकारी तरीके का आनंद लें, जो कई भाषाओं में भी उपलब्ध है।

60 सेकंड?!
यह एनवाटो टुट+(Envato Tuts+) पर त्वरित वीडियो ट्यूटोरियल की एक श्रृंखला का हिस्सा है जिसमें हम कई विषयों को प्रस्तुत करते हैं, जो कि 60 सेकंड में होते हैं-बस आपकी भूख को कम करने के लिए पर्याप्त है। हमें इस वीडियो के बारे में अपनी राय हमें टिप्पणियों में नीचे बताएं और आप 60 सेकंड में और क्या सीखना चाहेंगे!
Want a weekly email summary?
Subscribe below and we'll send you a weekly email summary of all new Design & Illustration tutorials. Never miss out on learning about the next big thing.
Sign up
Digital Artist - CT, USA
I'm an Afro-Latina digital artist originally from Long Island, NY. I love to paint, design, and photo manipulate in Adobe Photoshop while helping others learn too. Follow me on
Instagram
or tweet me
@MelloNieves
and tell me what you'd like to see next!
One subscription. Unlimited Downloads.