Melody Nieves
Willkommen zu unserer Photoshop-Serie in 60 Sekunden, in der Sie in nur einer Minute eine Photoshop-Fertigkeit, -Funktion oder -Technik erlernen können!
Heldenbilder & Szenengeneratoren

Heldenbilder sind größere Banner, die im Webdesign als zentraler Fokus Ihrer Website verwendet werden. Sie ziehen Besucher in Ihre Arbeit ein und bieten ein großartiges Bild davon, was Sie als Nächstes erwartet.

Erfahren Sie in diesem kurzen Video mehr über Heldenbilder und wie Sie sie erstellen.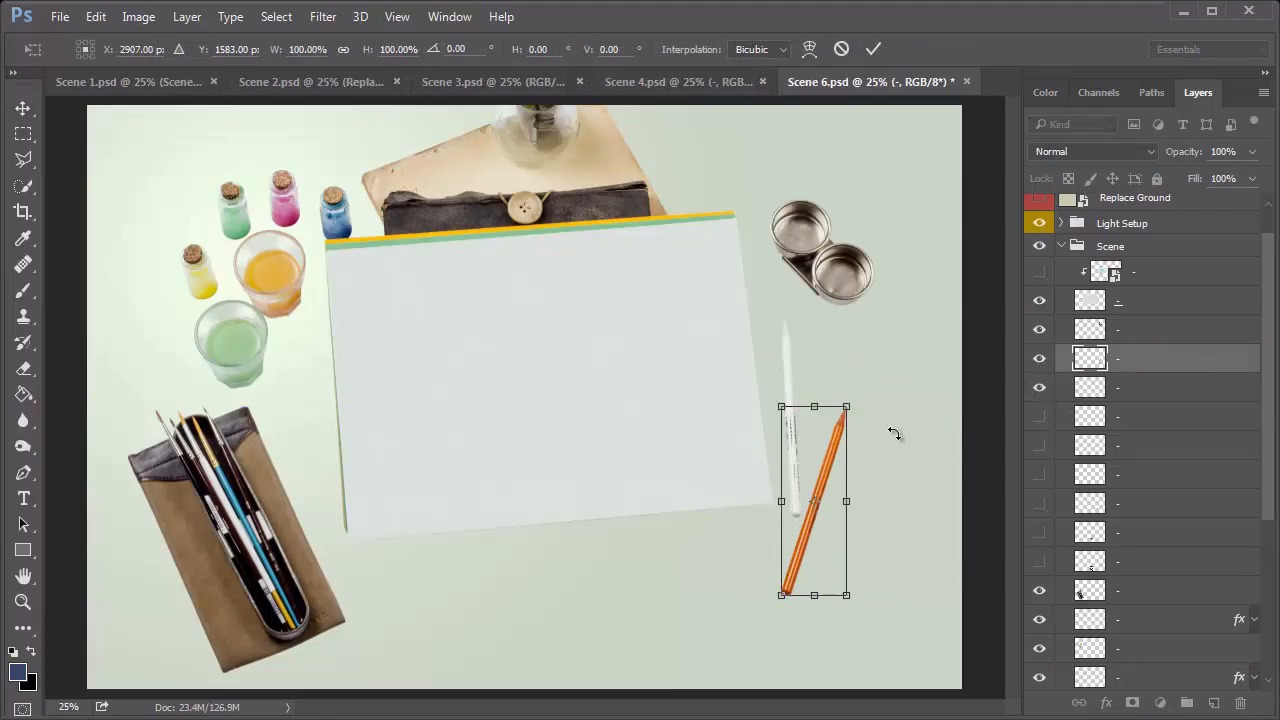 Was ist ein Heldenbild?
Ein Heldenbild ist ein Begriff, der im Webdesign für den beliebten Trend verwendet wird, ein großes Bannerbild vorne und mittig auf jeder Website zu platzieren. Dies ist der perfekte Weg, um Ihre Besucher Ihnen sowie Ihre Kunst und Designs vorzustellen. Und um diese atemberaubenden Bilder zu erstellen, können Sie direkt auf dem Envato Market aus einer Vielzahl von Szenengeneratoren auswählen.
Öffnen Sie die Dateien für den Szenengenerator Ihrer Wahl in Adobe Photoshop. Hier können Sie mit den enthaltenen Assets Ihre eigene Szene erstellen oder aus einer Auswahl vorgefertigter Designs auswählen.
Schalten Sie die Hintergrundtexturen aus, optimieren Si die Beleuchtung und das gesamte Farbschema mit Anpassungsebenen und passen Sie Ihre Heldenbilder noch weiter an, indem Sie Ihre eigene Kunst in die anpassbaren intelligenten Objekte legen, um eine persönlichere Note zu erzielen.
Wenn Sie ein Neuling im Entwerfen sind, können Sie Ihre eigenen Heldenbilder mit der Vielzahl von Szenengeneratoren von Envato Market erstellen. Kombinieren Sie Details oder verwenden Sie vorgefertigte Szenen, um die perfekten Banner-Designs zu erstellen. Mit diesem Aquarell-Mockup-Szenengenerator können Sie diese speziellen Szenen selbst ausprobieren.

Ein bisschen mehr Details
Weitere Informationen zu Adobe Photoshop finden Sie unter Envato Tuts+:
60 Sekunden?!
Dies ist Teil einer Reihe von kurzen Video-Tutorials zu Envato Tuts+, in denen wir eine Reihe von Themen in 60 Sekunden vorstellen - gerade genug, um Ihren Appetit anzuregen. Lassen Sie uns in den Kommentaren wissen, was Sie von diesem Video gehalten haben und was Sie in 60 Sekunden noch erklären möchten!
Digital Artist - CT, USA
I'm an Afro-Latina digital artist originally from Long Island, NY. I love to paint, design, and photo manipulate in Adobe Photoshop while helping others learn too. Follow me on
Instagram
or tweet me
@MelloNieves
and tell me what you'd like to see next!
One subscription.
Unlimited Downloads.