Kezz Bracey
The award-winning Affinity Designer is one of the most powerful yet user-friendly vector design applications to emerge in recent years. These two strengths are the reason its popularity grows by the day. 
Are you wondering where to get professional Affinity Designer assets? Are you a graphic designer who uses design software daily? Envato Elements is the best option for you.
This subscription-based marketplace has premium Affinity Designer assets such as graphics, graphic templates, add-ons, and fonts. If you also work with the Adobe suite or if you need premium fonts, you'll find everything you need on Envato Elements. You'll enjoy unlimited downloads of all these creative assets for a low monthly fee.
But what if you prefer to buy Affinity Designer templates one at a time? Or if you're looking for Affinity Designer assets free to try? We've got you covered. We also feature top Affinity Designer assets to buy individually, and a few Affinity assets free from the web. 
And if you're just starting to use Affinity Designer, don't worry. We've got some of the best Affinity Designer tutorials after the Affinity Designer templates. 
As you'll see, this post is packed with resources. Whether you're just getting into using the software or you're already a dab hand, you're sure to find something you'll love in our collection below.
30+ Affinity Designer Assets From Envato Elements
Let's begin with a collection of 30 awesome resources like paper texture Affinity Designer kits, Affinity Designer brushes, Affinity Designer game assets, and more. All of these Affinity Design assets are available with your subscription.
You'll find a variety of Affinity Designer icon assets and textures from Envato Elements that you can keep handy for your creative projects. They come in a variety of styles and will produce results that have clients from every industry happy.
Are you looking for a complete paper texture Affinity Designer pack? This Affinity Designer assets kit comes with 42 paper textures in a native Affinity document. You just need to import the file to your app, open it, and it's ready to use.
You'll get 8 paper textures, 20 watercolor textures, and 12 acrylic textures for your projects.
This Affinity Designer asset is a business illustration for web and mobile design. You see user interface designers helping each other to build a landing page. This editable vector illustration works great on any design project.
Are you looking for cool Affinity Design assets for your Instagram? Check out this pack of Instagram stories templates. You'll get five fully editable and customizable Affinity Designer templates that also work in Photoshop.
If you're a graphic designer, you know how useful color wheels are. This Affinity Designer asset simplifies color palette choosing. You just need to rotate the wheel to get palettes supported by color theory. This color wheel works for Photoshop, Illustrator, and Affinity Designer.
Affinity Designer icon kits like this will make your work more complete. If you want to make a change in your designs and projects, then these 264 diversity avatars will be perfect for you!
These Affinity Designer icon assets are fully customizable. Use them for websites, apps, brochures, and more.
Are you in the process of designing a book cover? You need Affinity Designer templates like this one. This book cover mockup is compatible with Photoshop and Affinity Designer. It's 3000x2000 px and is easy to use.
This beautiful Affinity Designer assets kit is inspired by hand-written letters. Create beautiful designs and invitations with these Affinity Designer templates. You'll get:
25 flower and leaf illustrations
16 ink splotches and splatters
3 beautiful foil textures (10 x 10", 300 DPI)
Paper texture Affinity Designer kits are a must-have. This pack of Affinity Design assets has over 20 artistic paper textures and torn paper shapes as well. Use them to add texture to your designs in seconds. You'll get:
7 Light Terrazzo Paper Textures (JPG)
7 Earth Tone Paper Textures (JPG)
6 Noire Terazzo Paper Textures (JPG)
12 Torn Paper Shapes (AI+EPS+PNG)
9. Isometric Device Icons (AI, EPS, FIG, PDF, PNG, PSD, SVG, AFDESIGN)
Affinity Designer icons always come in handy. This cool Affinity Design asset pack comes with 25 isometric icons that look perfect in 128px, 256px, 512px, or bigger. The Affinity Designer icon assets come in two color schemes: blue and black.
This collection of patterns and shapes for Affinity Designer comes with over 180 individual elements.
Use the versatile patterns for packaging and branding projects, web design, wedding invites, stationery, and more. The Affinity Designer templates included are:
64 Geometric Shapes
32 Circles and Dot Grids
40 Doodle Shapes (plus 4 seamless pattern swatches)
49 Organic Shapes
In this concept kit, you'll get eight complete robots, each one unique and fully editable. Along with that, you'll receive a fully vector-based hangar and blueprint posters for all your robots.
This is one of the coolest Affinity Designer game assets. This game creation kit will get your racing or SHMUP game off to a flying start with three complete ships, a GUI for your HUD and controls, and four different background images. All the ships are layered, so you can easily mix and match elements to create new and unique extra ships.
Need tree branches? Get 20 beautifully hand-crafted vector branches with full Affinity Designer compatibility in this pack. Put them to work in logos, games, or anything else that springs to mind.
This beautiful pack of 49 hand-illustrated feathers presents all kinds of creative possibilities. Every kind of feather you could imagine is included in this collection.
These 20 wood grain vectors were hand-illustrated with a fine pen and brush pen on paper, and then vectorized to give you all the scaling and editing you might need. It's a really cool Affinity Designer texture fill to have.
Put together any kind of floral foliage you might need with this collection of leafy branch illustrations. An .afdesign file is included, so you know you have full Affinity Designer compatibility for editing and coloring.
These bright and colorful game icons will liven up your game or gaming website. The Affinity Designer game assets kit includes 21 icons, illustrating everything from cupcakes and donuts to coins and trophies.
Populate your kitchen-themed project with these retro appliances, perfect for cooking websites and apps. This Affinity Designer icon asset kit includes a toaster, blender, and mixer, and each illustration comes in two different pastel color schemes.
This room scene creator kit is chock full of assets you can assemble into as many different rooms as you please. You'll get 16 padded chairs and couches, 13 chests and drawers, 7 shelves and desks, 11 desk chairs, 7 clocks and wall attachments, 19 plants, lamps, and other decorations, 7 monitors and other desktop items, and 10 coffee cups and other desktop foods. All items can be easily recolored, making for endless possibilities.
If you're looking for a logo that combines symbolism for creativity and technology, get yourself a copy of this CMYK print-ready vector logo.
These two ships are organized in a highly modular way, with separate decals, flames, nuts & bolts, and lasers, making it easy to work with these illustrations for animation and customization.
Artista is a pack of useful Affinity Affinity Design assets including brushes and textures. Each of the 60 brushes offers its own artistic touches to help you complete your creative projects. You'll find useful variations of pencils, dry brushes, sprays, and pens in this bundle. There are also grunge textures included, as well as a help file.
With more than 650 Affinity Designer assets, Graphic Beats is a massive bundle perfect for your personal library. There are strokes, bubbles, swooshes, and plenty more assets you'll find useful. The lighthearted and fun brush style can be used for posters, social media ads, and more.
If you're looking for some fresh Affinity resources that have a personal touch, try out this pack of hand-drawn brushes. This bundle includes 20 pixel and vector Affinity Designer brushes across multiple styles.
Bring your art to life with this bundle of Affinity Designer brushes. You'll find 35 brushes that include the following styles and more:
seven scatter brushes
seven pressure brushes
seven hatch brushes
The 120 brushes found in Ink Age were all created by hand, and that detail shines through in their quality. Each brush adds a professional ink look without coming off overly polished. If you need Affinity Designer assets with a hand-drawn look, you'll love Ink Age.
This Affinity Designer texture fill kit delivers a realistic pastel look, perfect for illustrations. You'll love experimenting with the different brush strokes and styles of the 43 included Affinity designer brushes.
You can find dots, lines, pats, waves, hatches, and more in the Lighthouse Liner download. This pack of Affinity Designer assets brings you 100 resources split between brushes and patterns. Try it for sketches and marketing materials.
Authentic pencil brushstrokes are plentiful online, but very few match up with Perfect Pencils. This set includes 12 high-quality Affinity Designer pencil brushes. They even come in different lead grades! Perfect Pencils also delivers six colored brushes for more flexibility.
Is it ironic that vintage art doesn't go out of style? Probably not, but that doesn't change the fact that Finest Vintage is a fine addition to your collection of Affinity Designer brushes. Try out this bundle's cross-hatch pen and ink brushes for that authentic, old-school art in your creative projects.
A little Latin feel and swagger go a long way with this pack of Cuba brushes. Designed for Illustrator and usable in Affinity, the Cuba bundle features 31 handmade art brushes. You can easily add quality, textured brush strokes to your personal art and professional work.
5 Affinity Designer Assets From GraphicRiver
If you don't like subscriptions and you just need a single Affinity Designer asset, GraphicRiver is the place to visit. This is a single-purchase marketplace, part of the Envato family. Here you'll find the same professional Affinity Designer templates, without needing a subscription. Here are some of our favorites:
This Affinity Designer game assets kit provides everything you need to kick off the creation of your platform game. Included are animated character sprites, a set of ground tiles, crystal and coin pickups, foliage props, and background images.
Perfect for a T-shirt but versatile enough to be used for any purpose, this CMYK print-ready skull illustration is fully customizable, from the colors to the text.
Put together beautiful birthday invitations, unique cards, and anything else you might need for a festive occasion with this colorful Affinity Designer icon assets set. Included are illustrations of gifts, party hats, cakes, balloons, and more.
Working on a medieval-themed game, site, or set of illustrations? This flat, colorful castle, which comes in both day-lit and night-lit styles, will fit right in.
This set of Affinity Designer icon assets is huge, containing 160 items in total, with each icon available in both light and dark colors. These line-style icons are great for any website or mobile app.
3 Affinity Designer Assets Free From the Web
Now, if you're starting to use Affinity Designer, you might not feel ready to invest in premium Affinity Designer assets just yet. In that case, here are a few Affinity assets free to try from the web. While Affinity Designer assets free are tempting, just remember these don't offer the same quality and features as those from the Envato family.
Cartoonists and line artists will be delighted with these free comic brushes. You'll get four brushes that simulate pencils and four inking brushes. No more undoing and redoing to get the perfect stroke—just put your line down once, and then adjust it as required. On top of that, the brushes are pressure- and rotation-sensitive. Not bad for free assets.
Vector illustration and traditional "Monet"-like painting might not have seemed like two things that could go hand in hand, but thanks to these free assets, you can now fuse these previously separate worlds of art with brushes.
This is a very clever, and totally free, tool for creating color palettes in Affinity Designer. You simply set some base colors by applying "Color Overlay" styles to some specified groups, and the template will automatically display a range of blended colors for you to sample and add to your color palette. This template is one of many free assets that are sure to come in handy for every artist.
Affinity Designer Tutorials and Courses
Looking to learn more about working with Affinity Designer? We've got you covered with these three courses.
If you're brand new to Affinity Designer, this course will get you up and running fast. You'll learn how to work with the vector persona, navigate the interface, control color, fill, and stroke, use the pixel persona, create interactions between shapes, use effects, styles, pressure, and velocity, and use the export functions and persona. Plus you'll get bonus lessons on typography, artboards, constraints, symbols, and the assets panel.
You can find similar video lessons and guides for other programs on our Envato Tuts+ YouTube channel. 
This course brings together two powerful but cost-effective resources, Affinity Designer and Envato Elements, and shows you how to leverage them to create an entire branding package on a budget. You'll create a logo, branding colors, website, social media covers, business cards, and promotional flyers, all using Affinity Designer.
This course will step you through how to create flat vector icons in Affinity Designer. By the time you're done, you'll have created icons illustrating a shopping bag, discount badge, coathanger, shopping basket, dress, and cargo truck, all in colorful flat style.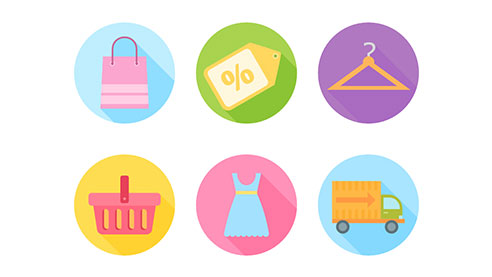 Free Affinity Designer Video Tutorials
While not every course found above is free, you can still find learning Affinity resources without getting out your credit card. The Envato Tuts+ team has excellent YouTube video guides and tutorials to help you improve your Affinity Designer skillset on our channel.
1. A to Z of Affinity Designer: Tips, Tricks, and Hacks!
Affinity Designer might be the best overall graphics application package on the market right now. Here you'll see 26 of its standout features, unique strengths, useful tools, and tips & tricks.
2. How to Use Isometric Drawing Tools in Affinity Designer
Affinity Designer added isometric drawing tools in the 1.7 update. Working with them is not as daunting as it looks, especially with this tutorial.
3. How to Use New Affinity Designer 1.7 Features
The features included in the Affinity Designer 1.7 update are all very useful. If you want to learn where to find them and how you can use them, check out the video below.
4. Illustrator Alternatives: Affinity Designer, Inkscape, and Figma
Adobe Illustrator is a powerful program, but there are other options that can help you complete your projects. In this video breakdown, learn about three popular Illustrator alternatives and the features each of them have!
5. Everything You Need to Know About Affinity Designer Brushes
Downloading Affinity Designer brushes is a great first step, but there's still more to learn about them. Learn everything about brushes in Affinity Designer with this video, including:
how to set up and use vector brushes
how to install or save brush packs
how to use Photoshop and Illustrator brushes in Affinity Designer 
6. How to Create Patterns in Affinity Designer
Patterns are a useful design element that can transform illustrations, cover art, posters, and other creations. While you can download many patterns online, this tutorial will teach you how to create them for yourself.
7. How to Set Up Grids in Affinity Designer
Grids are a key feature in design software, and they're included in Affinity Designer. If you haven't set them up and don't know how, this guide will walk you through the process.
8. Branding on a Budget With Envato Elements and Affinity
Proper branding isn't all about seven-figure budgets. You just need to combine your talent with the right Affinity resources. This is a full, free branding course from Envato Tuts+ that will help you create the brand your ideas deserve.
10 Awesome Affinity Designer Tutorials
What better way to finish off our roundup than with some more learning resources? Here are ten of our free tutorials to help you master Affinity Designer.
Editorial Note: This post has been updated with contributions from Maria Villanueva. Maria is a staff writer with Envato Tuts+.
Want a weekly email summary?
Subscribe below and we'll send you a weekly email summary of all new Design & Illustration tutorials. Never miss out on learning about the next big thing.
Sign up
Hi there. I'm a designer & coder who works in the areas of web design / development, game development and digital art. In the web space I'm a front end all rounder but I have a particular specialization in theme creation, no matter the platform. I also love finding the latest most efficient, user focused design and dev techniques of the day. In game development I'm addicted to playing with every different engine, toolset and framework I can find. In digital art I love everything from painting to vector work to pixel art to 3D modelling. In short, if it's creative and you can make it digitally, I love it.
Scroll to top
Start your 7-day free trial*
*All Individual plans include a 7-day free trial for new customers; then chosen plan price applies. Cancel any time.