Nona Blackman
Let's face it, sometimes even the most creative of souls among us hits a dry spell, but when this happens to you, you can feel like the only person on earth it has ever happened to. Well, here's a little secret. The best solution to heading off these dry spells is to prepare for them by building a toolbox of design ideas and templates you can turn to, to get your creative juices flowing again. 
To get you started, here are the 27 best flyer design ideas for you to add to your toolbox. All of the flyers I'm featuring here have been created using an awesome flyer maker with photo (my term for flyers that build their effectiveness around great photos), found at Placeit. Now, Placeit is one of the largest collections of flyer templates on the internet, and it's a great resource for helping you create the best flyers in the shortest time possible. 
So if you've been wondering how to make a flyer online, you should check it out. For a single affordable monthly fee, it also helps you make a bunch of other really cool and useful stuff, which you can download and reuse as often as you like, so it's a good idea to add it to your toolbox as well. 
Follow along with us over on our Envato Tuts+ YouTube channel:
Flyer Design Ideas and Tips
Use a good-quality photo. Bright, beautiful photos attract attention and work well in advertising.
Use a large header. A big phrase is easy and fast to read, and your flyer will work better.
Don't forget the main message of the flyer. A beautiful photo alone is not enough; your audience must understand exactly what you want to say.
Don't forget about the necessary information: the date and place for the party, contacts, and phone for the store. The audience must know where to go for the goods or services.
Remember the style. A delicate handwritten flyer is perfect for announcing a wedding but is unlikely to be appropriate for announcing a rock concert. The easier it is to read the main message, the better your design will work.
How to Use an Online Flyer Maker
There are a lot of great flyer designs at Placeit. And, the most important, it is very easy to use these templates! 
1. Select the template from the many flyer designs
Open the Flyer templates section or select one of the templates below. On the right is the choice of theme, you can choose the theme you are interested in and select the perfect flyer.
2. Use the flyer generator to customise your design
Click on the selected template and the flyer editor will open. It is very easy to use. Edit the text in the toolbar on the right or change the logo and photo in the toolbar on the left. You can upload your photo or your logo by clicking on the caption "Custom image".
3. Download your flyer design ready to print
Click on the download button and select the appropriate plan. All done, your flyer is ready to print! In a couple of minutes, you have made a professional-looking design.
27 Best Flyer Design Ideas Using a Flyer Maker With Photo
If you're looking for flyer design ideas for a charity or non-profit, this Non-Profit Flyer template is a great place to start. First, it gives you the ability to upload a powerful, iconic photo to get the attention of your audience. Next, it offers a great selection of bold fonts designed for a simple, powerful, eye-catching message overlay. 
It also provides a selection of reading fonts for a longer explanatory message and a good selection of icons you can use or swap out for an organisation's own logo. 
Here's some flyer design inspiration for creating a gorgeous interior design flyer. The Interior Design Flyers template uses an interesting geometric pattern created from squares to arrest the eye. The flyer template is super easy to customise—just enter your information in the flyer creator, choose a photo to feature on your flyer, select an icon from the graphic options available or upload your own, select your colour scheme, and you're ready to download and print. 
Plenty of people use their expertise in a given subject to tutor others, and they want their marketing flyers to look professional and attractive. The Design Tutoring Flyers template is the easiest and quickest way to accomplish that without using Adobe or other design programs. The template uses a structure of photo, colour bar and contrasting text to help you deliver your message in a simple but interesting way. 
Whether you're creating a flyer for a rock, jazz, pop, classical, reggae or other concert, the Concert Flyers template's design will make your flyer look fabulous. Just make sure you have a great mood-setting photo to add to the background, or use one of the excellent ones that come with the template. Then all you need to do is fill in the details of the concert, and you've got a flyer you can be proud of.
If you're trying to come up with great flyer design ideas for landscaping businesses, Landscaping Flyers has got you covered. The template uses photos of landscapes and flora and fauna, under a simple banner that highlights key pieces of information about the business. Definitely a winner. 
Check out the amazing design of the Wedding Planner Flyer Template to create the best flyers for weddings, engagement parties, and other important events. The flyer uses a wonderful combination of photos, gorgeous fonts, beautifully executed icons and subtle colours to create a polished and attractive final product.
In this article, I cover the best flyer design ideas for specific types of flyers, but what I like best about Basic Flyer Template to Design Modern Flyers is that you can use it to create just about any flyer you choose, from creative to business flyers and everything in-between. It features a stylish and clean design and gorgeous background images for any occasion. As is the case with the other flyer templates here, it is very easy to customise.
For party flyer design inspiration, look no further than Custom Party Flyer. Use the background photos to indicate what kind of party it is, e.g. a photo of cocktails would suggest a cocktail party, and gummy bears and jellybeans a kid's party. With the photo selected, all you need to do is modify the colour of the text banner to suit the theme, choose your font, and you've got the perfect party flyer. 
What makes the Sports Flyer Maker template so great is that everything about it communicates action. The photos of athletes in motion, the bold text and bright colour accents, and the awesome graphic flourishes that you can choose to overlay each template, all work together to make this a great flyer template.
If you're creating a flyer for food promotion, you want people to salivate when they see it. Happily, that's exactly what people are going to do when they see the flyers you make with the Food Flyer Maker. Not only does this template come with mouthwatering photos of food, but it has great graphics and strong, colourful fonts that call attention to the fact that there's a special discount or a new menu on offer. Definitely one for the toolbox. 
If you need to create a flyer for an event or convention, Event Flyer Maker for Conventions can help. The template and the presets below it give you plenty of examples of what makes a great Events Flyer. Customise it to add your own twist.
Stunning images of dancers in motion, choice placement of text and a large selection of colourful gradient overlays are the stand-out features of Contemporary Dance Flyer Maker. If you're looking for flyer design ideas to announce a dance competition or performance in a visually compelling way, look no further. 
There are many ways to communicate effectiveness in your house-cleaning flyers, and the House Cleaning Service Flyer Maker gives you a few great ideas. The clean, modern design is easy to customise to suit your message, and if you ever get stuck, just help yourself to one of the beautiful presets that come along with the template.
The best flyers for travel agents, hotels, tour operators and others working in the travel industry promise fun, relaxation, adventure and/or discovery. Flyer Maker App for Vacation Packages says all these things. Take a look. I dare you not to be captivated.
Flyers for summer camp are another genre of flyers that need to communicate exuberance if they're going to attract kids and entice parents. Summer Camp Flyers keeps the emphasis on fun with great images and playful text in vibrant banners.
If you're looking for flyer design ideas for a sales event, Online Flyer Maker for Promotion Flyers has you covered. This template uses the three components of a great sales promotion well: great images of exuberant or stylish customers, bold text to announce the offerings, and vibrant colours and patterns. 
Halloween comes every year, so be ready to create scary Halloween Party announcement flyers with the Halloween Party Flyer Maker. The template provides all those wonderfully macabre photos that you need, as well as fonts that hint at dark pleasures to be had. 
Looking for an innovative approach to designing a flyer for selling merchandise like jewellery and watches? The Jewelry Store Flyer Design Template combines great photos with a cool grid pattern to create a standout flyer.
Casting Flyer for Dance Auditions helps you create the perfect audition flyer for dance, theatre, modelling and other performance-related roles. With this Flyer Creator template, you have the usual choice of font styles and wonderful background photos, but also a terrific selection of colourful banners, all of which can be customised.
Create an amazing flyer to promote bars and cocktail lounges in a matter of minutes with Online Flyer Maker for Drink Promos. Use the background colour feature to highlight the colourful images of exotic-looking cocktails and pints of cold beer. 
Gym Flyer Maker for Fitness Classes is a great template for designing the best flyers for a fitness business. This template and its presets offer gorgeous images of bodies exercising, vibrant colours, and bold, eye-catching fonts. Perfect for gyms, fitness centres, yoga studios, or any other fitness business. 
Design Architecture Flyers is a gorgeous flyer maker template that is perfect for businesses related to the design or construction of buildings. The template is versatile, eye-catching, and of course very easy to customise. 
Creating flyers for car dealerships, auto repair shops and related businesses has never been easier. Take a look at the Auto Repair Flyer Maker for Auto Shops template and you'll see what I mean. All you need to do is select a background image or upload one, type in the relevant information, and your professional automotive flyer is ready to be printed.
One of the best flyer templates for real estate businesses, Design Real Estate Flyers stands head and shoulders above the competition. Aside from the stellar layout, great images, and large font selection, the template includes a number of beautifully designed icons which add a nice touch to the design.
A wonderful flyer template that uses shapes in an interesting and engaging way, Online Flyer Maker for a Recruitment Agency can be used to create flyers for recruitment agencies but is equally suited for other types of flyers as well. 
Desperate for flyer design ideas to create the best flyer for a barber shop? Look no further than the Barber Shop Flyers template. This well-thought-out template will have you producing your own fabulous flyers for local barber shops in no time. 
A simply wonderful template for some flyer design inspiration, Organic Market Flyers is packed full of organic and eco-friendly graphics including fruits, vegetables, plants, and flowers. It's just perfect for advertising produce, farmer's markets, and anything else dealing with fresh and wholesome food. 
Time to Put These Flyer Design Ideas to Work
So there you have my 27 best flyer design ideas using a flyer maker with photo. If you're looking for more flyer design inspiration, there are tons more amazing flyer templates available at Placeit. I'd love to know your favorites, so leave a comment below and tell me which flyer templates are going into your toolbox. Can't wait to see what you choose.
Want to Know More?
Here are some other articles to help you make other designs.
Prefer to use Photoshop? Try our free course on how to make a flyer in Photoshop. Melody Nieves walks you through every step, making it easy for you to follow along.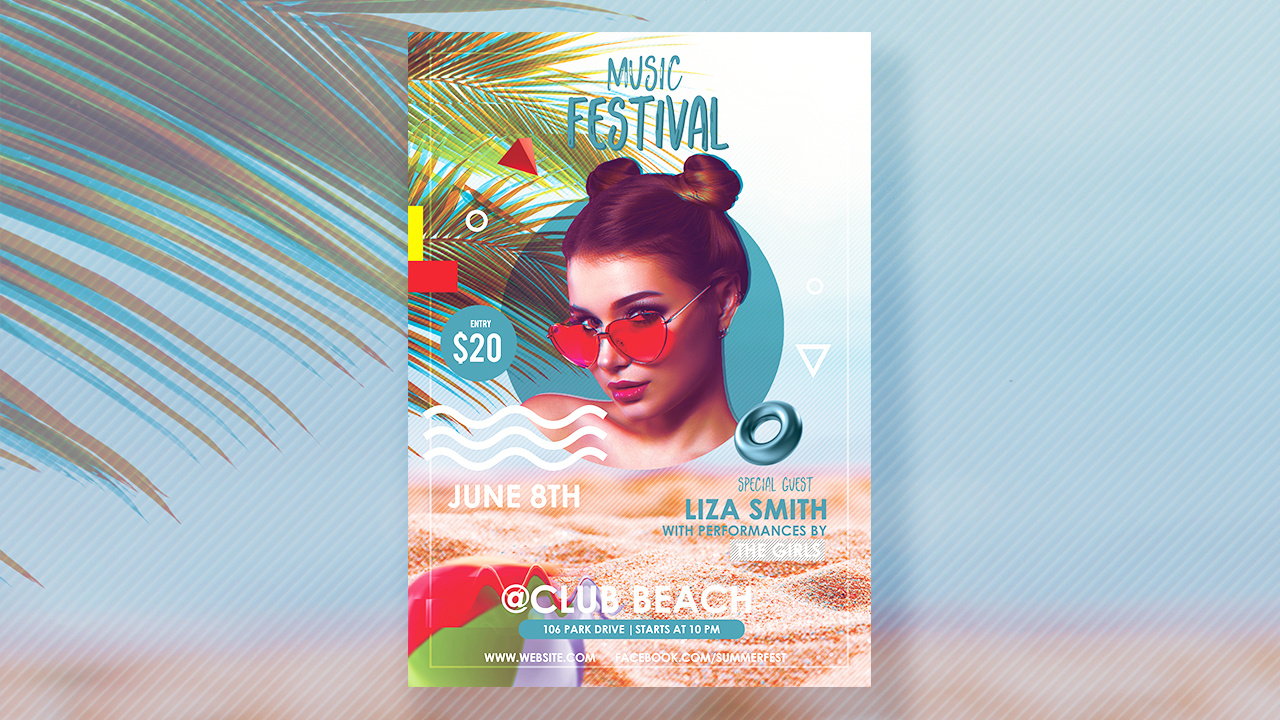 Want a weekly email summary?
Subscribe below and we'll send you a weekly email summary of all new Design & Illustration tutorials. Never miss out on learning about the next big thing.
Sign up
Copywriter
Nona Blackman began her freelance copywriting career with Envato in 2017. Since then she has written over 600 articles for the Envato Tuts+ Design & Illustration, Photography & Video, Web Design, Code, Music & Audio, 3D & Motion Graphics, Business and Computer Skills sections, as well as the Envato Blog and the Envato Medium account. Blackman holds a Bachelor's degree in English from the University of the West Indies, a Master's of Fine Arts in Photography, Video and Digital Design from the School of Visual Arts in New York City, and a Postgraduate Certificate in Education from the University of Westminster in London.
One subscription. Unlimited Downloads.