Melody Nieves
Are you new to Photoshop? We're here to help!
Learning Photoshop takes time, and there are so many things I wish I knew when I first started. So today, I'm bringing you ten helpful tips to make designing with Photoshop a whole lot easier! Learn about essential tools and tricks any beginner can master.
Begin your journey with a template! Sign up to Envato Elements to unlock thousands of premium templates, photos, and more.
Or why not learn how to use Photoshop the easy way, by watching three hours of detailed video instruction taking you through every aspect of the software, from layers and masks through to retouching and exporting.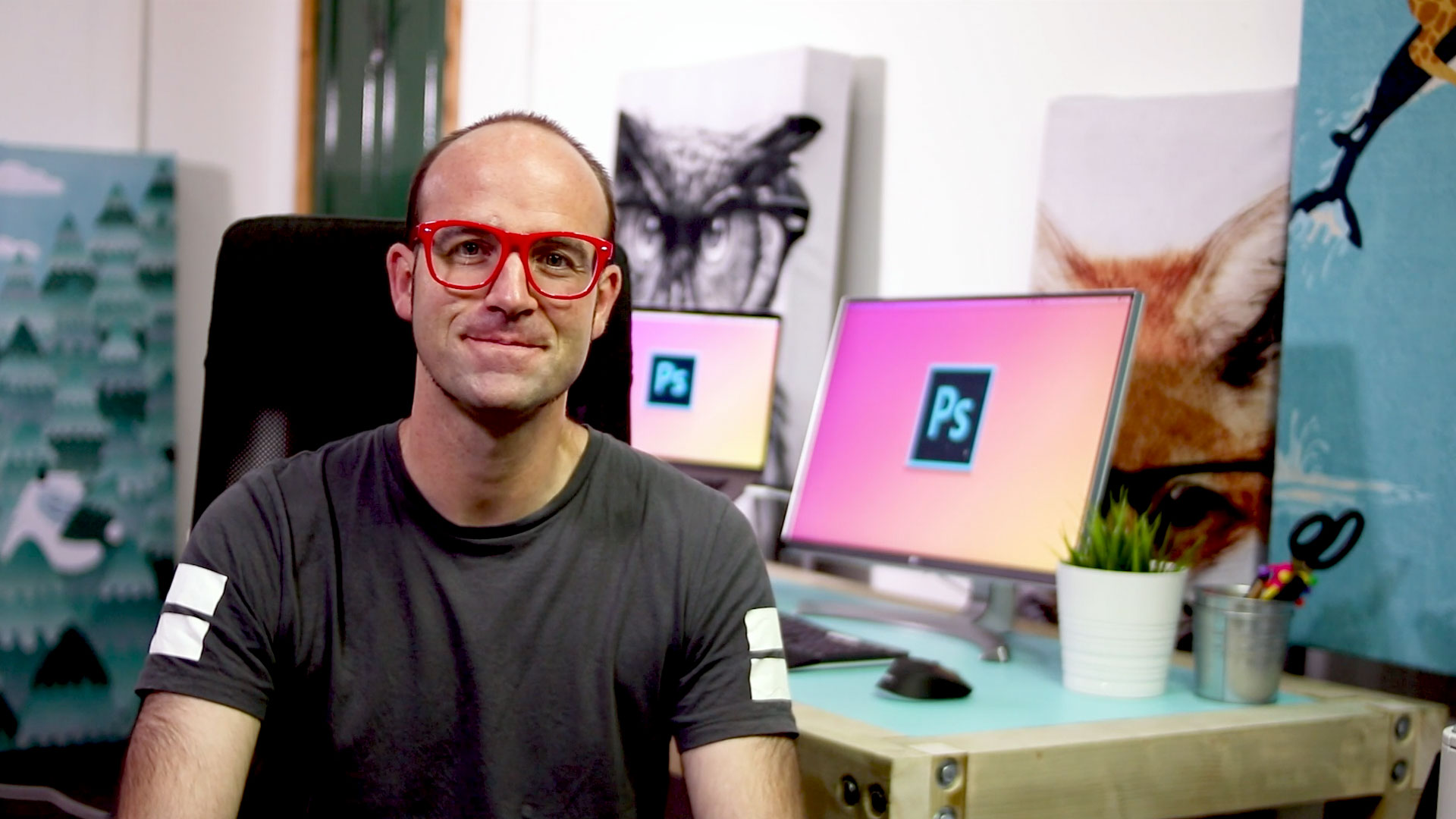 1.

Discover Your Favorite Tools

This is Photoshop's Tools panel.
Did you know you can customize it?
Though many of its greatest tools are in plain sight, if you only stay on the toolbar's surface, you may miss out on the extras hidden beneath the lower right triangles.
So customize the toolbar as a helpful reminder to try out new tools!
Go to Edit > Toolbar to drag and drop your tools. Group them according to different priority levels dedicated to learning or actual use.
Establish Your Core Set
You won't need every tool for every situation. So it's important to build a strong foundation with a few flexible tools that work in a variety of scenarios.
Here are two different projects: a digital painting and a photo manipulation. Notice how the tools I used are similar?
While the first project is solely an illustration, the second still depends heavily on my illustrative skills. So don't panic if you don't know these tools yet! Your core set should reflect your own design, photo, or illustrative interests.
Keep in mind that many of Photoshop's tools also serve more than one purpose. You can use the same Pen Tool to extract your friend from a photo that you would use for a vector illustration.
There are other tools that you'll need too, but think of them as secondary. The Pan and Move Tools, for instance, may not seem as creative as brushes, but they're needed (often a lot more) for a better workflow.
What are your core tools?
In the beginning, you'll always have a favorite. But as you progress, challenge yourself to try out new tools with creative experiments.
Learn more about Photoshop tools:
2.

Get to Know the Layers Panel

Control-Shift-N to create a New Layer.
The Layers panel is efficient and helpful. It'll change the way you think about design by showing you endless results in Photoshop.
But how does it do it?
Well, the panel gives you control over several options. Opacity, Fill, and Color are just a few. You can use these settings to modify your layers for many awesome effects.
Text effects, for instance, often use brilliant Layer Styles to achieve their result.
At first, you'll probably use the Layers panel for its basic function, to hold your artwork in separate layers, but I really recommend studying it further. Explore the panel as much as you can and discover new ways to make detailed designs.
Having trouble with color? Study Layer Blend Modes.
Need a brighter result? Try an Adjustment Layer.
3.

Save Time With Layer Masks

It's time we had the talk—the talk about Layer Masks.

Though often confusing for beginners, layer masks are essential for smart editing.

To use a Layer Mask:
Go to the Layers panel and select a layer.
Then click on the Layer Mask button.
Using the tool of your choice, apply white or black to the layer mask to hide or reveal parts of that layer. In this case, I used the Selection and Paint Bucket Tools.
Use layer masks for any project! Incorporate them into your routine for non-destructive editing.
Most of the time, the struggle with this option comes from not understanding when to use it. Beginners will often reach for the Eraser Tool instead for a quick solution.
So learn the difference between the Layer Mask and the Eraser Tool:
You can also use masks to create an isolated object. Then insert them into your work. Learn how to create one with this quick video:
4.

Control-S Properly

To Save or to Save As? That is the question.

Quality matters. So before you save and close, consider a few things first:
What do I need this file for?
Where can I store it?
Which format do I need it in?
How should I save it for the best quality?
What and Where
Whether or not your design will be used online is a huge part of the answer to the first question. Visuals for online posts can sacrifice some quality, while printed materials require high-resolution files. Research printing guidelines to understand important settings like Color Modes to learn how to navigate these scenarios.
Store your files in a location on your computer that you can access easily. Photoshop may display an error if a file is missing certain elements (like fonts), so try your best to keep everything together.
Format and Quality
Now that you know what the design is needed for, you can proceed by saving it at the right format and size. Many designers will save their work in several formats for more flexibility.
To Save for Web:
Go to File > Export > Save for Web.
Explore how your work looks under different compression settings. Avoid quality loss! Learn how to manage jpeg compression for social media posts:
5.

Know Your Digital vs. Printing Guidelines

Will your designs print well?

Another big reason you should save your work in several formats is to understand print quality. If you paint, design, or edit with bright neon colors, for instance, you may be disappointed by the physical result.

Minimalist design is a huge trend, partly because of its versatility for printing. Clean designs are often easier to print and therefore more widely prevalent in the industry.
What looks great online doesn't always look great on paper. There are many reasons for this, but one great factor is how the ink actually prints onto the paper. And knowing the difference between RGB and CYMK Color Modes will be crucial to this step.
Not sure where to begin? Learn more about Color Modes in this quick video:
Design for your situation. To access/change the Color Mode of your file, go to Edit > Color Settings.
Test out your designs by getting them professionally printed! Learn how to work with local printers for the best result.
Need a few beginner tutorials on print design? Check these out:
6.

Presets! Presets! Presets!

In the real world, there are tight deadlines and frustrating creative blocks. So save valuable time by using one of Photoshop's built-in presets!

Presets are available for brushes, shapes, patterns, and more. Add a quick filter to a photo, or create a brochure with abstract elements.

To view them all, go to Edit > Presets > Preset Manager.
Each category will display a new list of presets, but you can access even more by going to the drop-down option in the upper right corner.
Some of my favorite presets to use are the Brushes. Brush packs from your favorite artists are great too, but take advantage of the ones you already have!
These presets include varying textures, beautiful gradients, and more.
Use presets for incredible effects! They're already organized for your convenience, so all you have to do is load them and go.
Need some inspiration? Try out these tutorials below:
7.

Change Colors Easily With Adjustment Layers

Create magical lighting schemes with a few short clicks!

Adjustment Layers are perfect for beginners to Photoshop. They allow you to change so many visual aspects of your work without all the fuss.

Need to save the original photo? No problem. Non-destructive tools like Adjustment Layers and more help you create incredible effects without any quality loss.

To use a Color Lookup Adjustment Layer:

Go to Layer > New Adjustment Layer > Color Lookup. Select a preset from the drop-down list for the 3DLUT File. Click OK to enjoy the result.
As one of my favorite tools, I love that adjustment layers work great for digital illustrations too!
Digital artists use these adjustments to try out different color palettes before committing to a final decision. Explore different lighting arrangements and more with incredible tools like Curves.
Learn more about Adjustment Layers with these tutorials:
8.

Learn How to Arrange Your Workspace

Chefs love clean kitchens. It adds to their overall cleanliness and productivity. So why not create a clean workspace for yourself in Photoshop?

Organization is conducive to a healthy work environment. And even when it feels very artistic to be messy, an organized workspace can help improve your work.

First, close out of all those extra tabs!
After that, there are many ways you can make things even tidier. Dock and undock your favorite toolbars and panels to get started.
Then go to Window > Arrange.
Choose from the different list options to help display your Photoshop documents neatly. Keep inspiration nearby for easier access.
The standard is to Consolidate All to Tabs, but you can also use options like 2-up Vertical to display references next to illustrations.
Need to reset your workspace? Go to Window > Workspace > Reset Essentials.
Every artist's workspace is different. Some may want to see more panels than others. I typically like less to minimize clutter. But no matter your preference, you can create the environment you need for successful design.
9.

Conquer the Pen Tool

The Pen Tool (P) can be quite intimidating, but you can master it completely with time.

First, study the tool itself. The Path setting is great for creating selections while the Shape setting allows you to create custom shapes.
Then get to know the Path Operations, Alignment, and Arrangement options. Designers who are more experienced with Adobe Illustrator may have an easier time with this.
In fact, our very own Yulia Sokolova creates brilliant flat designs using this tool. Check out one of her tutorials below:
The best way to master anything is to experiment! Create tons of lines and swirls and play around with different settings under Blending Options. The possibilities are truly limitless! Remember to use the Pen Tool to create awesome text effects, illustrations, and more!
Got a minute? Learn more about the Pen Tool with this quick video:
10.

Memorize Keyboard Shortcuts

Keyboard shortcuts aren't new.

But designers still have trouble remembering them. Want to learn a quick trick to improve your memory of keyboard shortcuts?

Try this ancient mind trick to help think of the tools. When you think of a keyboard shortcut, think of a visual that explains what it is or how it's used.

Hitting the letter B, for the Brush Tool, automatically makes me imagine this:
Memorize keyboard shortcuts according to priority level. Just like our first tip, it's important to establish which shortcuts you'll need the most. You'll also need to memorize additional shortcuts pertaining to your favorite tools.
To increase Brush Size, for instance, hold the left or right brackets: [ or ].
Your favorite keyboard shortcuts will be easy to memorize because you'll use them often, but you should also explore new options.
Want to create things a lot faster? Study these keyboard shortcuts to improve speed and creativity:
Need More Tips?
You won't master Photoshop in a day―and that's perfectly fine! I like to think of it as a creative journey that gets better with time.
Before you go, remember to:
Establish your core tools.
Get to know the Layers panel.
Save time with Layer Masks.
Save files properly.
Know your digital vs. printing guidelines.
Use presets...
... and Adjustment Layers.
Learn how to arrange your workspace.
Conquer the Pen Tool.
Memorize keyboard shortcuts.
Try out these tips and tools and let us know your favorites in the comments!
For more beginner Photoshop tutorials, check out these links below:
Want a weekly email summary?
Subscribe below and we'll send you a weekly email summary of all new Design & Illustration tutorials. Never miss out on learning about the next big thing.
Sign up
Digital Artist - CT, USA
I'm an Afro-Latina digital artist originally from Long Island, NY. I love to paint, design, and photo manipulate in Adobe Photoshop while helping others learn too. Follow me on
Instagram
or tweet me
@MelloNieves
and tell me what you'd like to see next!
One subscription. Unlimited Downloads.