Today we are announcing the winners of the Vectortuts+ Celebrates 30,000 Facebook Fans competition. Winners were selected with the 'true random' number generator at random.org and have been notified via email. We also have a great roundup of premium illustration tutorials from Tuts+ Premium. Find out more at the jump!
Recently we ran a competition to win one of three marketplace credit packs and a years subscription to Tuts+ Premium. The winners have been drawn and we would like to congratulate Pablo Lara H, Luis Chilo, Andrew Dankleff and Peter Kaalund Carlsen. Thankyou to everyone who entered!
---
15 Amazing Vector Premium Illustration Tutorials
A subscription to Tuts+ Premium can help take your skills from great to amazing. Today we have a selection of our very best premium tutorials for vector illustration. You will see tutorials on how to create beautiful landscapes, cheerful characters and even how to make your own toy!
---
How to Draw a Kimono Dancer Using Adobe Flash and Corel Painter

In this tutorial, you will learn how to break away from Adobe Illustrator and use a combination of programs to create a vector image with a soft painted finish. Starting with a digital sketch, we will use Flash to begin drawing our image, bring it over to Painter to color it, then finish off with Photoshop for some final color tweaking. A graphics tablet would help immensely during the painting stage, but it's fine if you don't have one.
---
Retro Drawing and Shading with Adobe Illustrator
With illustrating on computers it's always tempting to use all the bold and bright colors that appear in the default color palettes. Sometimes though, fewer colors and slightly softer shades will give your work a certain warmth and charm that will leave folks wondering if it was created on a computer at all!
---
How to Make an Excellent Rocktobunny Sticker
In this tutorial you will learn how to transform a fun sketch into a bold and clean vector style character that's perfect for turning into a street-art sticker. Popular in most cities around the world, stickers such as these can be seen almost everywhere you look. You will learn how to use the pen tool to make a perfect outline and some special tips and tricks on how to achieve a dynamic character style.
---
Create Digitally Illustrated Jelly Type
I'm Ross, one half of the award winning design duo Ahoythere Studio, and I am just about to show how you can go about producing a lovely illustrated type piece using a vector Illustration made base and some interesting textures and treatments within Photoshop. Visit our site for more inspiration.
---
Create a Happy-Bright, Children's Coloring Book Cover
In this intermediated tutorial, I show you how to create a children's coloring book cover from sketch to finished vector art. We'll use gradients, custom brushes, and typography. You can easily put together a book cover and use the techniques learned on other projects.
---
Accentuating with Color in Vector Illustration
Quite honestly, this tutorial could have been named several different things. I'm going to cover a complex project covering different techniques, since I don't have one particular style in drawing. For me, personally, drawing doesn't come easy. I try and make every project a learning experience. Including this one!
---
Creating a Wild Hair, Pin-up Inspired Portrait
I simply adore 1950s glamour and fashion, specifically the Bettie Paige, pin-up era. Today I'm going to create a pin-up inspired portrait with an over the top wild hair design. The hair will use an interesting twist to my usual process of hair design, which can help reduce your production time by a considerable amount, while adding an attractive element to your work!
---
Construct a Cute Character Driven Scene
In this tutorial we'll work on a character filled scene that is built to showcase a smart car. We'll view a workflow I use for creating large scale work. You'll learn how to lead the viewers eye through an image, even when it's packed with smiling characters. You'll also learn how to plan and control your vector build process after sketching your full image.
---
Create a Retro Style, Airline Destination, Travel Poster
This tutorial takes a look at the design and style of 1950′s air travel tourism poster design. We'll take a look at the typographic qualities and composition of late 50′s posters, then utilize modern digital rendering techniques to create an illustrated Australia tourism ad campaign.
---
Create a Vintage, 50's Style Auto Advertisement
This tutorial takes a brief look at the quintessential aspects of 1950′s automotive advertising, the aesthetics of the cars and the portrayal of their owners. Then taking what we've learned to create an image that embodies the spirit of the bold 50′s auto ads.
---
Creating Hero Versus Villain Character Archetypes
Learn the fundamental characteristics of creating heros and villains. While these characters are created in Adobe Illustrator, this tutorial isn't focused on click by click software instruction. It instead set's out to teach you a fundamental process for conceptualizing and putting these characters together.
---
Create a Magical Vector Landscape Using Illustrator
Today you have a great chance to learn the secrets of creating a real illustration. This artwork belongs to the series of illustrations called "Hanami" which will be participating in the illustration competition for a children's book. This tutorial will be useful for all vector fans, from beginners to professionals.
---
Creating Imaginative Typography with Adobe Illustrator
In this tutorial, I will guide you through the creation of unique typography and supporting elements, rich in the use of shape, color and pattern. The process can be applied to similar illustrative typography projects using equivalent development stages, from initial drawing to vector outcome.
---
Using Shape Experimentation To Create Facial Features
In this tutorial I will show you how to study shape forms and teach you the fundamentals of experimenting with shapes and apply them to facial features.
---
Customizing a DIY Vinyl Toy
Toys are a good way for designers to break out of the computer and take their art into the real world. This tutorial will aim to teach you how to create a vinyl toy using Illustrator, decal paper and a blank toy.
---
Tuts+ Premium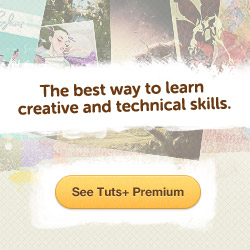 The recently re-launched Tuts+ Premium is a service that provides top-tier training in a variety of creative fields. Whether you prefer books, video training, or in depth tutorials, we have you covered.
While we unfortunately can't afford to provide the service for free, it's only $19 a month - less than you'd spend on dinner.
But the best part is that, every month, we're adding as many as five new in depth courses on the skills that you want to learn. What's on the near horizon? Photoshop Techniques for Web Designers, an Intro to Motion Graphics, JavaScript Testing with Jasmine, Advanced Digital Painting, and countless more.
I hope you'll consider checking it out! In addition to learning a huge variety of new skills, it's also a fantastic way to say thank you to Vectortuts+.